*FTC Disclosure - If you make a purchase through a link on this site, we receive a small commission at no extra cost to you.*
The Best Of Olga Bras In The Spotlight

The Best of Olga Bras. When it comes to beautiful lingerie that's designed to look great and fit well, Olga has earned an excellent reputation catering to the full busted woman.
They have a unique bra fit in a variety of bra styles that are a great option for everyday wear.

Olga bras are known to withstand day to day use without quickly wearing out or breaking down like many of the more expensive boutique bras.
Plus, these brassieres come in variety of fabrics and colors, so they're not only functional but also beautiful for women in the C to DDD range of bra sizes.


Advantages of Olga Bras

The advantages of Olga bras are three-fold.
First, they're available at most lingerie retailers, both online and in department stores, which makes them easy to find.
Keep in mind that some womens lingerie stores carry a limited selection of different types of bras, while others carry a greater variety.
Online lingerie retailers like HerRoom tend to have a larger selection, so if you're looking for different bra styles, they're usually a good place to look.
The second advantage of Olga Bras is quality, and this is where Olga really has an edge.

Details like elastic covered with microfiber wings, flexible plastic underwire, and coated hook and eyes help ensure that you don't feel an unexpected poke or uncomfortable pull from your brassiere.

Many styles feature extra reinforcement and support along the sides for a smoother fit and look that eliminates unwanted bulges and bumps.
---
                                 Did You Know?

That within 20 years of starting her lingerie business, the woman behind the label Olga Erteszek, owned over 20 bra and intimate apparel related patents.

---
The third advantage is their great choice of bra styles. Not every woman has the same 36C bra size, or wants the same standard underwire bra.

With this in mind Olga lingerie created several bra collections that, while they are available in standard C sizing, cater more to larger busted and plus size women.

So, whether you are dressed for the office or for a cocktail party you should have no problem finding the perfect brassiere to suit the occasion.
---
The Best Of Olga Bras - Popular Styles
Let's take a quick look at four of their most popular styles -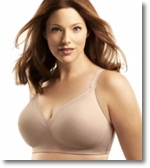 Wirefree bras – For maximum day to day comfort and an easy bra fit, wirefree bras are among the best bras that many women reach for everyday.
While wireless bras (they are also known as wirefree bras or softcup bras) don't quite offer all the support of classic underwire bras, they're a great alternative for women who aren't comfortable wearing an underwire.
---
Underwire bras – Designed to offer maximum support and lift, these traditional brassieres provide the best support due to a flexible plastic U shaped underwire.

They're more structured than wireless bras and come in a variety of different bra styles like minimizer bras, and full figure bras.
---
Full Bras – Full bras tend to have larger, wider and deeper bra cups with better support along the sides to help prevent side bulge and / or front spillover that regular brassieres so often have.

They cover the breasts completely and are generally lightly lined with seamless bra cups which makes them a good choice for women wanting a smooth and complete fit.
---
Minimizer Bras – Minimizers are underwire bras that are cleverly designed to compress and shift the breast tissue away from the center towards the sides, thereby creating an optical illusion that the breasts appear smaller than they actually are.

These plus size bras minimize and smooth the silhouette making them a favorite of well-endowed women everywhere.
These bra styles have the same things in common, high-quality fabric, reinforced cups, and elastic that does not break down after being worn just a few times.
They are made to fit comfortably in bra sizes that real woman can wear.
With feminine appeal in mind they are available in satin, lace, and microfiber so that the fuller figured woman doesn't have to sacrifice fashion for the support she needs.
Once you try one you'll find that Olga bras are one of best quality bra brands around that offer a great bra fitting and beautiful look for full busted women.