*FTC Disclosure - If you make a purchase through a link on this site, we receive a small commission at no extra cost to you.*
Bra Extenders
Bra extenders – Every woman has one or two favorite bras that are a little past their expiration date. In lingerie drawers across the world there are brassieres that you reach for over and over because they look fantastic and feel great.
Unfortunately, as time passes even the best bras can't last forever.
With repeated wash and wear, the bra band may start to feel a little too tight.
And, let's face it, buying new bras every few months can become very expensive, very quickly.
Plus, it can be a catastrophe to be bra shopping and discover your favorite bra style has been discontinued.
This is where one of those lingerie accessories called bra extenders comes to the rescue.

What Are Bra Extenders For?

Bra extenders are a clever little invention - an insert that attaches to the back of your bra. They're designed to make your bras more comfortable by extending or lengthening the bra band by several inches.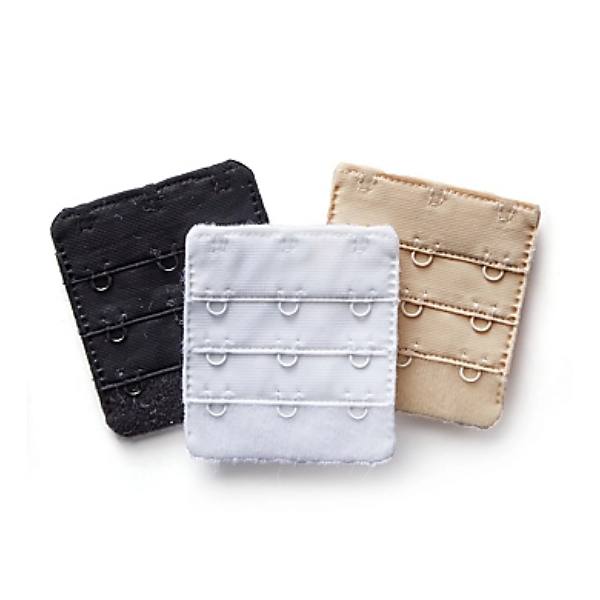 SHOP NOW
This is a great solution for brassieres that are too tight around the bra band and uncomfortable to wear. Extenders are very versatile and can be used with a variety of different types of bras such as:
seamless bras
underwire bras
sports bras
The bonus is they can potentially increase the lifespan of your favorite bras by several months which adds up to significant savings over time. Plus they're very affordable and usually retail for under $10.


How To Choose Extenders
---
Extenders come in 3 different sizes and are based on the width of your bra band. For example if the back of your bra has 2 hooks, then you'll need a 2 hook extender.
If, your bra band attaches with 3 hooks, then you'll need a 3 hook extender, and so forth.
Once you've figured out which size you need it's important to take a close look at the material.
Why? This will rest against your skin and you want to be as comfortable as possible.
Avoid cheaply made extenders with uncoated hooks and scratchy nylon.
Opt for plastic coated hooks that are easier on your fingers when you are hooking and unhooking your bra, and soft felt that won't chafe or irritate delicate skin.

Bra Extenders come in basic colors
---
white
black
nude or natural
Lingerie Tip - Try to match the color as closely as possible to your existing bras, and remember that darker colors show through sheer fabrics. If, you're not sure which color you need, opt for nude or natural.
Where To Shop
---
Bra extenders are available almost everywhere. You can find them in the lingerie accessories section of most department stores, in fine lingerie boutiques like Victorias Secret and Cacique, and even in smaller drug stores and pharmacies such as Shoppers Drug Mart.
And, of course if you prefer to shop online you can find extenders at multiple online lingerie sites such as ebay.com.
Everything listed here on ebay clothing is available right now - so if you see something you like, hurry and place your bid.
Need help with bra sizes ? Check out our easy 3 step bra size calculator for sizing tips and finding the right bra size. When you click on a link a new window will open and you'll see a sampling of what's currently available online.
Want to continue lingerie or bra shopping ? Follow the view all items link at the end of the listings...