*FTC Disclosure - If you make a purchase through a link on this site, we receive a small commission at no extra cost to you.*
Advantages of an Adhesive Bra
Adhesive Bra - Well known as supportive and almost invisible, the adhesive brassiere is one of the must have bra styles that a woman can invest in for her lingerie drawer.
Designed for low cut and plunging necklines, sleeveless tops, shirts and halter dresses, this unique brassiere doesn't rely on traditional bra straps and cups for support.

Adhesive Bra

Instead, it relies on a slim silicone adhesive along the inner side of the bra that enables the brassiere to remain firmly in place for hours at a time.
Similar to a strapless bra (without the traditional bra band), this specialty bra is particularly popular with brides everywhere, and a mainstay for those who opt for strapless wedding dresses that accentuate plunging backs and low cut necklines.
There are several different styles and manufacturers to choose from, including:
SHOP NOW
Braza
Fashion Forms
The Natural
Pure Style Girlfriends
The most popular style includes two separate bra cups that can be adjusted to smooth and shape your bustline, making it a more flexible choice for many different clothing types.
Bra Shopping Online
Bra shopping for specialty bras is easy on eBay.com.
This is especially true if you've done your homework ahead of time and know which style and manufacturer you are searching for.
So, without further ado, on to the listings. The various types of bras listed below are currently up for auction or for sale at a fixed price, so if you see something you'd like, place your bid.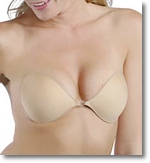 If, you're not sure about bra sizes and need help finding the right bra size, just click on the links for detailed information and instructions.
Also, click on our bra size calculator for brassiere sizing tips and step-by-step instructions on how to measure yourself in three easy steps.
Once you know your bra size you're ready to shop!
Finally, when you click on a link below a new window will open and you'll be taken to the eBay site with that listing.
If, you want to continue lingerie shopping, simply follow the view all items link at the end of the listings...