*FTC Disclosure - If you make a purchase through a link on this site, we receive a small commission at no extra cost to you.*
Strapless Push Up Bra - Tips And Tricks For The Best Look

Strapless Push Up Bra - It's happened to all of us at one point or another.  When you find yourself alone in the fitting room, without the valued opinion of your most honest girl friend, how do you know if the bra you've chosen for that special outfit really looks good, or not.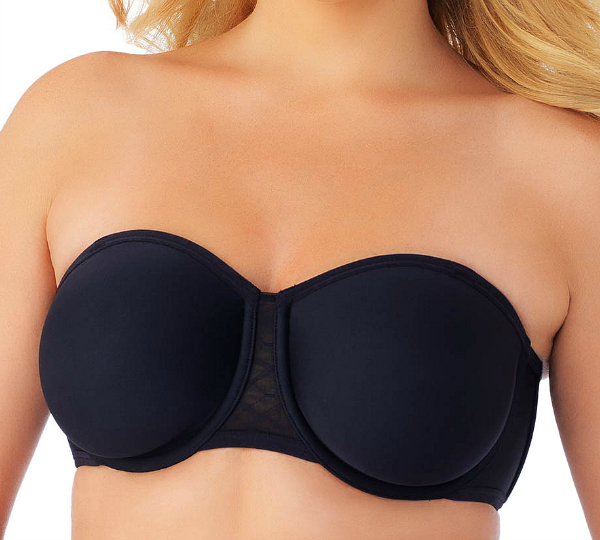 No worries, you've got this. Consider these basic guidelines when you're bra shopping and we promise they won't steer you wrong when it comes to picking out a strapless push up bra that truly looks and feels great.

A Strapless Push Up Bra Should Lay Smoothly On Your Body

A bra that fits perfectly will always look great, and one of the most important factors to achieving a flattering fit is that the bra lays smoothly and flat against your skin.
If it's digging in, causing spillage, creating lumps or bumps, or gapes in the cups, it doesn't stand a chance of looking good, and is not a keeper.
Ensure that any strapless bra you're considering lies snugly, without being too tight or too loose and you'll be well on your way to a bra that looks amazing.
A Bra Should Stay In Place
Bra Shopping Tip

Which brands have strapless bras?
Calvin Klein Bras

Va Bien Bras




Wacoal Bras

Lily of France Bras
Nothing looks worse than a strapless push up bra that simply won't stay in place.
Strapless bras are only effective if they stay put, so if you're wearing a style that rides up or falls down, or one that constantly needs adjusting, then it's not a great fit or look for you.
What are the signs? A strapless bra that rides up will create cups that gape at the top and stick out under your clothing - not a pretty look.
And, a bra that slips down puts you in danger of serious over exposure (think embarrassing bra malfunction).
A Strapless Bra Should Be Comfortable

While your brassiere shouldn't move, you should be able to. If you can't bring your best moves to the dance floor, hail a taxi, hug a friend, or bend over, you're not in the best strapless style for your shape.
Find a strapless push up bra that looks great by testing it out with a few moves the fitting room. Raise your arms above your head, lean forward, jump up and down, and see what happens.
If you're uncomfortable or worrying about your bra moving or falling off, then you won't feel comfortable when you're wearing it. Avoid potential misery and opt for a bra style that fits.

A woman looks best when she's able to flow gracefully through her day, not when she's paralyzed with fear of a wardrobe malfunction.
A Strapless Bra Should Be Invisible Under Your Clothing

Rest assured that your strapless push up bra looks great when you can't see it at all. The best way for this style to actually look good is to virtually disappear under your clothing.
If you slip your bra on under a top or dress and you can see skin bulges at the back, spillage out of the cups or underarms, or any kind of gaping ANYWHERE, then it's definitely not the bra for you.
You want people to notice your beautiful outfit, not be distracted by your lingerie. The best strapless look is one that you can't see at all.
Lingerie Tip

Need a little boost? Look for push up bras with removable cookies or gel pads that can add up to a cup size.

Beautiful Lingerie Should Make You Feel Beautiful

A woman always looks beautiful and radiant when she's filled with confidence. Knowing how great you look and feeling comfortable translates into an easy and sexy attitude that's undeniably stunning.
When you feel relaxed and comfy in your lingerie you can focus on having fun and feeling your best, which always makes any woman look great.
A strapless push up bra is a sure winner when you can slip it on and forget that you're even wearing it.