*FTC Disclosure - If you make a purchase through a link on this site, we receive a small commission at no extra cost to you.*
Warner Bras To Buy For Everyday Wear - The Fundamentals

Warner bras to have at the ready for everyday wear?  We can't think of a better brand.
In fact, Warners lingerie offers a comprehensive line of Warner bras and intimate apparel that are comfortable and stylish at an affordable price that make them one of the most popular lingerie manufacturers in the world today.
Every woman should have a wide variety of different types of bras in her lingerie drawer.
Whether you need a nude bra to wear under a white dress for work, or wireless bras for a day when you are relaxing, Warner bras are available for just about every occasion.
Comfortable bras will make your day better, and a bra with great lift can boost your confidence along with your cleavage. So, which of their many brassieres are must-haves?

SHOP NOW
Warner Bras To Try

The Invisible Bliss Wire-Free Bra is a great choice. A nude bra allows you to wear it under white and sheer tops and dresses without the worry of showing the outline of your brassiere to the world.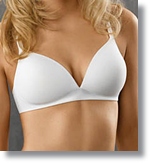 The comfort of wire-free lingerie can never be underestimated. Warner Bras has a great selection of wirefree bras that are both practical and comfortable.
With clothing styles that expose more of the back and shoulders, finding a brassiere that offers the support you need without exposing your straps can be challenging.
With the Elements of Bliss Convertible Wire-Free, that problem is solved. These convertible bras are the Houdini of brassieres because they can be configured into a multitude of different bra styles.
The trick to this bra? Criss-crossing bra straps are hidden while maintaining support and shape.

This Is Not A Bra Customized Lift
---
One of the best Warner bras to have when you are looking for a lift is a push up bra for those special outfits and dresses, and to show off to that certain special someone in your life.
The This Is Not A Bra Customized Lift Underwire offers lift and comfort with elegant side lace details and a smooth satin texture.
This brassiere comes in a variety of colors, allowing you to match any ensemble.

Fridays Bra
---
The ultimate Warner Bra to have that is ultra comfortable, is the Friday Bra.
This wire-free bra is made of smooth, stretch microfiber with seamless bra cups that offer unparallelled softness and a gentle fit, making it a great choice for an everyday bra.
Available in neutral shades of cream, sand and white, this brassiere is tag free which eliminates chafing for an easier bra fit.



Warners Shaping Made Simple Lift With Freedom Back Bra
---
Another of the great Warner bras to have in your lingerie drawer is the Warner's Shaping Made Simple Lift with Freedom Back bra.
As any woman knows, bras can get very uncomfortable throughout the day, but this soft cup bra has a stellar reputation for being very comfortable.
Made of soft, stretch nylon, this brassiere has lightly foam lined cups to enhance a smooth silhouette and bra pads that provide a lift.
Seamless and tag free (ladies, this goes a long way towards being comfortable), it combines the best of functionality and femininity for an everyday brassiere.

The Flex Revolution Underwire Bra
---
For women who prefer underwire bras to wireless bras, the Flex Revolution Underwire is one of the great Warner bras to add to any lingerie collection.
This brassiere offers molded, seamless bra cups that are contoured for a more natural shape and silhouette.
Seamless sides and a cleverly designed leotard back eliminate constant tugging and keep this brassiere in place for a comfortable fit.
This bra fits similarly to the Shaping Made Simple Lift bra, but provides increased coverage, so, if you're breasts are fuller, this is a great option.

Bra Shopping
---
When you're bra shopping and trying to track down a specific bra style, the Warner's lingerie website is a great place to start your search.
It has a search guide that helps you find the nearest store and offers a helpful style guide, with a list of the different brassieres, panties, and lingerie that Warners offers.
Between online shopping and the great selection in the larger department stores, it's never been easier for women to find the perfect brassiere and matching panties for every occasion.