*FTC Disclosure - If you make a purchase through a link on this site, we may receive a small commission on the transaction - at no extra cost to you.*
Vanity Fair Bras That Women Love!
The Vanity Fair bras that are so popular today, first emerged almost a hundred years ago under the banner of the Vanity Fair lingerie company that originally manufactured silk sleepwear and lingerie?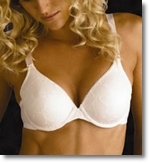 Thankfully, over the years Vanity Fair expanded their intimate apparel offerings and the women of today continue to enjoy their fashion forward quality brassieres, panties and lingerie, combined with great fit and affordability.
Vanity Fair offers a wide variety of different types of bras, panties, night gowns and womens lingerie for ages nine to ninety.
They have a great selection of different bra sizes, styles, and materials to cover virtually every occasion.
Vanity Fair Bras That Are Amazing

Here are just a few Vanity Fair bras that the women of today enjoy wearing:

Benefits Minimizer - Minimizer bras are designed to support large busted women and to visually reduce the bust line by up to 1 1/2". The underwire bra cups are fuller than traditional full bras to accommodate extra breast tissue. Minimizer bra straps are wider and thicker which makes for a more comfortable bra fit. This brassiere, like most in the line retails for under $30.00 in sizes 36C to 42DD.
SHOP NOW
Body Touch Contour Convertible - Convertible bras are second to none for their great versatility.

The shoulder straps have adjustable slide hooks allows you to change to a back crossover or halter bra that is ideal to wear under halter tops and strapless dresses. This convertible bra style is made from a smooth lycra/nylon blend for a seamless look, and retails for about $30. It comes in a good range of bra sizes to fit most.
Body Caress Wirefree – Wireless bras are a favorite of women who aren't comfortable wearing underwire bras.

This microfiber bra has smooth contoured stretch cups that provide fuller coverage and lightly padded shoulder straps that make it a great brassiere for everyday wear.

The bonus is convertible bra straps that offer the option of wearing it either in the classic brassiere back or criss-cross back style.
Body Sleeks Front Close Underwire - Racerback bras are uniquely designed to maximize the comfort and the convenience of popular front closure bras.

Exceptionally comfortable, the racerback bra is made from a stretchy microfiber nylon/lycra lingerie fabric and is designed to be virtually invisible under tops, shirts and almost any kind of clothing with a narrow or small back.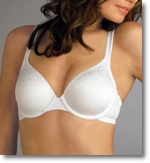 Body Shine Contour Underwire - These underwire bras are an everyday favorite for many women who want comfy and seamless support.

Made from stretchy nylon/lycra for an easy bra fitting, this brassiere is ever so lightly padded for natural shaping and a smooth look. The straps are also lightly padded for a comfy fit across the shoulders. It comes in sizes 34B to 42D.
There are a number of things to consider when bra shopping for Vanity Fair bras that will become part of your lingerie wardrobe.
Be mindful of what kind of clothing you will be wearing. What may be okay to wear under a casual fitted T-shirt on the weekend when you are relaxing at home may not be appropriate with the clothes that you wear to work, especially if you work in an office environment.
SHOP NOW
When it comes to Vanity Fair bras that are for day wear, or any kind of brassieres or lingerie for that matter, the general rule of thumb is that lingerie should be invisible under your clothing.
And, if it fits like it is supposed to, you should not be able to feel it!
Invisible support that makes you feel like a million, without costing a fortune is what Vanity Fair lingerie is all about!