*FTC Disclosure - If you make a purchase through a link on this site, we receive a small commission at no extra cost to you.*
Why Vanity Fair Bras Have Our Vote
Vanity Fair bras have become one of the most popular brassieres that women reach for time and time again.
Well known for their feminine, yet comfortable brassiere options, these bra styles come in different shapes and bra sizes because breasts come in a great variety of shapes and sizes.
Vanity Fair lingerie includes a special range of full figure bras specially designed for women who have fuller breasts, and who need extra support without compromising on looks.

Vanity Fair Bras Have A Great Range of Sizes

The problems that these women face with other types of bras is that they are either too tight, or the bra does not fit correctly, i.e., half their breast remains like a bulge above the bra cup.
It may also protrude on sides, near underarms. This happens because many full bras are not designed or stitched well. At times, it may be because the person has not selected the right cup size.
SHOP NOW
Another problem faced by women with heavy bosoms is that many of the full and plus size bras available to them are simply too tight.
Some of these brassieres actually leave marks on the breasts, and of course a woman ends up being very uncomfortable.
Not wearing the correct bra size can also lead to creases and dents below the breasts.
Consistently wearing such ill-fitting lingerie and intimate apparel can make these dents and other marks almost permanent in nature.
Vanity Fair bras have uniquely designed minimizer bras that help prevent such marks as well as dents, and give the breasts exact support with right material, design and stitching.
Though Vanity Fair bras have come to be popular with women who are fuller busted, there are also womens bras under this brand, which are meant for other women.
These too are available in various materials including lace bras and satin bras.
They are available in a variety of neutral tones that range from a creamy white to basic black and nudes and skin tones.


Bra Sizes And Lingerie Care
---
In general, all brassieres tend to stretch a bit after repeated washes and everyday wear and tear. And, cheaper bras that are not well made will tend to stretch and wear out much faster than quality bras.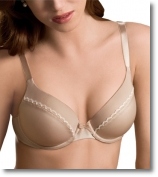 So, it is important to invest a little more in better quality brassieres that will last, like Vanity Fair bras.
When bra shopping, women should remember that breast size and shape changes constantly over the years.
Why? Puberty, weight gain or loss, pregnancy and menopause are just a few of the reasons. And, what may have been perfect in the past may no longer fit.

Finding the right bra size is not difficult. There are a multitude of bra size calculator options on the Internet to help determine bra size. Once a woman has the correct bra size, she is well on her way to choosing the best bras that she'll love to wear again and again.