*FTC Disclosure - If you make a purchase through a link on this site, we receive a small commission at no extra cost to you.*
Olga Bras At A Discount - Simple Tips And Tricks

Olga Bras at first glance have revolutionized the brassiere, panty and lingerie landscape, especially for the plus-sized woman.
The many different types of bras offered by Olga lingerie make choosing the right one easier than it has ever been before.

Both underwire and wirefree bras are designed to be worn under many of today's form-fitting clothing, providing a seamless silhouette while ensuring a comfortable bra fit throughout the day.
While these are among the best bras for heavier busted and plus size women, the close attention to detail and use of the higher quality material makes these brassieres more expensive than many other bra brands.
Olga Bras At A Glance

That said, through the magic of the internet and online shopping, you can now surf the web and shop for Olga bras at your leisure from the comfort of home.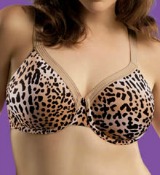 While googling "how to buy Olga bras at a discount" will generate every source available and imaginable, this article will focus on the online retailers that have the most comprehensive inventory of Olga bra styles.
This will give you a better selection, and of course more bra shopping options.
Although policies and prices are subject to change without notice, the following are the best online sources that consistently offer reasonable prices with generous return and exchange policies, a definite advantage when you are shopping online.


Fresh Pair


Throughout the year this is a good go-to site that offers a variety of discounts that range from buy one, get the second at 50%, to 25% off Olga lingerie. This is a no-brainer as far as discounts are concerned.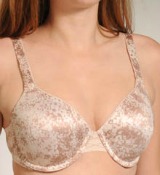 They offer a good selection of the Olga collection making this site a go-to destination for plus-sized women.
For minimizer bras with a comfy underwire support, consider the Tapestry Minimizer, the Smooth Minimizer, and the Satin Edge minimizer bra.

If, you prefer softcup bras, the Disappearing Act Wirefree bra and the Sheer Leaves Minimizer bra are two top rated Olga bras that offer great support without an underwire.
A handy product review guide for each brassiere allows you to choose your lingerie undergarment based on your underwear priorities.


Bare Necessities

- has the largest selection of Olga bra styles and colors, making it a great destination for your bra shopping needs.
A useful feature - their website is designed so that one can even pick the bra based on just the style alone.
Popular styles including, Suddenly Smooth Wire Free, Luxury Lift Contour Underwire, Disappearing Act Underwire, Comfort Sleek Minimizer, Silky Smooth Full Figure, Sheer Leaves Minimizer, Today's Tapestry minimizer, Satin Edge underwire, and the Disappearing Act 2-Ply underwire bras are often available for 25% off the original retail price.
Free shipping is also offered at times which is a great bonus.


Her Room

- offers the full range of new and favorite Olga bra styles and matching panties in all sizes and a good color selection.
This is a particularly good deal considering most women shop for lingerie in multiple colors that blend with different clothing styles and hues.
Customer reviews are a nice touch, and a great way to get feedback on a particular bra fit.

Herroom offers a variety of creative discounts and promotions on Olga bras and lingerie throughout the year.
Recent specials included a 25% discount on select bra styles, together with a free $20 gift certificate for every $100 lingerie order.


Isaac Sultan
- plus size bras, full figure bras, and minimizer bras all day every day.
Half price specials and 50% off on overstock, called "Great Buys In Your Size" are also great ways to buy Olga bras at a discount and save money. And, shipping for most orders over a certain dollar value is usually free.