*FTC Disclosure - If you make a purchase through a link on this site, we receive a small commission at no extra cost to you.*
Mens Nightshirt & Sleepwear Guide
Do you know, the mens nightshirt enjoyed great popularity prior to the 1940's.
Since that time, most men have preferred a two-piece sleep ensemble in cotton or flannel.
Mens nightshirts, however, deserve further consideration and may find a welcome place next to mens robes in the wardrobe of today's well dressed man.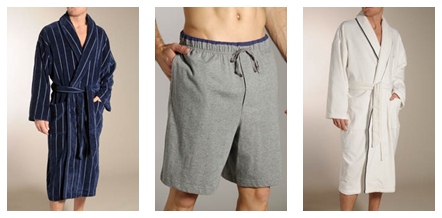 Mens Nightshirt

This mens sleepwear is especially nice for men who are very tall and/or overweight; these men can find sleep pants binding and restrictive, and often welcome the freedom that comes with a generously-cut nightshirt.
Masculine pinstripes and plaids in dark colors help provide an appearance far different than that of ladies sleepwear.
Such sleepwear is also devoid of feminine shaping or details such as lace and pintucking that often characterize traditional womens nightgowns.
The neckline of a nightshirt for men is typically a high neckline, closed with buttons or crafted from an elastic or spandex blend.
The sleeves may be long, with elastic at the wrists, or may be styled like the sleeves of a t-shirt.
There may be a breast pocket, such as would be found on a polo shirt; the pocket is a handy place to store a pair of glasses or packet of tissues.
The hem is typically a straight hemline, such as that of an oversized t-shirt; other types of nightshirts may have a slightly scalloped bottom hem that is more reminiscent of an oversized men's dress shirt.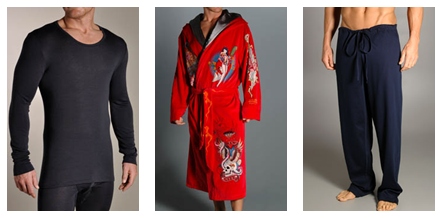 Longer nightshirts provide more warmth and modesty than their shorter counterparts; men in warmer climates may opt for a shorter nightshirt and pair it with a pair of boxers to ensure adequate modesty.
Any length mens nightshirt can be paired with a matching or complimentary mens robe and a set of slippers to make a fantastic holiday or birthday gift.
Many retailers, such as L.L. Bean and Land's End, sell pre-made gift sets of very high-quality items that will last a lifetime if cared for correctly.
Fur-lined slippers are a particularly lovely accessory for such a nightshirt, as they prevent chills from walking across cold floors in the middle of the night.
Common materials for mens nightshirts are cotton and flannel. Cotton is light, thin, and the best choice for warm weather.
Like womens flannel sleepwear flannel for men is one of the best fabrics for cold—weather wear!
It's incredibly soft against the skin and retains body heat wonderfully.
Cheap flannel may pill, which is to say that little pills of fuzz may accumulate under the arms or anywhere else that the fabric frequently rubs against itself.
These pills can easily be removed with a fabric shaver, lint brush, or adhesive roller; they are also not an issue with higher-quality flannel.
Flannel is a synthetic fabric that must be treated with a flame-retardant before being sold or worn.
Even if the lingerie undergarment is intended for wear by an adult rather than a child, check the tag to make sure this guideline has been met.