*FTC Disclosure - If you make a purchase through a link on this site, we receive a small commission at no extra cost to you.*
Why Lunaire Bras With Underwire Support Are So Popular

Lunaire bras with underwire support? Searching for a full cup underwire bra in a C, D or DD cup that fits well and is pretty and feminine?
You may want to check out the Lunaire lingerie that line offers classic underwire bras in feminine designs and patterns that are modern, yet not trendy.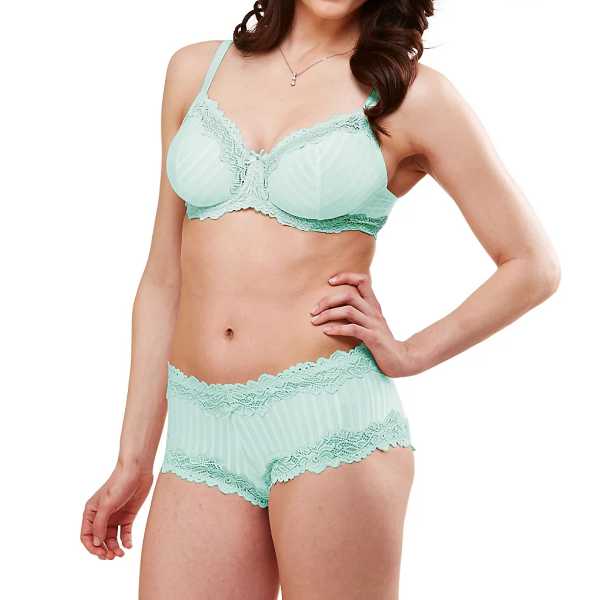 For those who crave something with a bit more panache, Lunaire recently introduced a line of sexy bras and matching panties which are part of their new "Whimsy" collection.
Sweet, sexy and colorful, these are the best bras if you want to turn up the heat in your lingerie wardrobe.
Lunaire Bras With Style

If you're looking for something with a sexier vibe, say lace bras, then take a look at he traditional Lunaire bras and lingerie collection.
Each of these full figure bras features lace edging and a nude cup lining with a sheer overlay, creating the impression of lacy, transparent fabric, but with greater support for heavier breasts.
This is truly the best of both worlds; buxom women are no longer confined to heavy, plus size bras with thick, uncomfortable, opaque cups.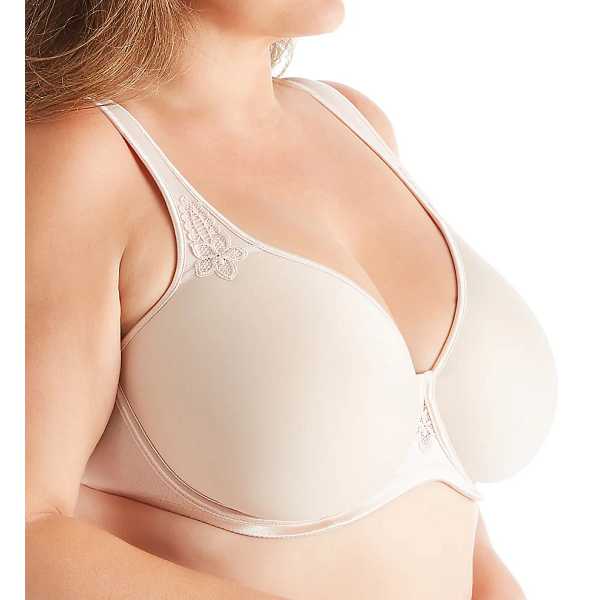 However, women who enjoy the look of molded, opaque cups will find what they're looking for in the Whimsy collection.
Lunaire bras with a sheer look accomplish this through two tricks.
First is the multi-layered construction; the nude inner layer of fabric is extremely strong; this is the layer that bears the weight of each breast. The outer sheer bra layer is pretty and feminine and not at risk of ripping or tearing.
The other aspect of Lunaire lingerie's design that is crucial to the strength of these seemingly delicate lingerie undergarment styles are the design of the cups.
Rather than traditional one-piece bra cups, Lunaire bras are sewn in either two or three pieces, depending on the bra style.
This multi-piece construction strengthens the cups, and also helps shape each breast to provide a rounded, youthful, firm, high appearance.
One of the greatest aesthetic pitfalls of many other plus-sized or large size bras is the lack of shaping they provide.
This results in a flat, saggy, "pancake" silhouette beneath clothes that is not flattering on anybody.
Before purchasing any Lunaire bras, be sure that you are purchasing your undergarment in the correct bra size.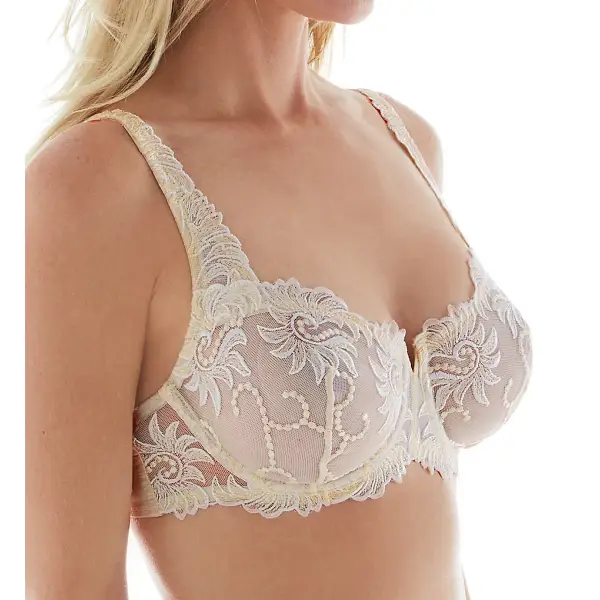 This point cannot be emphasized enough; the best bras in the world cannot do the job they were designed for, if you've purchased them in the wrong size.
Home self-measuring techniques for very buxom women tend to be wildly inaccurate; before spending money on new full figured bras treat yourself to a free professional measuring.
This is a service that is almost always free, and any associate in a lingerie boutique or the lingerie section of a department store will be able to accurately measure you in only a few moments.
Lunaire bras with extended sizes are the answer to the prayers of many women who wear cup sizes C through DDD bras.
Treat yourself to their free online lingerie catalog today, where you can view both the Lunaire and Whimsy collections (complete with matching panties for each bra style) in their entirety.
Lunaire bras and panties are sold by reputable vendors throughout the country, as well as by several prestigious Internet websites.