*FTC Disclosure - If you make a purchase through a link on this site, we receive a small commission at no extra cost to you.*
Why Chantelle Bras Have Such A Great Reputation
Chantelle Bras have a wonderful reputation as one of the most well known and beloved lines of brassieres in the world today.
This famous French lingerie manufacturer has been in the intimate apparel business for well over 130 years, and is dedicated to making exquisitely detailed fine lingerie that fits beautifully and feels like a second skin.
Here are a few reasons Chantelle lingerie and brassieres are a timeless favorite with lingerie lovers and newbies everywhere.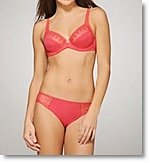 Chantelle Bras Have It All - Comfort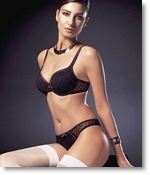 SHOP NOW
Chantelle bras are made of soft lingerie laces, lycras and soft fabrics that offer an ultra comfortable fit and great support.
They are different types of bras that provide a great array of coverage and lift to fit every woman regardless of height, body type or weight.
Their most popular bra styles are lightweight and feature molded seamless cups and elastic straps that adapt to your particular silhouette effortlessly.


French Design
Nothing compares to the design of fine French lingerie, and here they do not disappoint.
Chantelle lingerie offers everyday bra styles that feature classic seamless and molded designs with full bra coverage and comfortable support.
On the dressier side of the spectrum, their intricate lace bras feature exquisite detailing that is exceptionally seductive with traditional European styling.


Pricing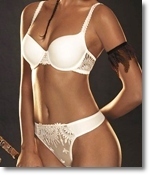 While beautifully made, Chantelle Bras have a reputation for being somewhat pricey.
But, as with all fine lingerie, you really do get what you pay for, and their quality and attention to detail is second to none in the lingerie industry.
Chantelle lingerie bra styles start in the $55 range for classic seamless bras and T shirt bras.

Most of their brassieres like,
... are mid priced from $60 to $80. And, their high end couture line of romantic bras can easily climb to well over $100.


Bra Sizes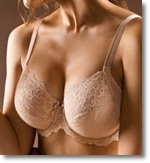 It is important to remember that a well fitting lingerie undergarment is the foundation of every woman's outfit.
Comfort and fit = confidence and ease. If, you do not feel comfortable under your clothing, you may not feel confident.
One of the major advantages of Chantelle lingerie is their great range of bra sizes.
From petite bras petite bras to full figure bras and plus size bras, Chantelle brassieres are designed to fit every woman, and with bra sizes ranging from A to H, a woman is assured she'll find a brassiere tailored for her particular silhouette.


Where to Shop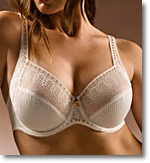 Chantelle Bras are available at traditional brick-and-mortar stores in twelve different countries throughout the world, including North America and Europe. Chantelle's reach doesn't stop there though.
In this era of lingerie shopping online, women can do all of their Chantelle bra shopping online from a plethora of different internet merchants as well.
Websites like Herroom, Figleaves,  ... and Amazon cater to the Chantelle aficionados all over the world by offering a wide variety of Chantelle Bras and lingerie in a greater variety than most lingerie stores can carry.

Chantelle bras have maintained their popularity as a result of their ability to offer chic French brassieres blended effortlessly with a comfortable bra fit.
They are designed for women who want more out of their lingerie drawer than just basic functional brassieres.
Superior quality and that sexy French "je ne sais quoi" are the perfect combination for today's sexy and feminine women.