*FTC Disclosure - If you make a purchase through a link on this site, we receive a small commission at no extra cost to you.*
The Secrets of Cotton Camisoles And Looking Great
Cotton Camisoles - While they are definitely not considered exotic lingerie, camisoles are a wonderful lingerie drawer basic and must have for women of all ages.
Originally worn strictly underneath one's clothing, today's camisoles and cami sets can be worn as both inner and outerwear, and are perhaps among the most versatile intimate apparel available.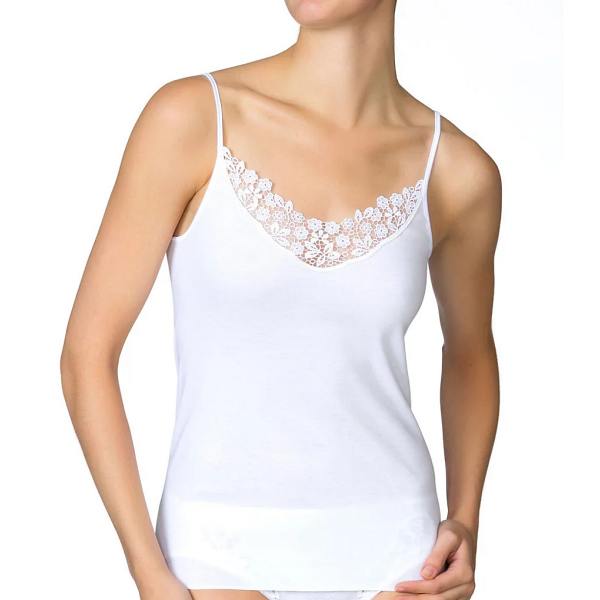 From lightweight stretchy camisoles in cotton for summer wear to a thick, warm cotton camisole under your winter clothes, there are a multitude of camis to fit every need.
Cotton Camisoles - The Dos and Don'ts

Looking for inspiration to keep it fresh and fabulous? Here are a few of our favorite cami do's and dont's.
The Camisole Dos
For a super polished look, opt for a cotton cami with lace or satin trim under your suit jacket, blouse, or even sweater for the office
For summer weekend wear, pair a cotton with lace camisole with your favorite jeans or crisp white pants for an effortless casual look
For a fun casual look, layer two camisoles in complementary or even contrasting colors
Match red, green, blue, or a pink camisole with white or black camisoles. Be sure both have similar shoulder straps and necklines
Need more support? Consider trying one of the new camisole bras that have a hidden shelf bra or molded underwire cup bra that offer additional support
Love to workout? You're in luck. Cotton is a natural fabric that breathes and helps to keep you cool. Pair cotton camisoles with workout wear such as your shorts, leggings and yoga pants
---
The Cami Don'ts
Mix and match fabrics. For example, sheer camisoles or satin camisole with cotton...too many lingerie looks together are a no no for outer-wear
Choose a skimpy camisole if you are busty and need support...instead look for a cami with good support or a more substantial tank top with pretty lace or mesh trim
Wear a black bra under a white camisole. It will show through. Instead, opt for a white or nude colored bra. Or, better yet, choose a camisole with built in bra
---
Related Links - Intimate Apparel
Nightgowns Sleepwear - From a flirty long chemise in stretch lace and satin nightgowns to Vanity Fair nightgowns and brushed back satin nightgowns there are so many sexy lingerie choices.

Sheer Lingerie - Sheer bras, panties, nightgowns, camisoles and sexy transparent lingerie and intimate apparel can be worn alone or mixed and matched with your other favorites.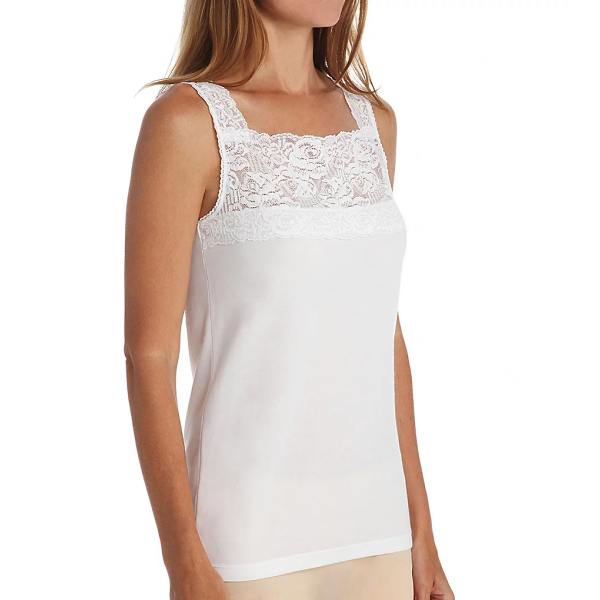 Plus Size Lingerie - Whether you're looking for a plus size sports bra and panties for everyday wear or sexy plus size nightgowns for that special romantic evening, find what you want with a few quick tips.
Push Up Bra - Wearing these pushup bras under your favorite blouses, tops, sweaters and dresses will enhance your figure and turn heads.

G String Panties - G string styles are a great choice if you are wearing tighter pants, like white jeans or clothing and don't want a panty line. Find out what makes these panties so popular.

Chemise in Stretch Lace - Whether you're looking for a curve hugging black mesh chemise for your honeymoon lingerie or a silk babydoll chemise with a peek a boo open bra set for a romantic weekend getaway, there's a cornucopia of chemise choices!