*FTC Disclosure - If you make a purchase through a link on this site, we receive a small commission at no extra cost to you.*
How To Buy The Best Lace Chemises That Suit Your Silhouette
Lace Chemises - One of the most beloved, versatile and sexy lingerie styles is the chemise. The classic and popular chemise comes in almost every possible style, fabric, and length imaginable.
From mid-thigh grazing A line to long and straight, chemises have you covered.
Trimmed with whimiscal embroidery, silk, satin, or baby fine mesh, they can be worn as a slip under a dress, or as a sexy nightgown for evenings when romance is in the air.
In this how-to-guide, we'll cover the step-by-step basics on what questions to ask to get the best lace chemises for your shape.
Lace Chemises

First, consider what you want a lace chemise for. In choosing the right one for yourself, where and how you plan to wear it.
Will it be a slip to be worn all day under your dress or business suit? Or will worn as chemise sleepwear?
Check the lace itself - it it scratchy? Can you wear it on your skin for a long period of time?
If, you want sleepwear, you'll want to make sure that it's comfortable and both wide enough and long enough to cover your body even as you move around during the night.
If, you want a chemise slip, you'll want to consider whether the one you choose will have an attractive line under your clothes, if the straps or hemline will show, and whether the bra portion will support and cover you adequately.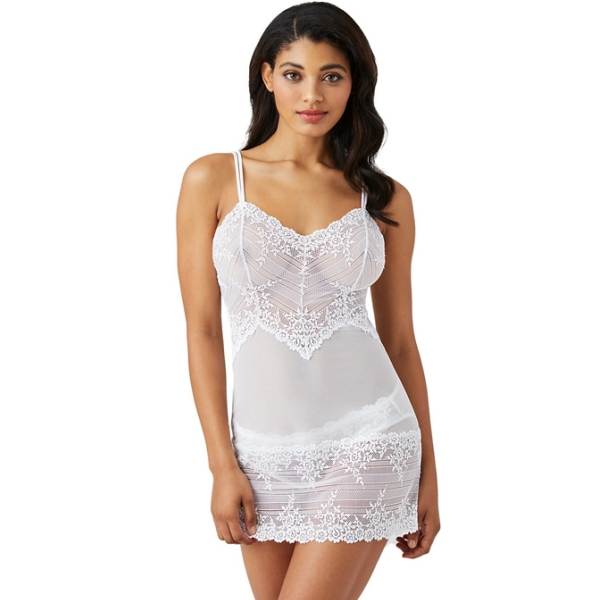 What's Your Bust Size?

Next, what is your bra size?
The bra size and style is a crucial choice, especially if you're considering a chemise with structured or sized bra cups.
You'll want to take a close look at the level of support the brassiere offers, strap placement, the lining and padding, and whether the top includes an underwire.
This is especially important for full figure bras and plus size bras that require greater support.
A bra that fits well makes you look and feel great, no matter what your size. An ill-fitting bra is not only uncomfortable, it makes you look awkward and squeezed.
Are You An Apple, Pear, Curvy or Square Silhouette?

Think about your overall body shape. You might have heard women's shapes described as "apple", "pear", "curvy", or "square".
Depending on your preferences, you might choose to emphasize what you have, or distract from what you think you have too much of.
You can show off your decolletage, your legs, your waist, or all three.
Too much length will make an apple look shorter and rounder, and too short may be uncomfortable for a pear.
A slit up the side elongates the legs. It's also sexy and looks fabulous on any shape.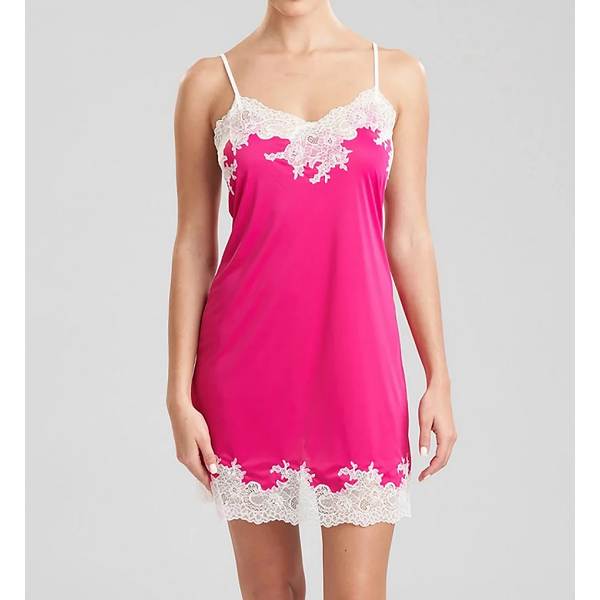 A babydoll or empire waist visually moves the waist up near your bustline, pulling the eye up and allowing freedom of movement, but may not be comfortable under clothing with a more traditional waistline.
It's also not a great pick for someone with a pear shape or a larger tummy. Instead opt for an A line shape that is fitted in the bust and flows out for a sexier shape.
If you're comfortable with the one you choose, then a chemise is an indulgence and a delight, and above all should be an opportunity to enjoy your shape.
If you are comfortable, you'll look good and feel even better! I hope this three-step guideline offers you some helpful choices for the best chemise among the many styles available.

Lingerie Shopping Online
Shopping online for lace chemises, and long and short nightgowns online is easy on ebay clothing.
From a silky satin chemise to a silk chemise, the selection of chemises, chemise sleepwear and exotic lingerie has never been better.
Everything listed is available right now - so if you see something you like, hurry and place your bid.
When you click on a link a new window will open and you'll see a sampling of what's currently available online.
Want to continue lingerie shopping? Just follow the view all items link at the end of the listings...