*FTC Disclosure - If you make a purchase through a link on this site, we receive a small commission at no extra cost to you.*
How To Choose Capri Pajamas in 5 Minutes or Less
Capri Pajamas are a lingerie drawer essential when it comes to comfortable womens sleepear. Cosy, stylish, and available in virtually any color or size, they are a great option for women of all ages.
But with so many styles, colors, and prices, how can you pick pjs in five minutes or less? Fear not, it's easier than you think! Here are a few simple tips...

Capri Pajamas

First of all, you need to find the right material. Capri nightwear is available in multiple fabrics, from nice thick cotton, to thin and breezy silk.
Depending on your style needs and preferences, you can choose either. Typically, many opt for cotton.
Cotton pajamas are practical, cosy and soft on your skin, and offers something warm to wear too.
Stylish and functional, cotton capri pajamas are an easy choice for everyday sleepwear.
Silk sleepwear on the other hand is cool, sophisticated, glamorous and tends to be more romantic.
Patterns, Prints or Solid Color Sleepwear?
---
Once you've chosen the fabric you want, you'll need to consider the right pattern or print.
Not only do capri pajamas come in solid colors, they are available in just about any print imaginable.
Bright, solid colors to choose from this season are the reds, corals, and turquoise colors. But, as always, black or navy are simple, slimming colors that are also great choices.
When it comes to prints, avoid ones that may be seen in the children's section.
A lot of capri styles come in themed prints, like christmas, halloween, or valentines and feature characters going along with seasonal themes.
When choosing a print, pick something that fits your age, and something simple but with style.
Go with an animal print, or some other trendy pattern. Leopard, cheetah, and zebra print are fun options.
Or, if you prefer something more subdued, opt for a soft, sophisticated floral print.
Cosy in The Right Size
---
After you have chosen the fabric, and the print, of course you need to find the right size.
Size seems like an easy choice but make sure to find sleepwear that fits well and is comfortable.


Don't be afraid to try them on. You don't want to end up buying a size too big or too small, then find out when you get home and are about to go to bed.
Avoid the frustration and time it takes to go back and exchange them at the store the next day.
There are multiple size options, from extra small, to small, medium, large and extra large.
Get what feels the most comfortable for your body. You don't want something too tight while you're sleeping, but you don't want it to be too loose and baggy either.

What is Your Pajama Budget?
---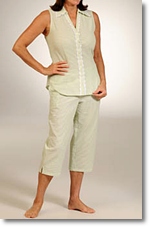 Last but not at all least is pricing. Find a brand and pajama pant that you like in your own price range.
Typically, affordable cotton pjs range in price between $15.00, and $30.00 depending on the brand name, material and print.
For a basic solid color cotton that is store brand you are looking at around $20.00 on average.
No need to splurge and buy yourself a pair for more than $30.00 just because of the brand name, as long as the affordable pjs are made of a soft cotton fabric, in prints or colors you like.
Sleepwear Shopping on eBay Clothing
---
Shopping online for capri pajamas, womens pajamas, night gowns, and ladies sleepwear is easy on ebay clothing.


From elegant silk pajamas, to sexy satin pajamas and a multitude of different nightgowns and sleepwear, the lingerie options have never been more affordable or more fabulous.
Everything listed is available right now - so if you see something you like, hurry and place your bid.
When you click on a link a new window will open and you'll see a sampling of what's currently available online.
Want to continue lingerie shopping? Just follow the view all items link at the end of the listings...