*FTC Disclosure - If you make a purchase through a link on this site, we receive a small commission at no extra cost to you.*
Shopping Guide For Cotton Sleepwear
Cotton sleepwear is hands down the favorite sleepwear choice for men, women and children across the globe. It certainly has been popular with our customers. Nothing beats the quality, comfort and durability of cotton nightgowns, pajamas, chemises, etc.
And, the variety is second to none. There are a multitude of options for almost every preference imaginable.
So, whether you are looking for a pair of practical cotton pajamas, an elegant cotton nightgown, a cozy cotton t-shirt or even a sexy lace and cotton chemise, there are choices galore.
Faced with so many choices it can seem a bit overwhelming, especially if you're pressed for time like so many of us are these days. Here are a few time saving tips...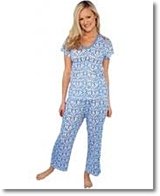 Cotton Sleepwear: Who Is It For?

First, ask yourself who will be wearing the cotton sleepwear that you are going to buy.
Are you shopping for yourself? Your children? Your husband? Perhaps the sleepwear is a gift.
High quality cotton nightgowns or kids pajamas are popular Christmas and anytime gifts.
Men also often enjoy giving nightgowns as Valentine's Day presents. Or maybe you just need to update your current lingerie drawer?
Determine who is going to receive the sleepwear and why. This will help you narrow down your choices.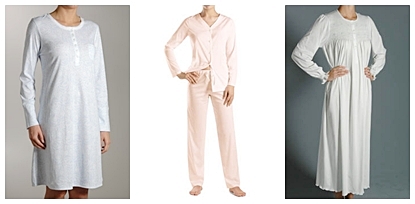 SHOP NOW
Nightgowns, Pajamas, or Chemises?
---
Sleepwear made of cotton comes in a variety of different styles. Based on the recipient, next decide exactly what type of sleepwear you want to purchase. You can choose from:
cotton pajamas
cotton t-shirts
cotton nightgowns
cotton chemises
cotton robes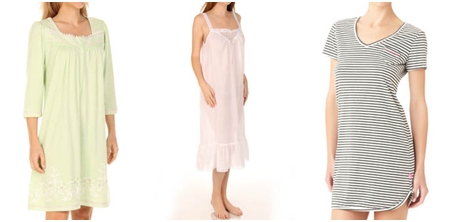 The Appeal of Cotton Pajamas
---
Cotton pajamas are easy to wear and keep clean, and they come in an array of fun prints and designs.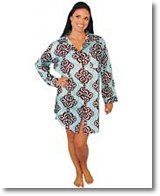 People of all ages enjoy wearing playful print pajama bottoms, featuring their favorite cartoon characters, animal prints, florals or other colorful, cute themes.
Cotton pajama bottoms often tie at the waist and have a wide elastic band, offering total comfort.
This type of nightwear is ideal for kids, college students or anyone who wants to feel totally relaxed at night without showing too much skin.
The perfect match for cotton pajama bottoms is a soft cotton t-shirt. You can find cotton t-shirts ideal for nighttime in many different stores.
Often, these shirts are attractive enough to be worn during the day, but they are thin enough to wear to sleep.

Cotton Nightgowns
---
If you are looking for something a bit more mature, consider a cotton nightgown.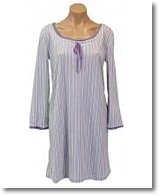 The free-flowing design of the nightgown combined with the breathability of the cotton fabric is an ideal combination for many people.
Classic white is a popular color for cotton nightgowns, though you can find many other colors as well, such as shell pink or baby blue.
There are also quite a few options for the nightgown's length, from above the knee down to the ankle. A nightgown may be a more romantic choice than pajamas, and as mentioned above, it often makes a wonderful gift.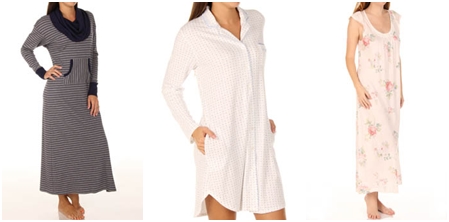 Cotton Chemises
---
For something a little sexy, a cotton chemise or slip may be the right choice. These designs are extremely feminine, often featuring short cuts, lace and bows.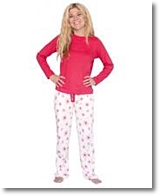 A cotton chemise can be excellent for sleepwear during the hot summer months, when coverage is not a priority.
Cotton chemises can be found in more dramatic and colorful prints than nightgowns, and can be fun romantic gifts.
Cotton is simply a fantastic material for bedtime. There are quite a few choices when it comes to cotton sleepwear, but no matter the design, you can trust that you will be getting something that feels good.
By following the tips above, you should be on your way to finding the best cotton nightwear for you.

Shopping Online
---
Shopping online for cotton sleepwear, cotton nightgowns, cotton lingerie and ladies sleepwear is easy online.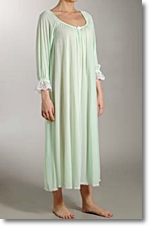 From cosy cotton nightgowns, and cotton camisoles to womens pajamas , the nightgowns sleepwear options have never been more affordable or varied.
All of the night gowns and ladies pajamas that you see listed is available right now - so if you see something you like, hurry and place your bid.
When you click on a link a new window will open and you'll see a sampling of the intimate apparel that is currently available.
To keep shopping for lingerie and womens sleepwear , follow the view all items link at the end of the listings...