*FTC Disclosure - If you make a purchase through a link on this site, we receive a small commission at no extra cost to you.*
Bali Bras For Petites And Plus Sizes

Bali Bras For Women - These days women are constantly being bombarded by the media, that they need to be thinner or curvier, or something other than what they actually are.
Bali lingerie doesn't buy into that idea.  They believe that every woman is beautiful and whether she's a petite B cup bra or a dd cup, there's a Bali bra to complement almost every size.
Available from petite bras to plus size bras in a pleasing variety, Bali bras offer good everyday coverage and support. Let's take a closer look at sizing, and reviews of favorite petite bras and plus size bras.

Bali Bras For All Bra Sizes

Bali bras for women are available in a great range of sizes. From B cup to DD cup, they're designed to enhance a woman's figure. They're light, comfortable and a great choice for everyday wear.

Factor in affordability, with most bra styles retailing under $30, larger breasted women no longer have to wear old fashioned heavy-duty brassieres that resemble their grandmother 's bras.
And, the opposite is true - no longer does a petite woman have to make do with a bra that resembles a basic bralette.

Minimizer Bras

Plus size women who need extra support and definition will appreciate Bali Lingerie's line of minimizer bras that shape, minimize and support heavier breasts without sacrificing attractive curves.
Bali minimizer bras feature comfortable, supportive cups and wide, flexible straps and bra bands to keep the garment comfortably in place.
The popular minimizer bra comes in a variety of different styles from practical sports bras to feminine lace bras that fit the bill for virtually every occasion.
Here are a few favorites:
Concealers Minimizer Underwire Bra
Passion For Comfort Back Smoothing Minimizer Bra
Lace Desire Underwire Minimizer Bra
Petite Bras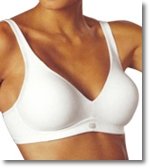 While Bali lingerie is well known for plus size bras and panties, they also cater to smaller busted women and those with a slender frame.
From comfy sports bras to push up bras and strapless bras, petite women can find the right bra for most activities and events at easy to navigate websites, and traditional favorites like Herroom and Freshpair.com.
Here are several popular styles:
Bali Smooth Indulgence Wire Free Bra
Downtime Cool Stretch Brassiere
Bali Seductive Curves Seamless Underwire Bra
                                The Best Bra Fitting

As a rule of thumb, have yourself measured by a professional bra fitter about once a year. Or, if you've lost a lot of weight, or gained a lot, had a pregnancy or gone through the change of life, aka menopause.

A Few Last Bali Lingerie Tips

When shopping for Bali bras for petite or plus-size women be sure you have the right bra measurements to start off with.
If you're still uncertain, check the Bali lingerie website for a "Fit Event" near you.
At "Fit Events" you can be measured by a professional bra fitter, plus get valuable advice on the best bras to suit your body type.