*FTC Disclosure - If you make a purchase through a link on this site, we receive a small commission at no extra cost to you.*
Bali Wireless Bras For Active Lifestyles And Everyday Wear

Bali Wireless Bras - Whether you're hitting the gym, running errands, or lounging at home, there's something uniquely appealing about a wirefree bra. It's lightweight, it's comfy, it's effortless - and best of all, it's a one and done choice.
Here, we guide you through 5 of our current favorite wireless Bali bras and what they have to offer. From the pros and cons of each style to the support, functionality, and unique features that make them so popular.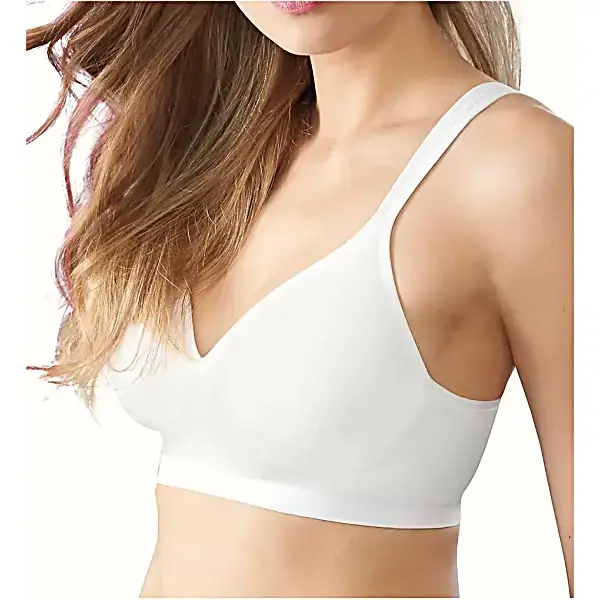 Favorite Bali Wireless Bras
Bali Comfort Revolution Wirefree Bra
Named one of the "Twelve Best Bras for Women Who Hate Bras" by the Huffington Post, this lightweight style offers a wonderful blend of easy comfort and exceptional support.

Also known as a contour or t shirt bra, this wirefree bra comes in a silky soft fabric that molds to your shape for a smooth snug fit.

Highlights include seamless, lightly padded cups, wider sides, tapered non-stretch adjustable shoulder straps, and a unique feature - elastic along the top edges to help it stay in place.

A flexible favorite, this wireless bra is great for daily wear and low impact activities.
---
The Pros:
Very good support
Full coverage bra

Excellent range of more than 24 colors

Sizes B, C, D, and DD

The Cons:
May not provide as much support as bras with an underwire if you're looking for extra lift in DD+ sizes

Bra straps offer limited adjustability

---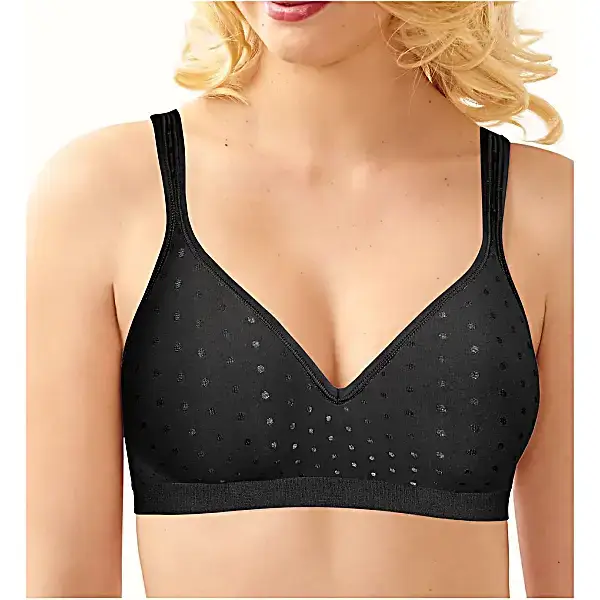 Bali Double Support Wirefree Bra
If you're looking for a no fuss no muss bra that offers extra support without underwires, padding, boning or cookies, the Bali Double Support Wirefree Bra may be just the style for you.
This full coverage bra comes in a patterned satin jacquard fabric that wicks moisture away for a cooler fit and feel. 
Seamless opaque cups and a 2-ply lining provide a smooth and natural shape. Elastic straps are adjustable from the front which makes for easier accessibility. A nice little extra - the back has gel padding to prevent chafing.

Whether you're going for a quick run, or relaxing around the house, this style takes you where you want to go in comfort.
---
The Pros:
Extra support
Hook and eye count is dependent on size - B and C cup = 3 hook; C, D, DD and DD = 4 hook; D, DD and DDD = 5 hook

Colors include several soft neutral shades

Sizes B, C, D, DD, and DDD

The Cons:
the 2-ply construction may feel more restrictive than single-layer bras
---
Bali Lace Desire Wirefree Bra
Have a craving for a dressier bra with a comfortable fit? The Bali Lace Desire Wirefree Bra is one of the prettiest Bali wireless bras we've come across. 
Soft and lightly supportive with scalloped lace edging, it has lightly padded contour cups with a lace overlay and adjustable back straps.
There are two features that we really like about this style. First is the all-over lace - it's subtle, feminine and not overdone.
Second, it's a convertible bra and can be adjusted for a criss-cross back.
This bra transitions effortlessly from day to night for a stylish goes-with-everything feeling beautiful look.
---
The Pros:
Full coverage bra
Lace detailing is perfect for sexy necklines
Comfy flexi-fit
Sizes Small, Medium, Large, X-Large, 2X, and 3X

The Cons:
Lace detailing may show through certain fabrics or clothing
Limited size range may not offer enough support for larger sizes

---
Color Me Stylish Tip

One of our favorite things about Bali wireless bras - they're available in a myriad of colors and prints making it easy to express your unique style.
Opt for classic nude shades for a subtle look under light-colored tops or embrace vibrant pops of color to add a playful touch to your outfit.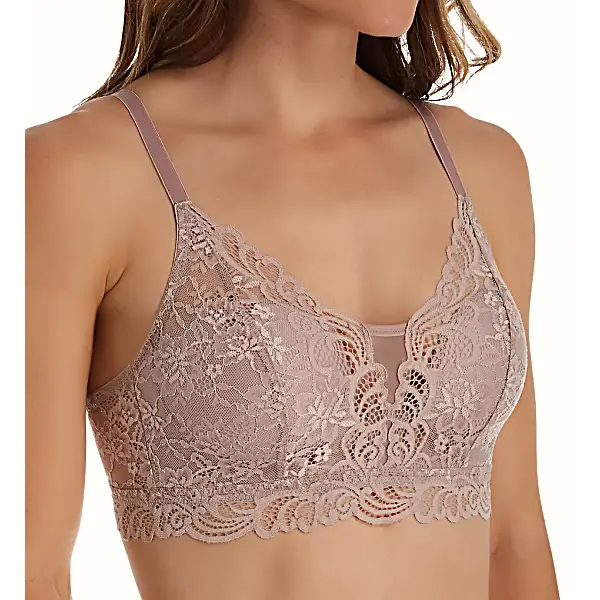 Bali Comfort Revolution Easylite Racerback Bra
Easy-wear sports bras like the Bali Comfort Revolution Racerback Bra are a great choice for active lifestyles and daily wear even when no sports are involved.
With a racerback style, lightweight foam cups that you can remove, and a No Ride Up underband in silky smooth fabric, this bra is designed for comfort and flexibility.
One of the features that impresses us most is the 360-degree stretch moisture-wicking fabric that keeps you cool - perfect for those hot, humid summer days.
This versatile style strikes an effortless balance between functionality and freedom of movement with a sleek and sporty look that works well whether you're working from home or just relaxing.

---
The Pros:
Fused edging and flat seams provide a low profile under clothing

Pullover style
Great for tank tops and dresses

Sizes Small, Medium, Large, X-Large, 2X, and 3X
The Cons:
Limited support

Limited size range

Pullover style may be difficult to pull on / take off

---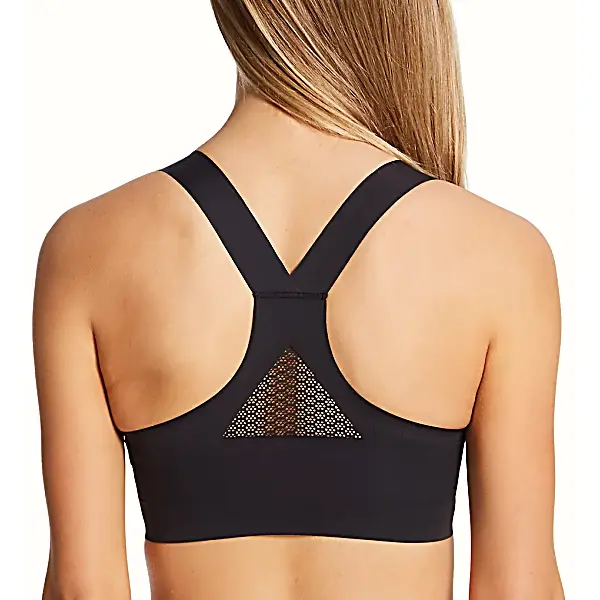 Bali Ultimate Wire Free Support Bra
If you're constantly on the go and need a bra that can keep up, the Bali Ultimate Wire Free Support Bra fits the bill.
Designed for everyday wear, this plunge bra comes in a silky soft microfiber that's ideal for t shirts and casual clothing.  It has lightly padded cups for a smooth look.

Elastic stay-in-place adjustable straps are wider at the front and taper narrower at the back and can be adjusted to a criss-cross style.
Whether you're enjoying a relaxing walk or yoga class, or running errands, this light to medium support style will keep you comfortable and supported from morning till night.

---
The Pros:
Fused edges ensure a low-profile invisible look
Wide bra straps offer a more comfortable fit
Wider band and side support panels for additional support

Sizes Small, Medium, Large, X-Large, 2X, 3X
The Cons:
May not offer enough support for larger cup sizes
Not recommended for high impact activities / intense workouts

Limited color selection

---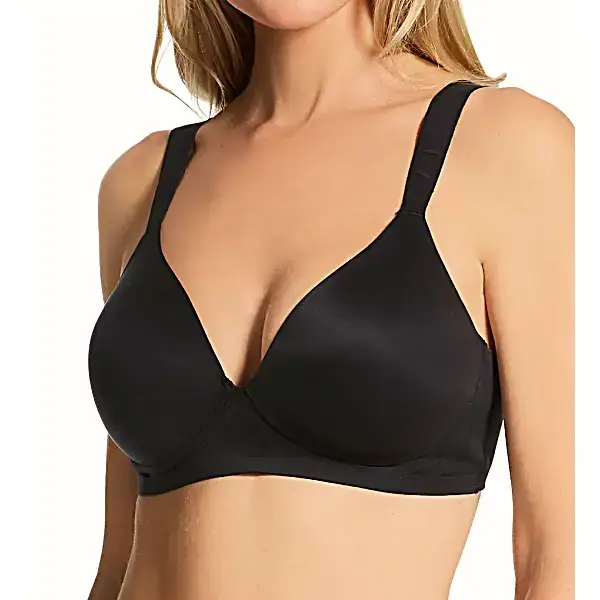 Comfortable Fit Tips
Steer clear of bras that are too tight or have poorly constructed straps.
Tight bras can restrict movement and be super uncomfortable, while poorly constructed straps may slip off your shoulders - usually when you least expect it.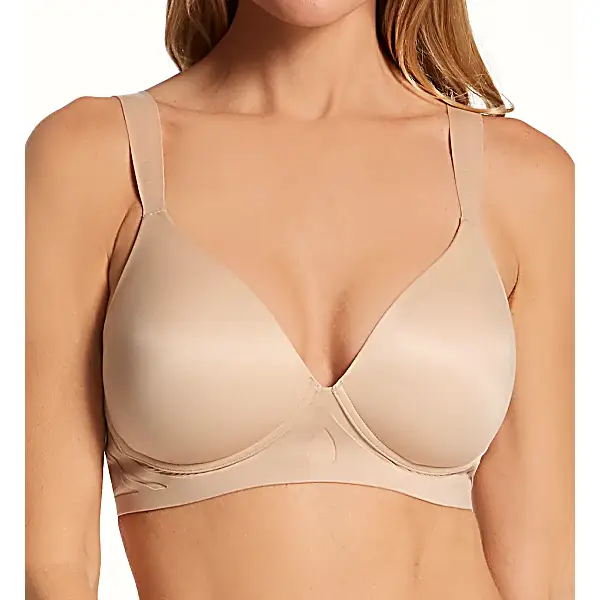 Bali One Smooth U Support Bralette
While we're focusing on wireless bras, it's worth mentioning the Bali One Smooth U All-Around Smoothing Bralette for those who prefer a bit more support.
This lightweight bralette has smooth, seamless cups in a soft stretchy nylon / spandex fabric that presents a sleek silhouette under any outfit.
Wider sides and non-adjustable straps are designed to help support and shape while keeping the bra in place.
Comfort is key with this popular bralette. A versatile option, it's non-restrictive and ideal for low-impact activities and leisure wear.
---
The Pros:
Pull-over style is easy to put on / take off

No padding
Great for T-shirts and tank tops
Sizes Small, Medium, Large, X-Large, 2X, 3X
The Cons:
May not offer enough support for larger DD+ cup sizes
Straps are not adjustable
Not recommended for high impact activities

---
---
Frequently Asked Questions Wireless Bras
Yes, Bali bras is owned by Hanesbrands Inc. 

As part of Hanesbrands, Bali lingerie benefits from their extensive experience and resources in the apparel industry, which helps ensure the availability and quality for customers worldwide.
Yes, Bali has a diverse range of supportive styles and extended sizes (some go as high as a G cup) that focus on coverage, support and fit for larger busts.

Special features include wider underbands, reinforced cups, tapered (often padded) straps, and side panels.
Absolutely! Wireless bras have stepped up their game and offer supportive styles sans wires in specially designed fabrics that deliver lift, shape, and comfort. The secret? Features like -

reinforced bands and strategic seaming 
fabrics with stretch and elasticity for ensure a snug fit
molded cups, foam padding, and / or side slings for shaping

bra straps and bands that distribute weight evenly to ensure support
---