*FTC Disclosure - If you make a purchase through a link on this site, we may receive a small commission on the transaction - at no extra cost to you.*
Satin Robe - How To Mix And Match For A Beautiful Look

Satin Robe - If you find yourself with a drawer full of beautiful lingerie but can't figure out how to pair your pieces, it's quite easy to end up frustrated, with that awful feeling of "I have nothing to wear," no matter how many bras, panties, chemises, and nighties you own.
No worries. By adding one of the best sleepwear fundamentals - a satin robe - to the mix, it becomes easier than ever to bring your lingerie favorites together and maximize your options. 

Below, the easy tips on how to create pretty pairings that you'll love to wear.
---
Glam Up Your Lingerie With A Satin Robe

Wear your satin robe with your most show-stopping lingerie pieces for an ultra fancy, decadent look that's fit for any special evening.
From lace bras, bustiers and matching panties to silk chemises and chiffon nighties, when you select your favorite statement lingerie pieces satin sleepwear serves as the perfect backdrop to make your favorite intimate apparel really stand out.
The key to making the most of this intimate apparel combination is to wear it on any day of the week, rather than storing it away for special occasions. Make any night something to celebrate with a satin robe and your most stunning lingerie.
---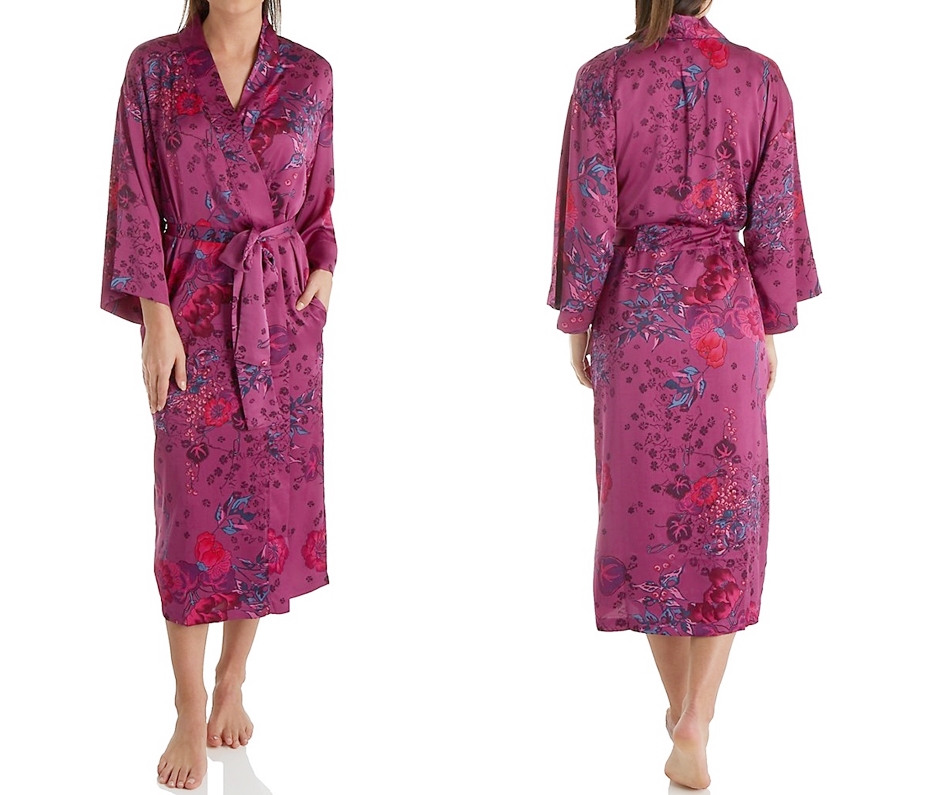 NATORI
Mix And Match With Sleepwear Basics
Dress it down. While womens robes in satin look perfect with your fanciest lingerie, they also work just as well with your simplest sleep wear.
Dress up a plain cotton nightie, a classic microfiber chemise, or classic menswear style pajamas when you add a satin wrap as a topper. 
Sleepwear basics are instantly elevated to luxury status when you pair a charmeuse robe with popular styles that you wear every day. 

Plus, you'll get a ton of wear out of your favorites when you mix  and match them for a look that's casual and comfortable, yet beautiful at the same time.
Ladies Sleepwear - Color Confidential
When shopping for satin or other robes for women, the trick is to choose a color that flatters your skin tone.
Blondes and women with fair skin tend to look great in the pastel and cooler colors like icy blue, baby pink, white and silver, while brunettes look great in the darker colors such as wine, red, navy and emerald.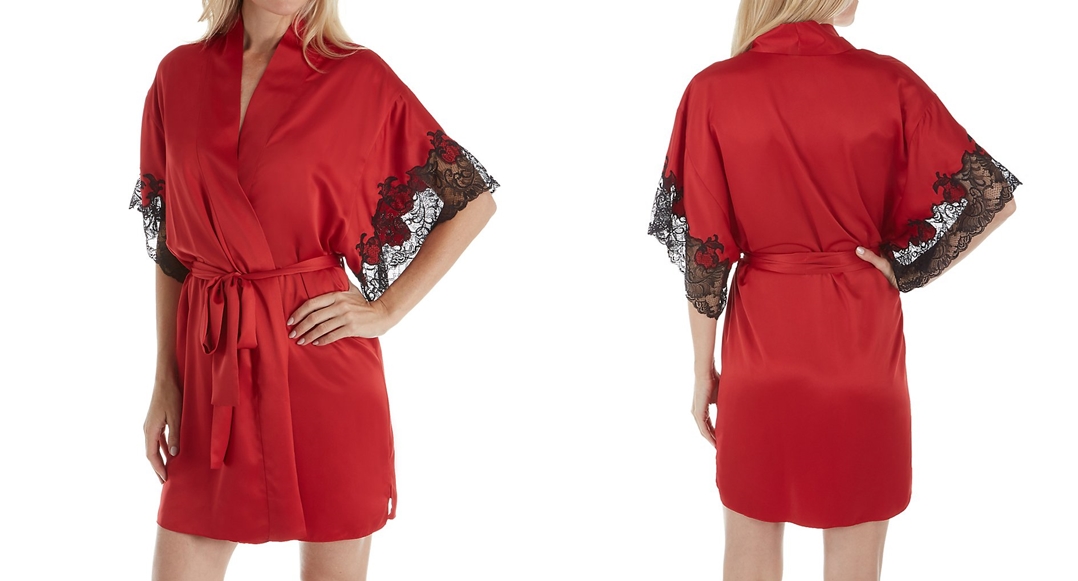 ---
Match Intimate Apparel Colors
Try a monochromatic look when you match satin with sleep wear styles like nightgowns, chemises, and pjs in a similar shade. 
Even if your intimate apparel isn't an exact match, you can mix them up and create a coordinated look simply by selecting the same color.
The easiest, most sophisticated (and sexiest!) combination is a black robe with other black lingerie (a black slip or bra and panties combo), for an ensemble that looks like it belongs together.
Don't shy away from different hues of the same color, like a royal blue robe with a baby blue nightie or a turquoise bra and panty set.
You'll get a gorgeous look with colors that are in the same family, even if they aren't an exact match.
---
BLUEBELLA
Play Up Your Favorite Look With Simple Short Robes
No matter what your personal style is, short robes in satin are an easy essential that you can mix and match well with just about anything you have in your lingerie drawer.
Pair it with ultra feminine lingerie like ruffled nighties in candy colors for a perfectly pretty look
Mix it with classically sexy styles like a silk chemise
Wear it over a minimal cotton nightgown for a clean and crisp look
Did You Know?

Whether you're considering luxury robes as a gift or for yourself, satin is an exciting choice that's glamorous, comfortable and affordable.  Satin complements virtually every figure and appeals to young and old alike.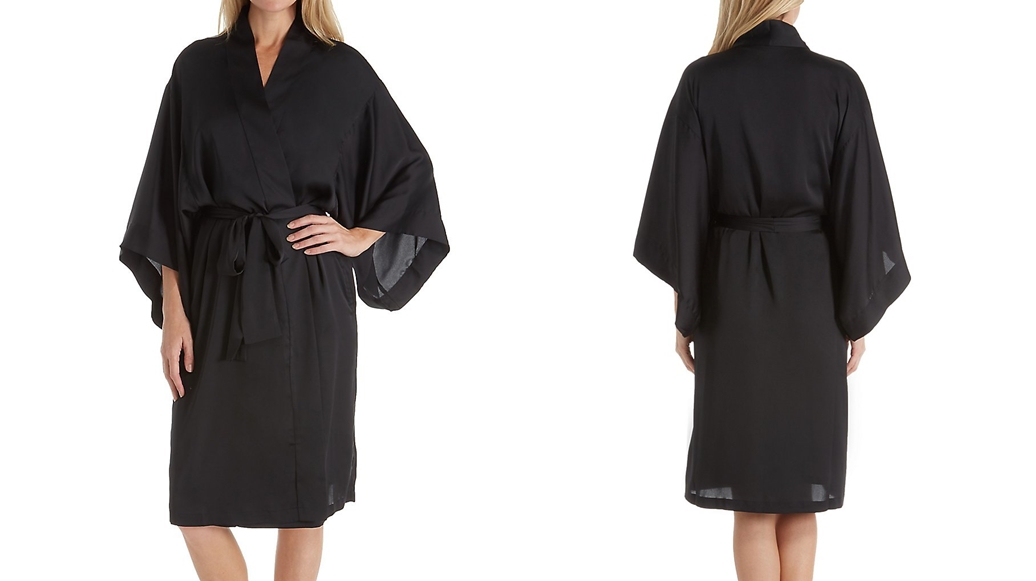 Make Beautiful Lingerie Pop With A Bold Color
It's easy peasy to elevate everyday basics like bras, panties, bustiers, and nighties with a satin robe in a fun color.
Intimate apparel doesn't need to be the same hue to create a cool look, in fact it's even more fun when you choose contrasting colors.
Take neutral lingerie in colors like white, black, navy or cream, and pair with fuchsia, crimson, turquoise or even fun prints or funky patterned ladies robes.

Your basics will stand out and you'll breathe new life into even the simplest pieces just by adding a satin robe to the mix.
LINDA HARTMAN