The Appeal of A Satin Robe
The smooth look of a satin robe over most womens sleepwear styles is a great way to enjoy the glamor of satin while remaining comfortable, cozy and elegantly attired, without spending a fortune.
Whether you opt for a satin robe over your favorite satin nightgowns, chemises, slips, or womens pajamas, you'll never have to worry about looking less than stylish and feminine whether you're stepping out to pick up the newspaper or answering your door.

Popular Satin Robe

Silk robes and sleepwear, satin or charmeuse has the same feminine appeal but is more durable (it's made of polyester, a man-made fabric).
It's also far more affordable than silk, but just as glamorous.
And, while a classic satin wrap robe is not as long wearing as other lingerie and intimate apparel fabrics like cotton robes or terry cloth bath robes, you can extend the life of satin sleepwear and robes by machine wash on the delicate cycle in cool water and laying flat to dry.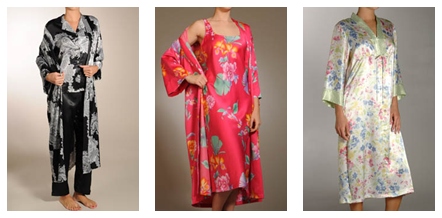 Colors & Length
---
Satin robes come in a tempting array of colors ranging from passionate red, maroon, royal blue and black to pastel shades of sea green, pretty pink, lavender and ivory, and a variety of soft and bold patterns and floral prints.
When shopping for satin or other robes for women, the trick is to choose a color that flatters your skin tone.
Blondes and women with fair skin tend to look great in the pastel and cooler colors like icy blue, baby pink, white and silver, while brunettes look great in the darker colors such as wine, red, navy and emerald.
It's important to find a design that enhances your silhouette and feels comfy. Styles range from petite sizes to plus size robes.
Like most ladies sleepwear styles, if a robe is not comfortable it will sit unworn in your closet.
There are various lengths to suit every need.
Some ladies robes are full length, some are shorter falling just above the knee, while others are calf length.
So, if you are petite you may opt for a full length charmeuse robe with a flowing cut that creates a long unbroken line.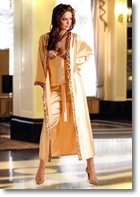 If, you are tall or have long slim legs, you may choose short robes that are above or slightly below the knee to accentuate the length of your legs.

Kimono robes that are very short with a sassy belted waist are sexy and intended for romantic evenings and honeymoon lingerie sets.
Whether you're searching for luxury robes for someone special or for yourself, satin is a wonderful choice that represents luxurious comfort and affordability.
It complements virtually every figure and appeals to young and old alike. Opt for a womens robe that fits your style and personality and start enjoying the feminine appeal of satin.