*FTC Disclosure - If you make a purchase through a link on this site, we receive a small commission at no extra cost to you.*
White Nightgown - 10 Reasons Why It's Easy To Love
White Nightgown - There's a certain magic to white nightgowns. They can be chic and modern, frilly and feminine or sleek and sexy.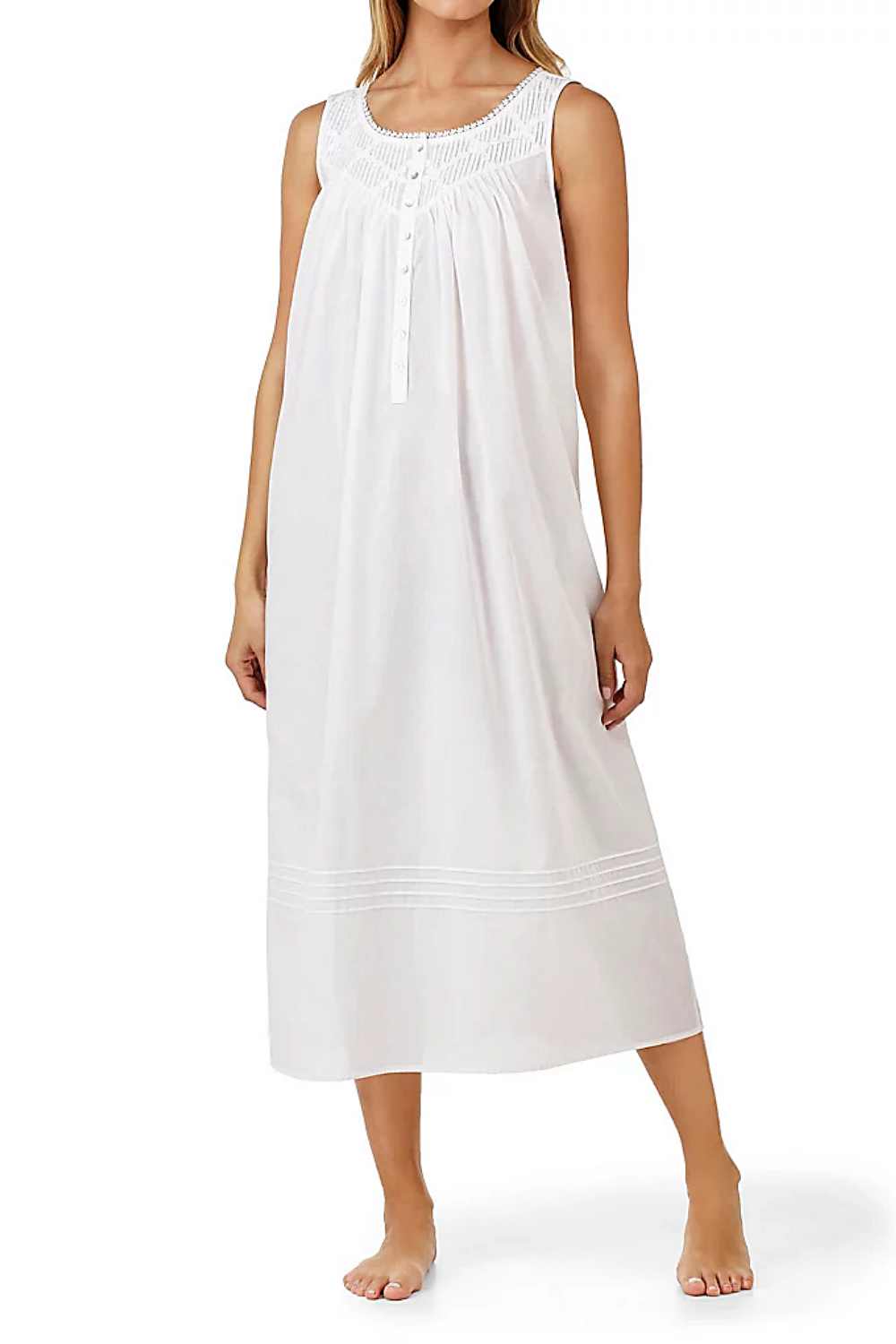 They can be trendy yet somehow tower above trends with timeless simplicity that never loses its appeal. 
Truth be told, sleepwear of any kind in white - be it nightgowns, pajamas or nightshirts - is classic, confident and always cool.

Whether you're looking for something romantic, practical, cozy, or anything in between, we're willing to bet there's a white nightgown that's perfect for you.
Below, a closer look at this great nightwear solution - from it's versatility to mix and match tips and more, this easy sleep wear choice is easy to love.


White Nightgown Appeal - Crisp & Comfy 

Few things feel more tranquil and soothing than crisp white bed sheets and linens, so steal that same experience for your sleepwear. Choosing a white nightgown instantly gives you a fresh and clean sensation that many people find ultra relaxing.
Nightgowns Suit Any Style 

Whether your style is romantic, classic, minimal, or funky and eclectic, white is a neutral and fresh color that works with virtually any look:
Channel romance in white lace
Crisp white cotton for a minimal chic look
Pure white silk for an elegant silhouette
Organic cotton with white crochet trim for a fun boho look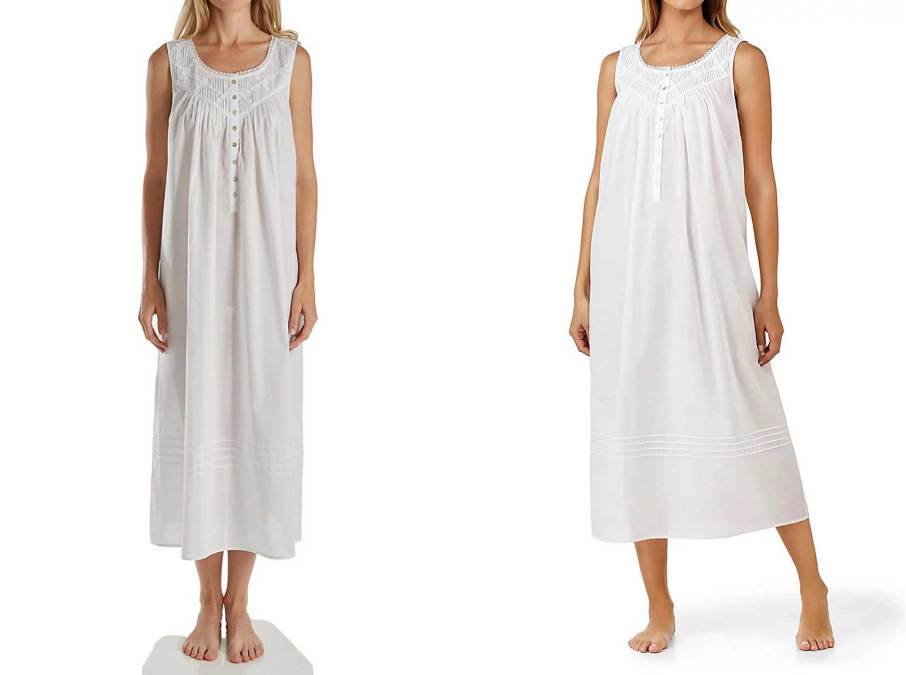 EILEEN WEST
A Seasonless Sleep Wear Style 

White is a seasonless color - airy and fresh in the hot summer months, it's also cozy and inviting when it's cold outside. Breezy white cotton nightgowns are the perfect summertime pieces, while a white flannel nightshirt is a perfect choice for staying warm on a winter's eve.
Shopping Tip

Cotton sleepwear styles and sizes can vary a lot - especially when it comes to different manufacturers. 
Always take the time to try on any night gowns or sleepwear to avoid disappointment.
Night Gowns = Timeless Elegance 

The seasons "it" shades will come and go and can quickly look dated, but white is always just right because it's so timeless. This shade is a classic choice for a nightgown or any kind of nite wear or lingerie that will look stunning now and 5 years from now. You'll never regret the enduring elegance of white sleepwear.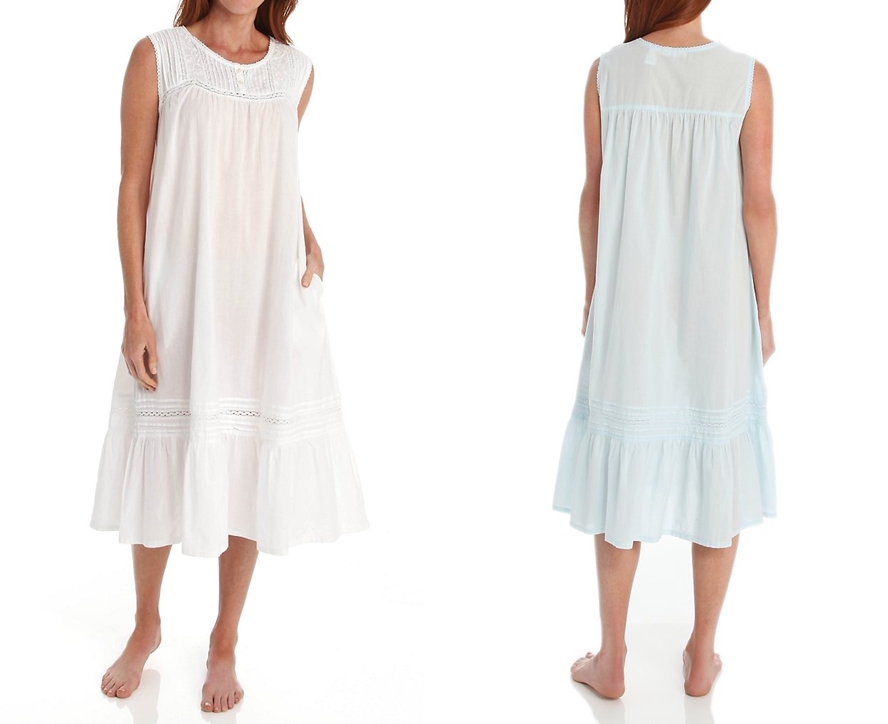 LA CERA
White Is An Easy & Effortless Beautiful Lingerie Color 

Let's face it, wearing white during the day means avoiding a minefield of stains, from ink, to coffee, to children's sticky fingerprints. Bedtime is the perfect time to slip into a nightgown that's lovely and white and enjoy its easy pristine quality, without worrying about spills and stains.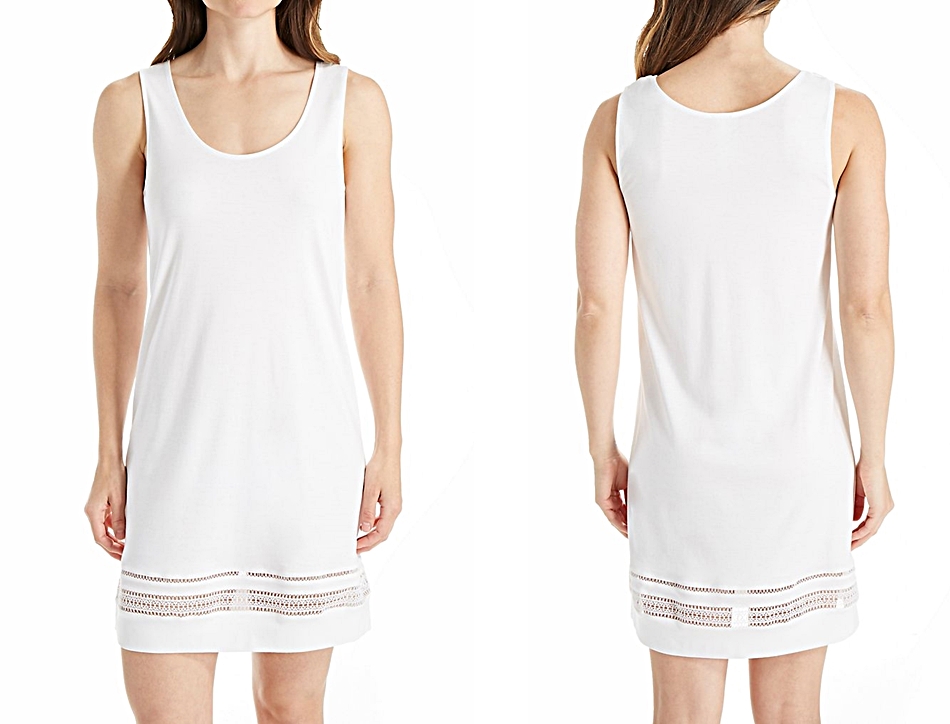 Iconic Womens Sleepwear

White nightgowns have their place in history, from classic Victorian dressing gowns, to romantic bridal style, to Elizabeth Taylor smoldering in a white slip in Butterfield 8.
When you wear a white night gown you're joining the ranks of iconic style in a seemingly simple looks that's full of panache.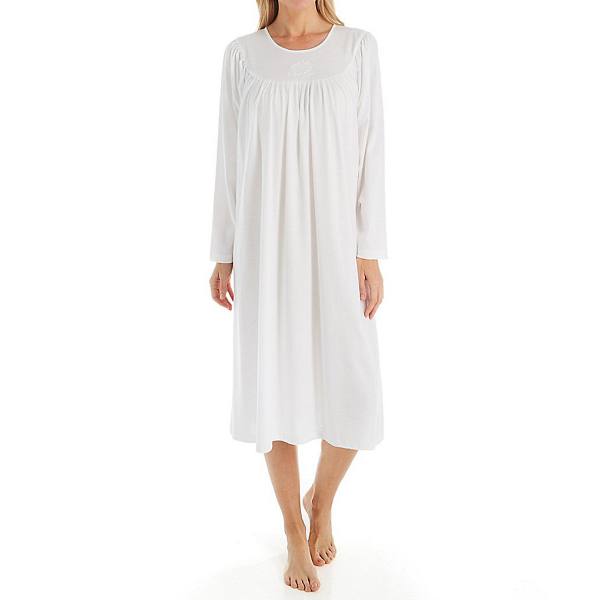 CALIDA
The Innocence Of Cotton Lingerie

Not only does a white nightgown give you a sweet and innocent appearance that we all love, but it can also give us a feeling of mental lightness and ease too. 
Innocence is so appealing because it brings us back to a free-spirited time where we didn't have problems or responsibilities. Let your white nightie transform you back into that calm and peaceful state of mind, simply by slipping one on and forgetting about the worries of the day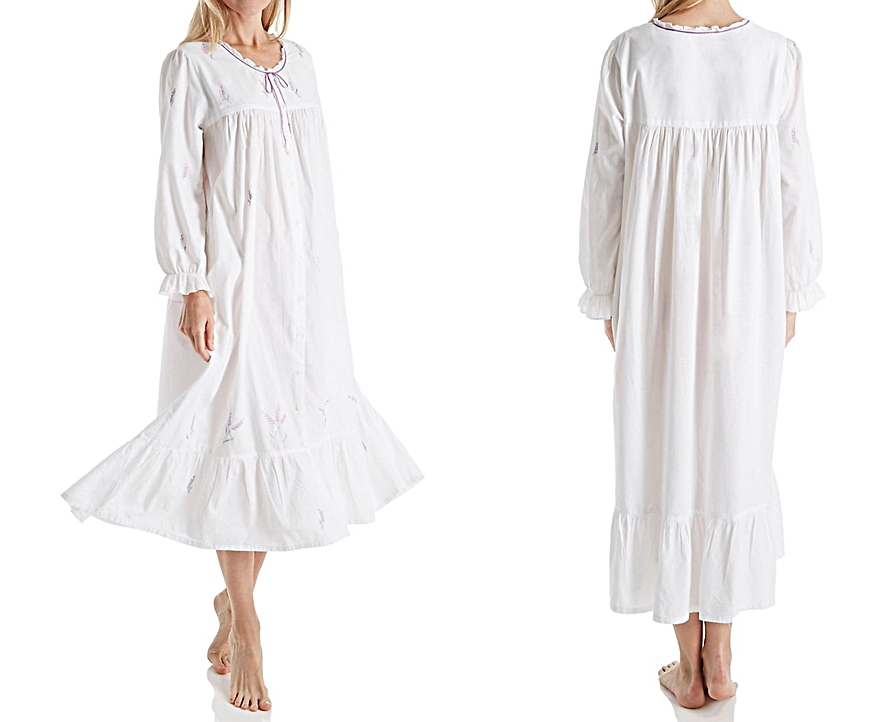 White Is A Versatile Intimate Apparel Color 
White sleepwear looks beautiful in any fabric or style. White lace, flannel, cashmere, jersey knits, chiffon, and silk. The options are endless when it comes to all of the luxurious materials that look and feel amazing in clean, pure white.
Mix And Match Nightwear 

Trying to pair different pieces in shades of blue or pink or lavender rarely results in a perfect match. That's the beauty of white – it mixes seamlessly in with your other sleepwear pieces.
Wear a white nightie with a white robe that you've had for years and it becomes an instant set. Or pair a white nightgown with colored pieces from your lingerie drawer and watch colors pop against its clean backdrop.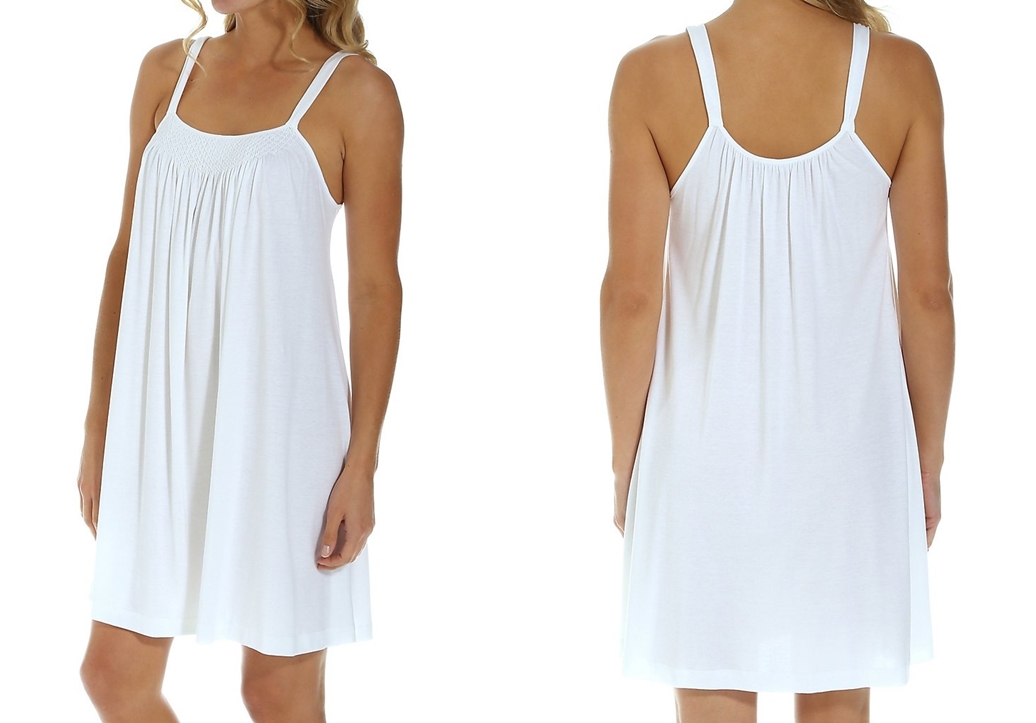 A White Cotton Nightgown Evokes Relaxation 

Look around you next time you're at the spa and you'll notice that the towels, robes, and other linens are all white. The surroundings and décor are minimal, and are also often white or soft neutrals.
The reason for this? White gives us of a blank canvas; calming and free of any of the visual noise of our daily environment. Relaxation and escape can be found right in your own bedroom, and is as easy as slipping into a beautiful white nightgown.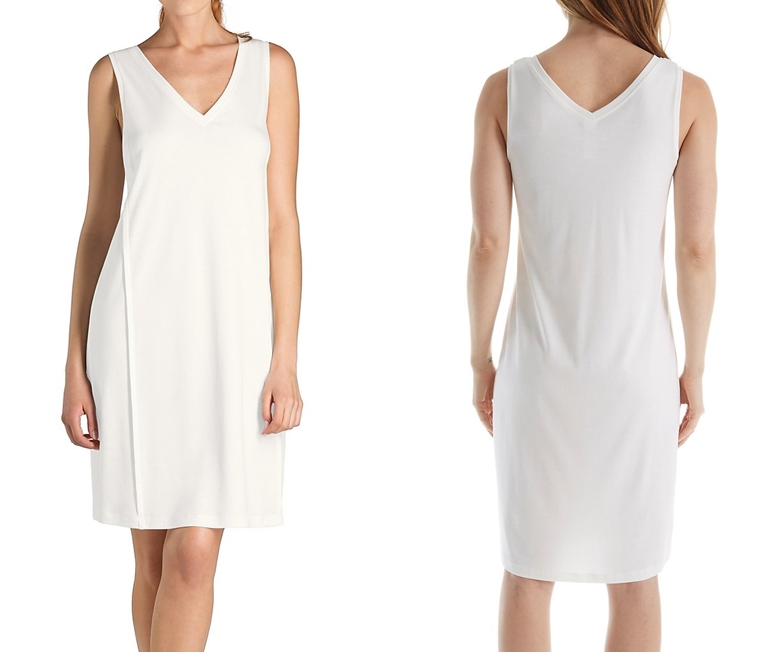 HANRO