Satin Pyjamas: 10 Behind The Scenes Secrets
For Curvy Gals
FTC Disclosure - If you make a purchase by clicking a link on this page, we may receive a small commission. There is no cost to you, and this does not influence our content. 

---
Satin pyjamas - a fabulous favorite of virtually everyone who tries them, this popular ladies sleepwear women is loved for comfort and ease, timeless sophistication, and understated elegance.
Curvy women are no exception and we've tailored a list of tips and tricks tailored specially for their shape. Follow along for your ultimate guide to figure flattery in this popular satin sleepwear style.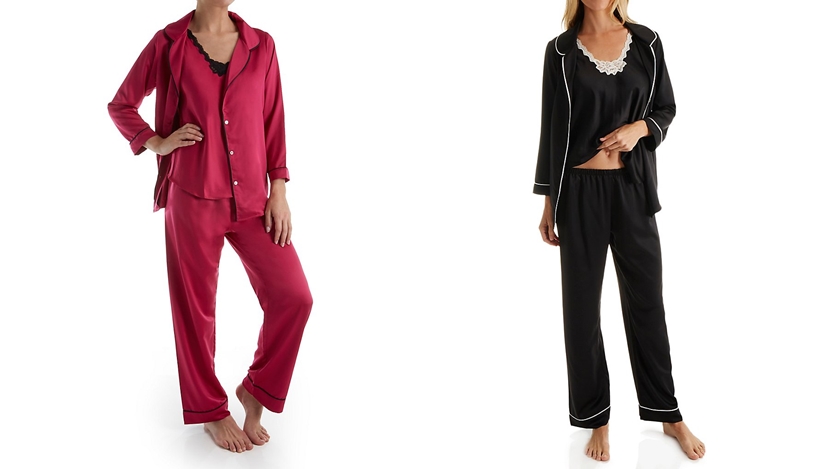 Show Off Your Curves In Satin Pyjamas

Got killer cleavage? Legs for days? Everyone has one part of their bodies that stands out, so identify what your strengths are and don't be afraid to show them off.
Choose a satin sleepwear style that highlights your best features, like a:
low-cut top to show off your décolletage
flowy, low-rise pants to show off a toned tummy
Lingerie Trivia

Did You Know that Jennifer Lopez, a world class fashionista known for her great sense of style, once wore a pair of white satin pajamas to a Miami Dolphins game!
Beautiful Lingerie: Don't Hide In Dark Or Drab Colors

Curvy women often feel like they should cover up or hide their bodies, so they turn to dark colors like black or navy, or bland neutrals.
While black is a timeless classic and slimming, there's no need to limit yourself to hiding behind dark colors.
Show off your curves in satin pyjamas in vibrant jewel tones, pretty pastels, or any color in the rainbow that makes you smile.
Ladies Sleepwear
Opt For The Right Sleepwear Fabrics

Not all satin is created equal, and when it comes to flattering a curvy woman's body there are a few tricks to looking your best.
Avoid bias cut and high sheen satin pajamas, which tend to highlight imperfections.
Instead, look for softer stretch satin blends which drape beautifully over your shape and feel cosier and far more comfortable.
                                      Carmen's Tip
Satin pyjamas, nightgowns, chemises and sleepwear are mostly all cut on the bias and may feel a little snug. Don't be afraid to opt for a slightly larger size, since satin tends to shrink after washing.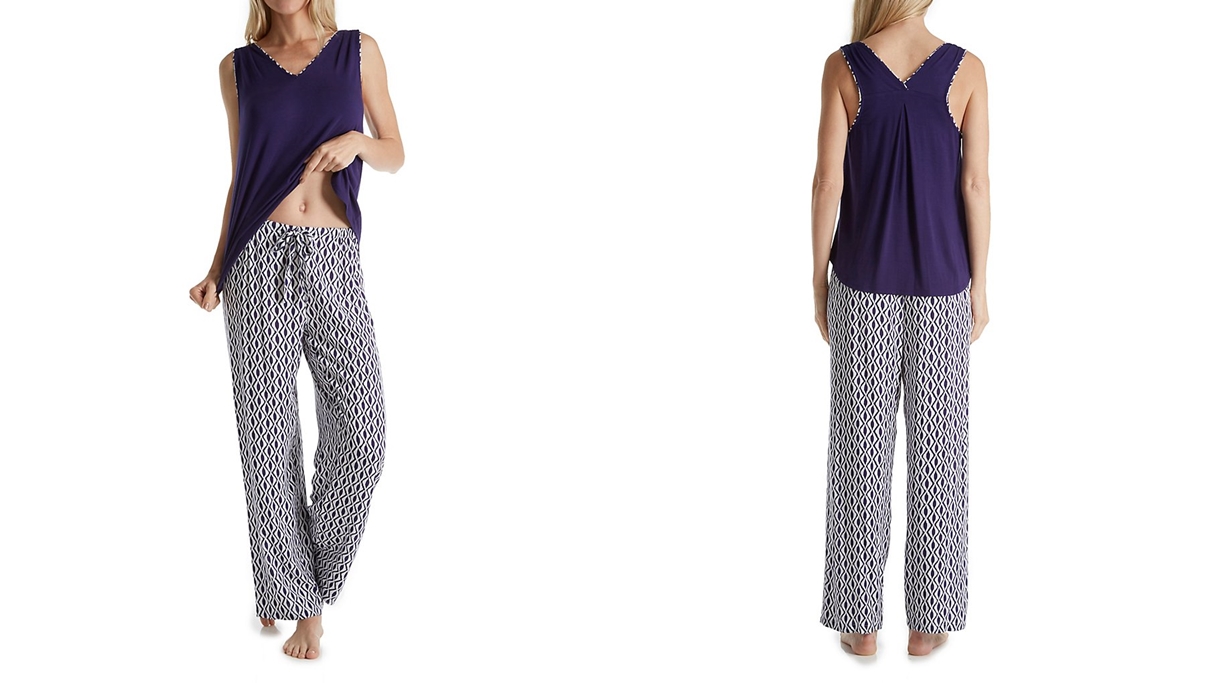 Think Beyond Basic Satin Sleepwear Styles

There's a world of satin pyjamas that exists beyond the traditional basic pants and button front top sets.
Show off long legs in satin boxer shorts, choose a draped cowl neck top instead of a traditional pajama shirt, or choose a more feminine blouse style top if you prefer a more ladylike style. Have fun and add to your pj repertoire with different styles.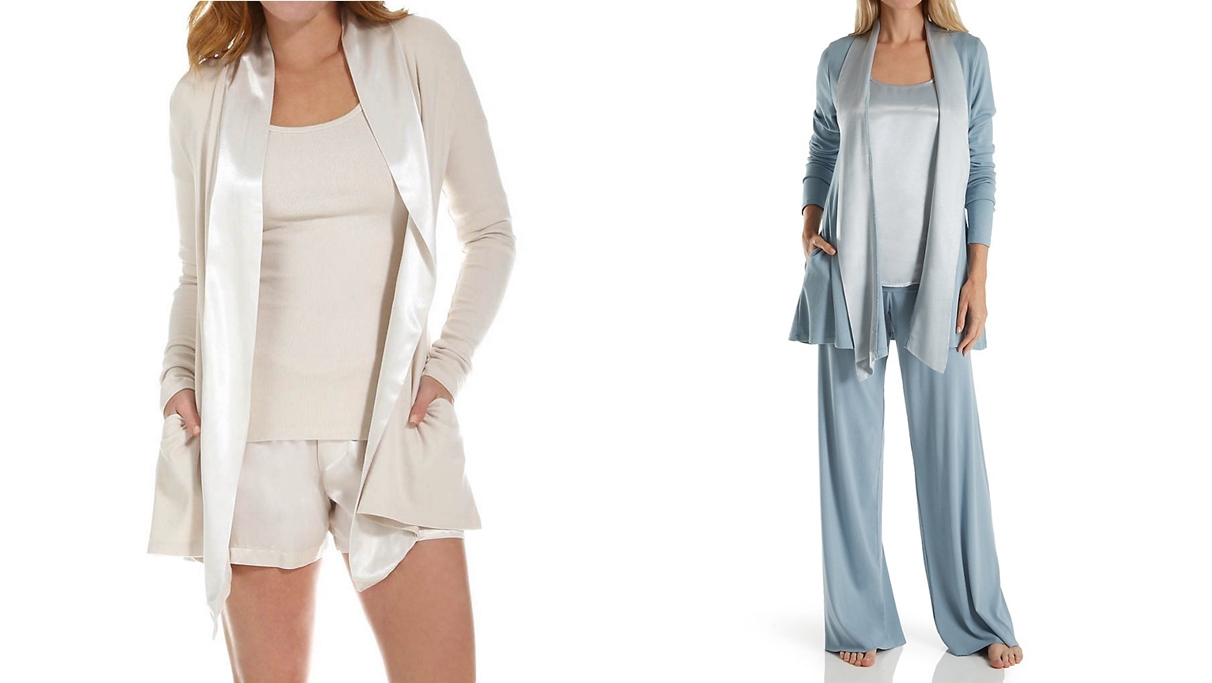 Satin Pajamas And Sleepwear
Pajamas Tip: Relax Max!

Buttoning your pajama shirt all the way up to the collar isn't particularly flattering for curvy women, especially those who are well endowed with a larger bust.
Showing a bit of cleavage or a beautiful complexion helps to add length to your frame and is far more flattering than covering everything up
Too much fabric or coverage makes you look wider. When wearing a button front satin pajama shirt make sure to keep the top few buttons undone, and even more if you dare to bare.
Ladies Pajamas: Pick A Pretty Print

Printed satin pajamas are a curvy girls dream come true. You get all of the silky sleekness of satin, while the printed fabric keeps the eye focused on the design and away from any problem areas. Try anything from:
chic pinstripes
traditional paisley
sexy animal prints
whimsical polka dots.
Satin Robe
Add A Satin Robe Or Wrap For Fun

A pretty, silky ladies robe or wrap is a great way to add a little extra coverage to your satin pjs. It's also a great way to show off an  hourglass shape when you belt it and cinch in your waist.
Sometimes your silhouette can get lost in pajamas that are loose or floppy, so a belted robe or wrap is a great way to emphasize your waistline and show off your figure.
Sensational Satin: Break It Up

If you feel like a full pj set of pants and a matching shirt is too overwhelming on your curvy frame, consider breaking up your ensemble for a more figure flattering version of satin pajamas. Try the pants with a pretty camisole, or pair a satin button front pajama shirt with lace boyshorts or tap pants.
Choose Beautiful Details

Regardless of your size or body type, always treat yourself to pajamas that have a special quality to them. Whether it's:
piping in a contrasting color
fancy buttons
lace trimmed cuffs
a monogrammed pocket
embroidery
picking pjs with extraordinary details will make you love slipping them on.
Indulge In Satin Pajamas

The key element that makes any woman, petite, curvy, or medium, look amazing in satin pyjamas or any type of lingerie, is confidence. And, the best way to enhance confidence is to feel comfortable and relaxed.
Unwind with a hot bath, nourish your skin with your favorite scented body lotion, and light a few candles in your bedroom.
Treat bedtime like a special indulgence, with a set of satin pyjamas as part of the pampering. Feeling special will light you up on the inside and your confidence will be completely irresistible.
Pajamas