*FTC Disclosure - If you make a purchase through a link on this site, we receive a small commission at no extra cost to you.*
Who Says Vanity Fair Bras Can't Be Sexy?
Vanity Fair bras. A few months ago, standing in the lingerie section of a very well-known department store, I overheard someone bemoaning that Vanity Fair lingerie, especially their bras, just weren't sexy.

I completely understand where she was coming from.
For the most part, popular brands like Vanity Fair, Bali bras, Playtex bras and even Maidenform have always been seen as reliable everyday bras that are good for everyday and weekend wear, but not having much pizzazz.
Supportive and comfortable, yes, but rather plain and bland, they leave a lot to be desired for date nights and when you want to impress your sweetheart.
Vanity Fair Bras

What's a girl to do?  Thankfully, times are changing. Lingerie brands are now offering a wider range of bra styles and greater selection within their lines.
All you need to do is scratch the surface a little, and there are hidden gems in almost every brassiere and intimate apparel selection.
Often overlooked, but waiting to be discovered, here are a few of favorite Vanity Fair gems that we've sussed out in our search for something a little more exciting.
---
Sweet Lace Bra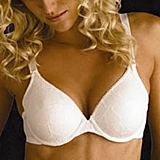 Sweet and sexy, an underwire lace bra is contoured with a low cut plunge front that's ideal for your lower cut shirts, blouses and dresses.
While it is not a push up bra in the traditional sense, its lightly padded cups give you a light gentle and sexy lift.

---
Sensational Satin Bra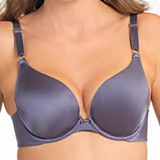 Sleek and sexy, this underwire satin bra is made of a smooth, soft, seamless microfiber with seamless bra cups, which make it a good choice for filmy thin knitwear and lightweight tops and blouses.
Subtle padding ensures a smoother fit and an expanded size range make it a sexy favorite!

---
Curvy Contour Bra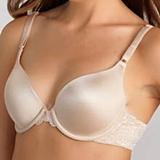 Curvy and sexy, this contour bra is an underwire favorite with many of my clients.
Seamless cups, a lightweight liner, and sweet lacy side detailing make it a great option under your form-fitted T shirts & slinky shirts.
No padding and moderate coverage give you a smooth and sexy fit every time!

Did You Know?
Bras with more stretch (comfier) have a touch of lycra or spandex to them. If, you prefer a lot of stretch, and / or have sensitive skin, check out microfiber bras that combine soft AND stretchy.

Shopping Online

Shopping online for Vanity Fair bras, Vanity Fair panties, and different types of bras and intimate apparel is easy on eBay clothing.

From sleek Calvin Klein bras to classic Wacoal bras, brassiere and intimate apparel shopping has never been more affordable or offered better options.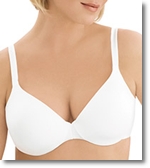 Everything listed is available right now - so if you see something you like, hurry and place your bid.
Need help with bra sizes ? Check out our easy 3 step bra size calculator for brassiere sizing tips and finding the right bra size.

When you click on a link a new window will open and you'll see a sampling of what's currently available online.
Want to continue lingerie or bra shopping ? Just follow the view all items link at the end of the listings...