Cotton Robes - The Insiders Guide
FTC Disclosure - If you make a purchase by clicking a link on this page, we receive a small commission. There is no cost to you, and this does not influence our content. 

---
Cotton robes are wonderful for lounging around in on a lazy Sunday afternoon. Cozy and comfortable, they are great to wear over your favorite night gowns, chemises and pajamas, or even just by themselves.
Incredibly versatile because they go with everything, these luxury robes are a perennial favorite of women everywhere, and always makes an excellent gift.
When choosing a cotton womens robe as a gift, it helps to know what type of robe the giftee likes and of course what it will be used for.
Here are a few things to consider:
Robes are available in a variety of lengths, fabrics, and styles. When it comes to lengths, long robes are designed to fall below ankle level, while some short robes cover only the upper body and barely cover the derriere.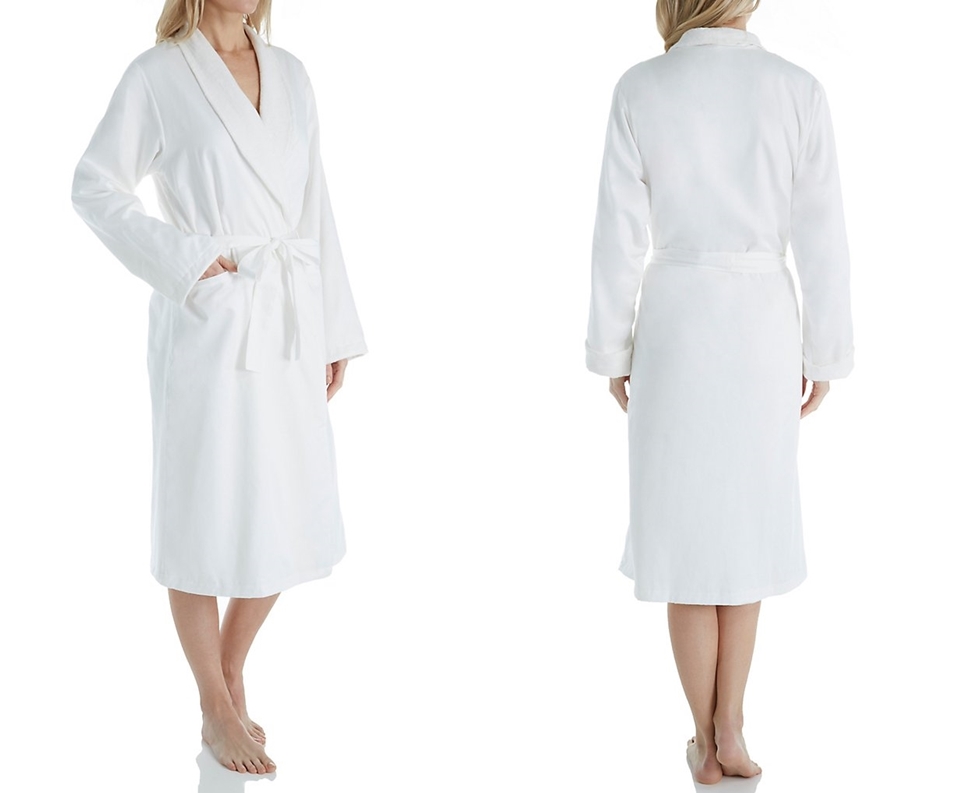 P-Jamas
Cotton Robes


From textured to smooth, heavy to light, and solid to patterned cotton fabric, there are a plethora of women sleepwear options.
Most robes for women in cotton also include built-in belts, buttons, front sippers or even velcro closures.
Consider the giftee's personal taste when selecting from these style options.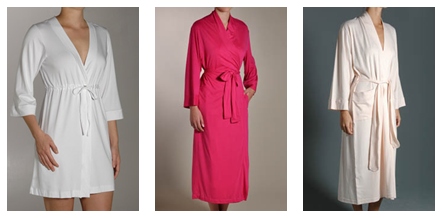 If, you aren't sure, a safe choice for gift giving is a solid colored wrap robe of medium weight and length with a slight texture and a loose belt closure. Adding a monogram to the back or lapel can be a nice personal touch.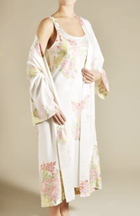 Remember that functional womens robes will be used much more than those which lack functionality.
When buying cotton sleepwear, consider how it will most likely be worn.
A robe that is used mainly for extra warmth over light cotton pajamas or thin cotton nightgowns should be thick and heavy, and large enough so she can move around comfortably.
Also, remember that some cotton lingerie tends to shrink when washed, so it may be a good idea to go up a size.
Many types of cotton robes are a popular choice for those who want to wear nothing underneath. A robe that is worn on its own should provide enough coverage so the wearer does not feel uncomfortable in any situation.
Often, cotton robes are given as a gift set with a matching pair of womens pajamas or a cotton nightgown.
This is a fun option for both women, men, children, and even seniors during the gift giving season, birthdays and special occasions.

Kids robes are often available in fabric designs of their favorite cartoon or T.V. show characters. Many children enjoy being covered from head to toe in their favorite entertainment icon.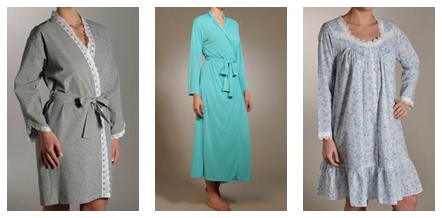 Adults and seniors tend to enjoy matching nightgowns sleepwear and robes in solid colors, muted floral or even paisley patterns for a more polished look.
A young couple is unlikely to appreciate the matching set as anything more than ironic or quaint. It will never be worn.
When giving young couples a gift robe set, steer clear of matching sets and stick to simple basics.
Selecting the perfect robe from the variety of ladies sleepwear options available can be daunting.
Tempting as it may be, restrain yourself from buying what you like, and instead opt for something that the recipient will enjoy and look forward to wearing again and again.
The beauty of cotton robes is that there is so much to choose from, you're sure to buy something they will love!