Underwire & Wireless Styles
*FTC Disclosure - If you make a purchase through a link on this site, we receive a small commission at no extra cost to you.*
Olga Bras In Popular Underwire And Wireless Styles
Olga Bras in Underwire and Wireless Bras - Olga bras are one of the leading brassiere brands in the United States and all over the world for one simple reason - they have bras and lingerie that women love to wear.
Going back several decades (yes, there really was an Olga!), Olga's claim to fame was not bras. Instead, it began with a woman, her sewing machine, and a sexy long nightgown designed with a dramatic sweep.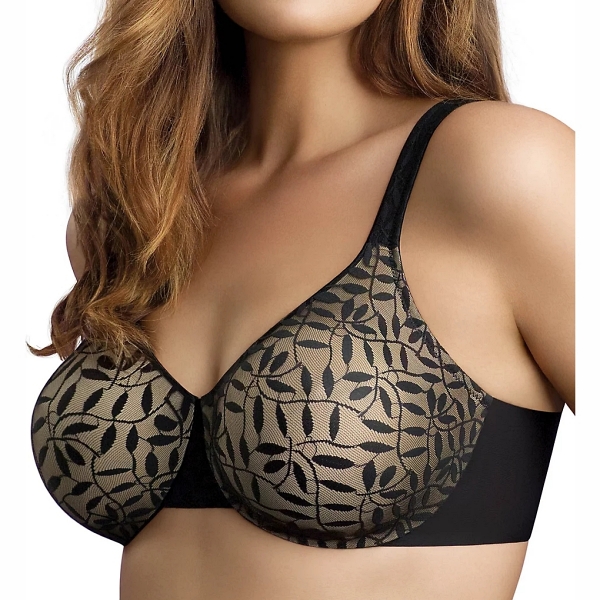 Today, Olga nightgowns are highly coveted collector's items that are sought after by lingerie enthusiasts.
Olga bras have become the go-to choice for plus size bras and everyday styles with a great fit. They're not only beautifully designed, they're also well-made and affordable.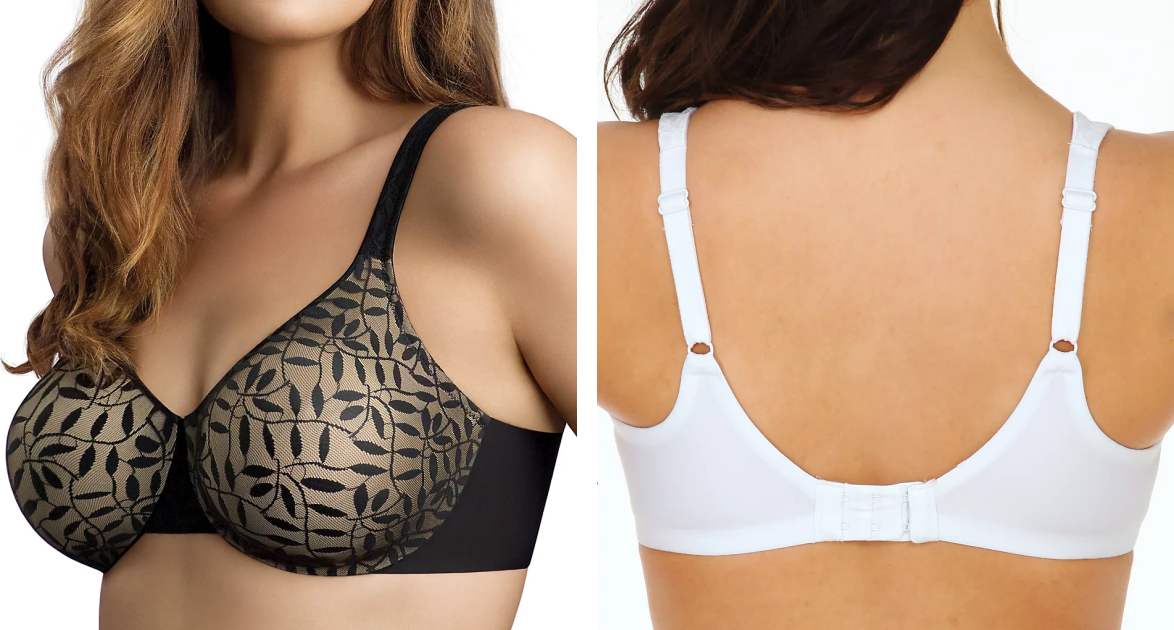 OLGA LINGERIE
Olga bras in underwire and wirefree styles offer supportive, comfortable options that are perfect for business wear, working out, relaxing at home and more.   
Here, we take a quick look at the most popular Olga bras in a variety of underwire and wireless styles.
Olga Bras In Wirefree Styles

Disappearing Act Wirefree Bra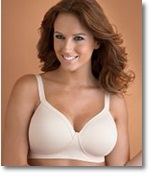 The wire-free collection's headliner is the Disappearing Act Wirefree Bra is designed with the fuller figured woman in mind.
This is a seamless bra made of smooth microfiber fabric for an invisible look that lends itself well to tighter figure-fitting clothes.
Fuller and deeper bra cups that are semi-rigid combined with wider than usual 4" side support helps to prevent side spillover of breast tissue for a better bra fit.
Bra straps that are lightly padded for extra comfort are non stretch in the front, and are adjustable and stretchy in the back. This brassiere has a 3 hook back closure and comes in C to D sizes.

Luxury Lift Wireless Bra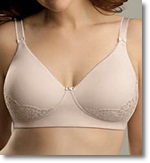 Olga Lingerie's other top seller is the feminine Luxury Lift Wireless Bra, is a lightweight seamless bra that features a pretty lace underlay for additional support.
Molded bra cups are designed with a light inner lining for a comfy fit and feel.
Boning along the side of the bra, together with a wider stretchy underband and bra straps that are reinforced in the back provide the structure and support that keeps this brassiere firmly in place.
This brassiere is also available as a minimizer bra in an underwire style and comes in C to DD cup.

Suddenly Smooth Side Shaping Bra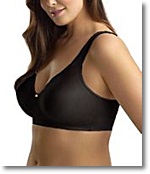 The Suddenly Smooth Side Shaping Bra is another crowd pleaser for everyday wear. While not as glamourous as other types of Olga bras, it is a good choice to wear under formfitting clothes.
This is a supportive brassiere designed with deeper bra cups, higher sides, and a wider back that prevent breast tissue from spilling over.
This makes it a good style for women whose breasts tend to be set wider and who have problems with "side spillage". Its seamless band smooths the edges so it is barely visible when covered. This brassiere comes in C to DD.

Olga Bras In Underwire Styles

Signature Support Satin Underwire Bra
The Signature Support Satin Underwire Bra is another seamless favorite with a lightly padded flexible yet supportive underwire and seamless sides.
A thin layer of stretch elastic along the bottom and top wings, together with satin elastic edging and a wider center gore keep this feminine favorite firmly in place without much movement.
Seamless bra cups are set wide and deep, making this another good option for tighter fitting clothes. This underwire brassiere will easily accommodate a C to DD cup.

Signature Support Lace Bra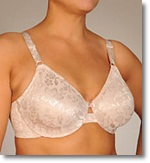 The Signature Support Lace Bra is a very popular underwire jacquard lace bra that has been a mainstay of the Olga lingerie line for many years.
Designed for heavier busted women this brassiere has molded underwire bra cups that are lightly lined to prevent chafing.
It's also lightly padded along the sides & bottom of the cups for an additional layer of invisible support.
A leotard back with standard 3 hook closure helps to keep the bra comfortably in place. And, while the bra cups are seamless, the lace pattern may show through sheer and fitted clothes. This brassiere comes in C through D cups.

Silky Smooth Underwire Bra

The Silky Smooth Underwire Bra is one of the best styles for a glamorous look.
This underwire style features seamless lace cups with a filigree patterned lace swirl fabric that is designed to lay flat for a smooth silhouette; it is worth noting that this lace bra may not be suitable to wear under sheer and thinner clothing.
Molded bra cups are lightly lined. A leotard back with a 2 or 3 hook and eye back closure (depending on bra size) help smooth over any back fat and / or lumps and bumps.
This embroidered bra comes in C through DD, and a similar lace pattern is available in a minimizer bra (Olga Lace Sheer Leaves Minimizer Bra).