*FTC Disclosure - If you make a purchase through a link on this site, we receive a small commission at no extra cost to you.*
Demi Cup Bra - 5 Signs It Does Not Fit Like It Should
Demi Cup Bra ...Many of us may be wearing, bra shopping or talking about a demi bra without actually knowing what the word 'demi' means.
Demi is a word borrowed from French that actually means "half".
Demi style bras, also known as half cup bras are specialty bras that are cut much lower than regular or full cup bras where the bra cups completely cover the breasts.
These specialty bras are designed for women to wear low-cut dresses, tops and blouses quite comfortably, without having to worry whether the bra line is sticking out from above the neckline of the dress!
Looking for a perfect bra isn't rocket science by any stretch of imagination, but yes, you'll need to spend some time to find the best bra for you.
The following 5 signs will tell you that a demi cup bra isn't fitting like it should...

Demi Cup Bra Band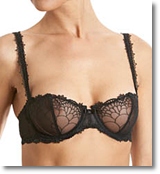 1. With the bra on, slide your fingers under the edge of the bra band.
If, when you reach the back center and you're able pull the brassiere away by more than 2 inches, the bra is too big for you.
To solve this problem, opt for a smaller bra band size.

---
Bra Cups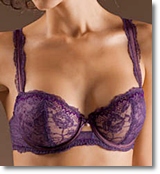 2. Your breasts should sit perfectly in the bra cups. There should be no bulging or wrinking.
If your breasts are bulging, either along the sides, top or bottom, this means the bra cups are too small, and you need larger cups.
To fix this, opt for the next cup size up.

---
Shoulder Straps


3. Shoulder straps on demi bras are set wide to offer better balance. The should sit comfortably.
If, you find the shoulder straps repeatedly slip off, are digging into your skin, or are uncomfortable in any way, opt for a brassiere with wider satin or padded shoulder straps.
---
The Bra Gore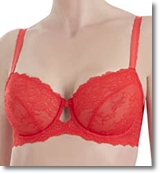 4. With your bra on, look at yourself in the mirror.
Check to see if the gore (this is the center line) of the brassiere (in between the bra cups) is sitting closely against your skin, without any kind of gap.
If you notice a gap, choose a larger cup size and smaller bra band combination.

---
Too Large or Too Small?


5. With the bra on, bend forward and check.
If your breasts are escaping from their cups, it could be for two reasons. Your bra cup size is too small / big or the bra band size is a little too big / small.
Adjust accordingly. Breasts should not escape from a brassiere that fits properly.

---
Demi Bra - Test Drive


6. With the bra on, raise both your arms above your head and turn to your left, then turn to your right from your waist.
The brassiere should not move up or down.
If the bra moves up easily it's too big. Opt for a smaller size.

Bra Shopping Online on eBay Clothing
---
Bra shopping for your favorite demi cup bra, pushup bras and different types of bras is easy on eBay clothing.

Everything listed is available right now - so if you see something you like, hurry and place your bid.
Need help with bra sizes ? Check out our easy 3 step bra size calculator for sizing tips and finding the right bra size.

When you click on a link a new window will open and you'll see a sampling of what's currently available online.
Want to continue lingerie shopping? Just follow the view all items link at the end of the listings...