*FTC Disclosure - If you make a purchase through a link on this site, we receive a small commission at no extra cost to you.*
Push Up Bra - How To Choose The Perfect One
Push Up Bra - If you're frustrated by the never-ending search for the perfect padded bra that boosts your assets, you're not alone. Women everywhere love the look but aren't well acquainted with the secrets to finding the right style for their body type.
Our easy insiders guide takes you through what you need to know about shopping for the best bras for your silhouette.
Find your shape below and read on for our tips and tricks to find the pushup bra you've been waiting for.
 Plus Size Bras

There's more to fitting a plus size silhouette than full coverage cups. A plus size figure has unique needs that any bra must meet, and a push up can easy fit and flatter any curvy gal's bust.
Do look for those full cups, but don't shy away from styles that plunge in the middle to add even more emphasis on the push up style.
Choose bra brands that cater to plus sizes with bands available in larger sizes.
Look for wider bands and straps to provide support that's spread over a larger area, instead of flimsy straps that cut in and don't offer the support you crave in a bra.
Did You Know?
Classic pushup bras are usually made of a lace, satin, silk or the latest soft velvety microfiber fabric, and are the perfect choice for both dressy and everyday wear.
Cotton bras tend to be more casual and have a greater choice of sportier styles.
 Full Cup Bras

Larger busts from C cup and up need extra support, so it's important to look for bra styles that help hold you in and lift you up.
Since wireless bras provide limited support in larger sizes, underwire bras are a better choice. Look for underwire styles and lightly molded cups that support your breasts more than soft cup styles do.
Choose wider bra straps for added comfort and lift from above, and a wider bra band that boosts from below.
As for push up details, look for strategic padding at the sides of the cups to push your breasts together, instead of fully padded styles that will just add extra bulk to your bust overall.
 Average Size Push Up Bras

If you're lucky enough to fit into a standard size, you're blessed with loads of great push up bra options for your shape.
Even though you can shop at almost any store, it's important to look for a proper fit to give you the most flattering push up bra look possible.
Make sure your bra band is snug enough that it's supportive, without being so tight that it digs in and creates bulges.
Ensure that your bust is pushed up without spilling out of the cups, and make sure you can move comfortably in the fitting room so that you can rock this sexy style all day long, without being stuck in a bra that shifts around or rides up.
Style Secrets
Just what makes a pushup bra so special? Its clever design and ability to create more cleavage by enhancing your natural assets.
This brassiere accentuates the breasts by pushing them forward together and upward.
 Petite Bras

Small frames need special bras that fit their unique shape. Petites don't necessarily have a small bust size, but they do need bras that come in smaller band sizes and straps that aren't too loose.
Look for specialty brands that cater to petite sizes and you'll find bands in 28 or 30 that will be better suited to your shape.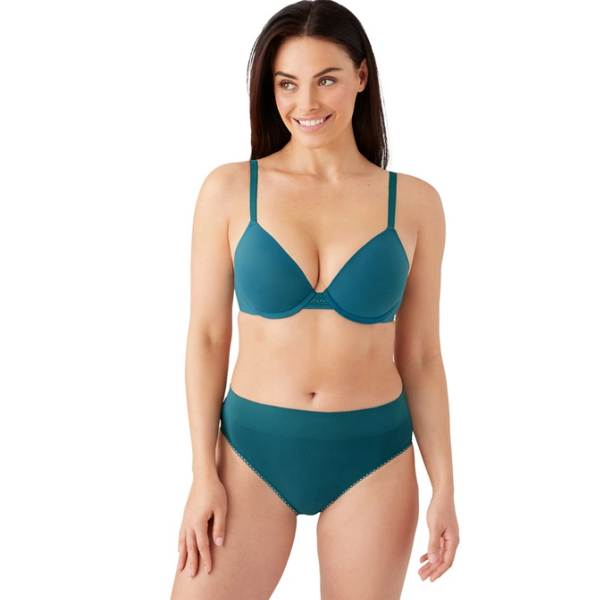 Petite bras will have shorter bra straps that can cinch small enough to fit around fine shoulders and won't slip down.
Choose padding at the sides and bottom of the cups to lift your bust upwards and push your bust from below for killer curves that make you appear taller.
 Smaller Bust

Small cup sizes can go all out when it comes to padding. Choose a push up bra that's padded all over to increase your cup size all over, and find pieces with extra padding at the sides of the cups.
Try balconette styles that boost the bust from below and can create gorgeous cleavage from even the smallest sizes.