*FTC Disclosure - If you make a purchase through a link on this site, we may receive a small commission on the transaction - at no extra cost to you.*
Sexy Chemise In Stretch Lace
Whether it's a floral chemise in stretch lace or a sleek mesh chemise, sexy ladies sleepwear has been around in one form or another for a very long time. Chemise sleepwear and intimate apparel goes as far back as the Crusades when worn by men as a barrier between their skin and heavy suits of iron...
Fast forward to the early 1700's, as the history of bras reveals it became "old-fashioned" to sleep in the nude, and chemise nighties became fashionable for both daywear and sleepwear.
Post French Revolution the French began referring to nightgowns and sleepwear as chemises de nuit.
Today's womens slips come in a variety of fabrics that include silk, satin, microfiber, mesh, cotton, and of course the chemise with stretch lace just to name a few.
Whether you're looking for a curve hugging black mesh chemise for your honeymoon lingerie, or a silk babydoll chemise with a peek a boo open bra set for a romantic weekend getaway, there's a cornucopia of choices!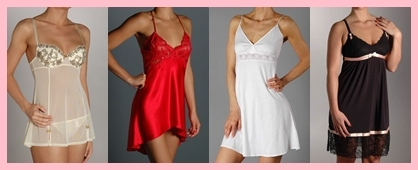 Shop For Chemises
Chemise In Stretch Lace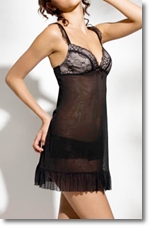 A chemise in stretch lace looks great on everyone. They compliment every shape and silhouette.
Plus, they're soft, stretchy, and versatile. You can wear them under just about everything in your wardrobe. They function as slips during the day and nighties to sleep in at night.
Chemises come in a ton of different fabrics. Today's chemise sleepwear styles are a wonderful blend of fibres including spandex (or lycra), or polyester for stretch and durability.
Laces, microfibers, cottons, silks and satins - if it's a lingerie fabric, chances are it's available in a chemise.
Fabrics can range from heavy and opaque in texture and weight to incredibly soft and light.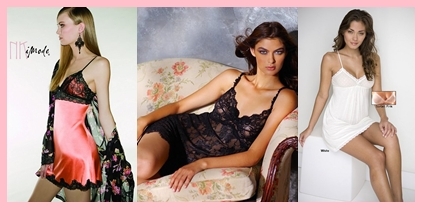 Like night gowns and slip lingerie, styles vary in length from just above the knee to long nightgowns.
Hems can be plain, satin trimmed, or even romantically ruffled...also referred to as "lettice edging."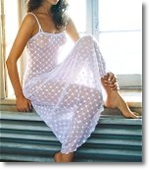 They are available in long sleeve, cap sleeve, or sleeveless.
Some chemise with stretch lace styles have thin spaghetti satin or stretch adjustable shoulder straps...and halter straps can adjustable criss-crossed across the back.
Traditional colors like white, black and nude (flesh or skin-tone) are great chemise basics.
And, if you're feeling more colorful why not add a splash of red, or emerald... or try one of the new palest of silver shades?