*FTC Disclosure - If you make a purchase through a link on this site, we receive a small commission at no extra cost to you.*
The Camisole Bra Is A Lingerie Drawer Must-Have
The camisole bra is an often-overlooked but tremendously useful piece of lingerie.
Functioning as part bra, part undershirt, camisoles are an excellent way to eliminate extra layers of clothing without sacrificing modesty.
Having a camisole bra means that women no longer have to wrestle with a brassiere, a camisole and an over shirt!
The camisole bra is simply a brassiere with a strip of fabric (usually lace) running straight across the front.
Designed for layered looks, the bra camisole provides added modesty when layered under V-neck blouses and sweaters, and are particularly convenient in warmer months, when you would rather not wear an extra layer of lingerie or clothing.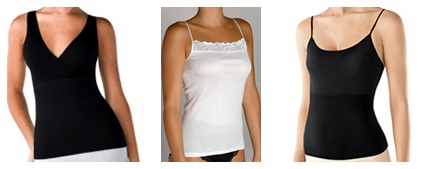 The Camisole Bra Is Verstaile

Camisoles and cami sets can even be worn beneath a buttoned blazer or a partially-buttoned cardigan.
Most camisoles with a bra feature molded cups with underwire support, which lift the breasts and support them throughout the day.
Some feature push up bra technology or padding.
It's also possible to find camisole bras with no underwire; these are most useful for smaller-busted women who may not find an underwire bra a necessity.

The breasts are supported by a layer of elastic material without bra cups or other divisions between left and right (this type of bra support is most commonly found in a tank top camisole with built-in bra support).
Several retailers offer a seamless camisole bra for a truly luxurious wearing experience.
There are no seams to scratch or irritate the skin, and the care instructions are printed directly on the inside of the garment, rather than on a tag that may feel rough against the wearer.
The camisole bra is also often designed with thicker straps than those normally found on standard brassieres.
This makes them more comfortable to wear for extended periods of time, and helps them stay invisible under thin fabrics and tight shirts.
The camisole portion is usually made of feminine lace and is occasionally embellished with pearls, rhinestones, or other adornments.
These fancy lingerie and intimate apparel fabrics are an amazing way to dress up a boring work suit or even an everyday cardigan.
There are also plainer camisole bras available that provide a strip of plain fabric for layering purposes.
Adding a one or two to your lingerie collection will exponentially increase the number of wardrobe combinations you can create.
Start with basic black, white and skin tone. You'll probably use these two colors more often than any others.
If you enjoy the look and convenience of a camisoles, you may wish to branch out and purchase them in other colors such as red, purple, blue, or green.
Though it can sometimes be hard to find the perfect one in department stores, there are several brands that offer great basics - such as as Vanity Fair Lingerie, Bali and Fruit of the Loom.
The increasingly popular camisole bra makes a terrific addition to any wardrobe.
Try one out for yourself today, and you'll never look back.