*FTC Disclosure - If you make a purchase through a link on this site, we may receive a small commission on the transaction - at no extra cost to you.*
Vanity Fair Bras From A Lingerie Designer's Point of View
Vanity Fair bras from Vanity Fair lingerie have long been a favorite as they answer both the needs and wants of many women.
Designers of this popular line of brassieres and intimate apparel understand that women want a comfortable fit and good support with a touch of style for their lingerie wardrobe.
This makes them a great option for everyday wear, and one of the most popular bra brands on the market today.
Want to know what love about Vanity Fair? We've put together a list of our favorite reasons...

Vanity Fair Bras From A to DD

---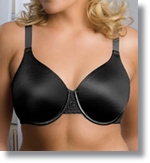 SHOP NOW
One of the keys to looking good and feeling great is buying the correct bra size. It affects not only how you feel, it also affects your posture.
Vanity Fair bras from AA bras to DD bras cater reliably to a full range of bra sizes from petite bras for smaller busted women right through to plus size bras for plus size and full busted women.
Their full figure bras are very popular for their comfortable support, stretch bra cups and easy fit shaping.

Flattering Bra Styles
---
Vanity Fair brassieres come in a great variety of different types of bras, shapes and fabrics that not only provide support, but also camouflage a myriad of figure problems.
For example, small breasted women can create or enhance a dynamite cleavage with:
push up bras
demi cup bras
balconette bras
And, full-breasted and plus size women can appear slimmer with minimizer bras and contour bras that can visibly reduce the bust line by up to an inch an a half.

Are They Comfortable?
---
Contoured bra cups with invisible support offer a lightweight stretch fit that hugs and molds comfortably to a woman's shape while eliminating bunching and lining issues that are common to other bras.
Lingerie fabrics like lace, nylon blended with spandex or lycra, satin, silk, or even the latest smooth and silky microfiber are great choices for stretchy and comfortable brassieres and intimate apparel.

Affordability
---
The nice thing about Vanity Fair lingerie is how affordable it is! This U.S. manufactured line of bras offers women comfort and functionality at reasonable prices, with most brassieres retailing for under $30.00.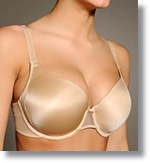 Online stores have intimate apparel sales throughout the year, which is a great time to stock up on your favorite Vanity Fair bras and panties.
Be sure to sign up for their newsletters and get on their email lists for a heads up on upcoming sales and events.

Fashion Forward Bras
---
Comfort and support are not the only the things women want when it comes to their brassieres and intimate apparel.
And, long gone are the days when the best bras came in just the three basic colors of white, black and beige.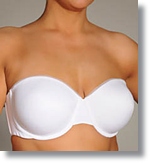 SHOP NOW
Vanity Fair bras come in a variety of beautiful fabrics, bra styles, and colors and hues designed to please the tastes of today's discerning women.
There are conservative lace bras with smooth satin for women who prefer simple styles with a touch of feminine appeal, and there are jacquard prints for women who prefer a bit of glam.
Vanity Fair bras from Vanity Fair lingerie give women a wide selection of bras that match their size, silhouette, comfort, style and support they want.
They are not only fashion forward, but they are a must have for today's well-dressed women.