Training Bra Embarrassed?
*FTC Disclosure - If you make a purchase through a link on this site, we receive a small commission at no extra cost to you.*
Training Bra Embarrassed? How To Overcome It

Training Bra Embarrassed? Buying a bra for the first time is a rite of passage and a special time in every girl's life, but it's also a time of feeling vulnerable, shy and sometimes downright embarrassed. Everything is new and different and can be incredibly overwhelming.

No worries - we've put together a few pointers to help ease through the never-done that before process with the least amount of mortification. From when to shop to sharing stories, follow along as we share how to make it a great experience.
CALIDA
How To Avoid Being Training Bra Embarrassed

Shop at the right time. As they say, timing is everything, especially when it comes to bra shopping for the very first time.
Hitting the mall on a Saturday afternoon is a surefire way to get caught in a hectic lingerie department, packed with shoppers, and with little room for privacy.
Instead, try shopping at non-peak hours like mid-week during the day, first thing in the morning, or at the end of the day.
You'll feel like you have the whole store to yourself, and will have the luxury of browsing and trying bras on without an audience and competition for sales assistance and selection. It's easier to feel much calmer and relaxed without a crowd.
ELITA
Bring a friend. Like all good things, it's no secret that girls love to do anything when their best friends are involved.
Let bra shopping for the first time be a fun experience by bringing a friend along. There's guaranteed to be more laughs than going it alone, and having a friend with you will make an embarrassing situation feel more lighthearted.
It's also a great bonding experience for girls to buy their first training bras together.

MAIDENFORM GIRL
Did You Know?
First bras should be versatile, soft and comfy. Cotton bra styles are a good choice. They're soft, stretchy and come in a rainbow of colors.  Don't forget to get a few pairs of matching teen panties to make a nice set.
Make it a special occasion. Take buying a bra to the next level and turn it into a special occasion rather than just a practical bland and boring shopping trip.
Moms and daughters can hit the stores for bra shopping and then go for a special lunch, get pedicures, or enjoy an afternoon at the mall together.
You'll both have fond memories of the experience if you take extra care to make it a memorable and special moment.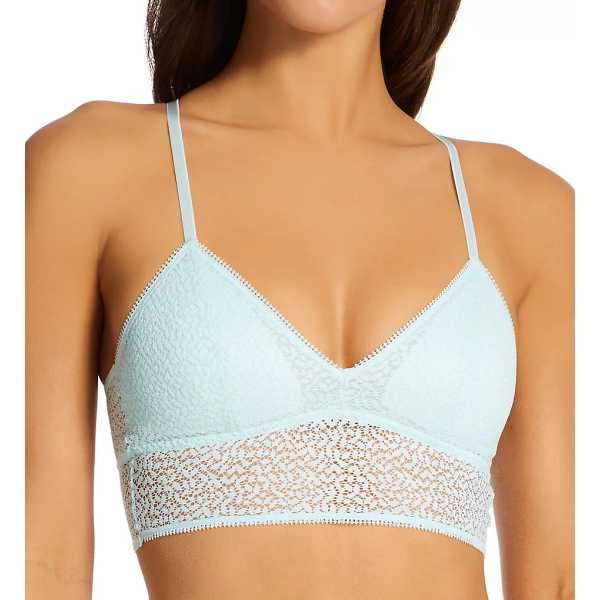 DKNY
Share stories. At times everyone can feel overwhelmed with something they haven't yet mastered. And, girls are no different. Girls often feel like they're all alone when faced with new challenges - especially when it comes to the intimidating world of lingerie. It can feel isolating and stressful.
A great way to avoid being training bra embarrassed is to share stories with others who are going through the same thing, or from older women who can recall their own experiences.
Some of the stories might be awkward, while others will be hilarious or heartwarming. Girls love hearing that they aren't the only ones who felt embarrassed and nervous about buying their first training bras.
Training Bra Embarrassed About Sizes?

Don't be!  Keep in mind that preteen bras and teen lingerie are just like clothing; they come in different fits and fabrics. So, have fun choosing something that suits your personality and that you'll love to wear!
Be discreet. Save time combing the racks by enlisting the help of a sales professional and treating the situation with respect and discretion.
Announcing a girl's size for the whole store to hear or spending too much time looking around without help will be frustrating and embarrassing.
Relating to her and how she feels will go a long way in making the situation more comfortable and putting her at ease.
Using a sales associate to take her measurements and steer you towards the right sizes and styles will take you directly into the fitting room instead of aimlessly browsing and drawing out the experience.

ON GOSSAMER