Training Bra Embarrassed?
FTC Disclosure - If you make a purchase by clicking a link on this page, we receive a small commission. There is no cost to you, and this does not influence our content. 

---
Are you training bra embarrassed ? Too self conscious to ask for help from the sales lady? Don't know which questions to ask? Which styles or bra sizes to look for?
Not to worry! whether it's your first time or you're just looking for an information guide, I'll show you what you need to know about buying a training bra.
Let's start with step one - how to determine bra size.

Finding the right bra size isn't hard once you understand how it works.
You'll need a pen and paper, and a soft measuring tape.
First you'll need to take a snug measurement all the way around the ribcage, just underneath your breasts.
Start from the front and end at the front, so you can easily read the tape measurements.

HerRoom Lingerie We Buy For Ourselves
Training Bra Embarrassed: Tips

Remember to keep the tape parallel to the floor for an accurate measurement.
To get the band size, add 5" if it's an odd number, or 4" if it's an even number.
cup measurement, measure all the way around the fullest part of your bust.
Again, remember to keep the measuring tape parallel to the floor.
Now, subtract your first number (band) from the second number, and find the number on the chart below. This will give you the cup size.
Difference Between Band
& Fullest Part of The Breast
Cup Size
0 to 1/2"
AA
1/2" to 1"
A
2"
B
3"
C
4"
D
5"
DD or E
6"
DDD or F
7"
G
8"
H
9"
I
10"
J
Teen Bra Styles
---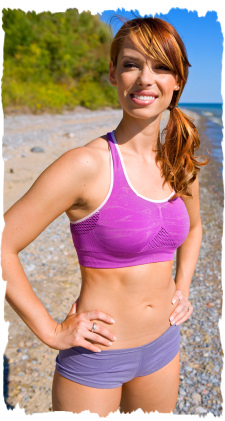 Step two is becoming familiar with some popular first bra styles. First training bras should be versatile, soft and comfy.
Cotton bra styles make good first bras. They're soft, stretchy and come in a rainbow of colors.
Don't forget to get a few pairs of matching teen panties to make a nice set.
Many girls choose a teen sports bra that's sporty and sleek, while some prefer underwire bras that are slightly padded and a bit more delicate and feminine.
Whatever your style, there are a multitude of training bra styles, and sizes to suit every form, function and taste.
Keep in mind that preteen bras, teen lingerie and intimate apparel are just like clothing; they come in different fits and fabrics. So, have fun choosing something that suits your personality and that you'll love to wear!


Leave training bra embarrassed and return to beautiful lingerie