Preteen Bras For Tweens
FTC Disclosure - If you make a purchase by clicking a link on this page, we receive a small commission. There is no cost to you, and this does not influence our content. 

---
Preteen bras (also called training bras ) are brassieres that cater to smaller bra cup sizes and are intended for use as lingerie for young teens. A first bra is designed to provide ample support for participating in activities such as gym class and sports.
As the name implies, first bras also help young ladies to 'train' getting used to their bodies maturing, particularly their breasts.
Bra shopping and preteen lingerie can be fun and at the same time overwhelming for young girls.
Just remember that some teens may be either excited or sensitive and shy about a training bra, so allow them to lead the lingerie shopping trip at their own pace.
Preteen Bras

intimate apparel tips may be useful in making your daughter's first training bra shopping experience memorable:
Allow her to choose which teen clothing store to go to.
If she has no idea, offer some suggestions (many carry great teen lingerie styles) and allow her to decide which one to go.
If she asks you to decide, you might want to check out stores like Macy's, Abercrombie and Fitch, Hollister, JC Penney, Jacob, and La Senza Girl to find the best training bra and teen lingerie selection.
Shop For Preteen Lingerie
Give her the freedom to choose which teen bra designs she would like to wear. Since she is the one who will wear the brassieres, she should be able to choose.
Pick the preteen bras or teen bras that you feel are perfect for her, show them to her and leave the decision to her whether to buy them or not. Remember, it is 'her' first bra shopping spree.
Determine your shopping budget. Make your daughter understand that trendy teen lingerie tends to be more expensive that plain sports bras. Try to get her to put quality and comfort over value.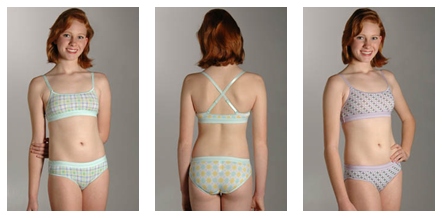 If the store allows bra fittings, let her fit her chosen training bra and lingerie pieces before buying them.
When it comes to choosing bra styles, getting the right bra fit is ultra important.
For more detailed information on bra sizes and how the bra measuring system works see our bra size calculator.


Some of them want styles like sexy demi bras and teen thong panties, which are inappropriate for young girls.
The best way to deal with this is to hear them out, and be supportive, but to set guidelines and limits when buying lingerie for teenagers. Give them age appropriate, cute and fun preteen bra and teen lingerie suggestions that you'll both love!


Preteen Lingerie - When purchasing preteen lingerie and teen lingerie for your daughter, you'll want to make it an enjoyable and pleasant experience for her.

Types of Bras - A comprehensive intimate apparel guide to some of today's most popular types of bras, and what makes them so popular.

Camisoles and Cami Sets - From the popular tank top camisole to a cosy yoga camisole, sexy and sassy camisoles are a lingerie drawer must have.

Training Bra Embarrassed ? - Finding the right bra isn't hard once you understand how to get the right bra size. Find out how easy it is here.