*FTC Disclosure - If you make a purchase through a link on this site, we receive a small commission at no extra cost to you.*
How To Find Your Perfect Fruit of The Loom Bras
Fruit of the Loom Bras are among the best bras on the market today that offer a classic cotton feel and bra fit at an affordable price.
From simple everyday cotton bras with an underwire to microfiber T shirt bras and sports bras, Fruit of the Loom has you covered.
To help you find your perfect bra match, we've put together a quick and easy list of how to find your perfect Fruit of the Loom bras.

Fruit of the Loom Bras

You'll want a certain level of support whether you opt for underwire or wirefree bras. Let's take a look at some specific bra styles to get you started.
Popular underwire bras such as Extreme Comfort Bras and the Fit For Me Microfiber Underwire Bra offer easy underwire support without feeling poked or feeling restricted.
These Fruit of the Loom bras stand up to repeated washings and are classic customer favorites.
Underwire Bras
If,wirefree bras are more your cup of tea, the Tank Style Sports Bra, Awesome Wirefree T-Shirt Bra and Fit For Me Microfiber Wire-Free Bra are good soft cup bras that offer flexible, wireless support without binding.
Choose Your Bra Style
---
A convertible bra like Quickly Change Convertible Push Up Bra might be perfect with your strappy summer dress.
Plus, it gives you several different options to convert to different bras to accommodate your wardrobe.
A classic back closure bra such as the Lace Extreme Comfort Bra is a comfortable everyday bra that you can wear to work.
While, a sports bra like their Racerback Sports Bra is great for the gym and weekend wear. No wires, just flexi-fit!
Also, a T shirt bra such as the Awesome Wirefree T-Shirt Bra or the Lightly Lined Full Figure T Shirt bra are great choices to wear with your lighter and / or tighter shirts, blouses and sweaters, without announcing your lingerie undergarments to the world.

Pick Your Perfect Pair!
---
Every woman has one breast that's just a bit bigger than the other and now there's a bra that recognizes that....

                                              Lingerie Tip
Fruit of the Loom's Pick Your Perfect Pair lets you choose your right cup and your left cup. The two cups clip together in the front and close in the back with a standard hook and eye closure. Voila, a great fit!

Choose A Fun Color
---
SHOP NOW
This is where Fruit of the Loom bras really shine. Of course you can opt for standard colors such as white, black and heather grey for everyday wear.
But, did you know that they also offer funky colors and patterns like hot pink and polka dots?
If, you're feeling like you need a little pick-me-up or excitement, be bold and add some color to your lingerie drawer!

Don't Pay Too Much For Your Bras
---
Many women think that they need to go to a specialty lingerie store and spend a hundred dollars to get a good fitting bra. Not so!


                                        Great Deal Alert!
While Fruit of the Loom doesn't offer expensive French silk bras and delicate lace bras - they do have a fab selection of affordably priced cotton bras and microfiber bras, or under $20- a great deal for everyday wear.

Shop Locally or Online
---
A major advantage to Fruit of the Loom is it's available at junior department stores such as Target, Walmart and Kmart.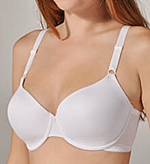 SHOP NOW
Since Fruit of the Loom bras are such a popular lingerie brand, if, you're the type of woman who prefers trying on your brassieres before buying them, you should have no trouble finding a local store that carries the bra style you want.
If, you'd rather have your bras delivered to your p.o. box or your door, then online shopping is a great option and a definite time saver!

Bra Shopping Online
---
Shopping for popular Fruit of the Loom bras is easier than ever when you take your search online on eBay clothing.

Everything listed is available right now - so if you see something you like, hurry and place your bid.
Need help with bra sizes ? Check out our easy 3 step bra size calculator for brassiere sizing tips and getting the correct bra size.

When you click on a link a new window will open and you'll see a sampling of what's currently available online.
Want to continue lingerie and bra shopping ? Just follow the view all items link at the end of the listings...