*FTC Disclosure - If you make a purchase through a link on this site, we receive a small commission at no extra cost to you.*
Bra Sports: Top 4 Popular Underwire & Wirefree Styles

Bra sports or sports bras - any way you put it they are among the hardest working must have brassieres for your lingerie drawer.
Available in underwire and wirefree bras, sports bras offer a gamut of bra styles that range from ultra light to heavy support to suit every physical activity.
So, whether you love to run marathons on weekends or play tennis for a living, sports bras are the best way to keep your girls in place.
Let's take a closer look at several popular wireless and underwire bras that have you covered.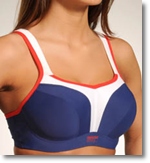 Bra Sports Underwire

Panache Underwire Sports Bra - this full coverage encapsulation bra provides maximum structured support and wide side panels making it an ideal choice for vigorous physical activities like running, aerobics, spinning, etc.
Bonus - convertible bra straps offer you the option of wearing it as a racerback bra. Available in a wide range of bra sizes, from 28DD to 40GG.
---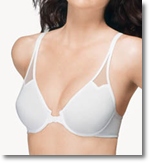 Wacoal T Back Sports Bra - this lightweight T back underwire bra offers mid-range support making it a good choice for lighter physical activities like hiking, yoga, dance, golfing, etc.
Bonus - front closure brassiere made of soft, stretchy supplex nylon and spandex. Available in sizes 32C to 38DD.


---
                                     What is Encapsulation?
A bra style with structured bra cups that completely surround or "encapsulate" the breasts. Designed to minimize movement and bounce during exercise.
Wirefree Bras
---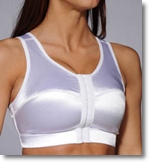 Enell Sports Bra - this heavy nylon lycra spandex wireless bra offers the best possible combination of compression and encapuslation support for strenuous physical activities like jogging, aerobics, cycling, tennis, extreme sports, etc.
Ideal for full busted and petite women who prefer a tight bra fit with minimal stretch. Available in sizes 00 through 8.
Lingerie tip - while this sports bra provides maximum support, the bra straps are not adjustable.
---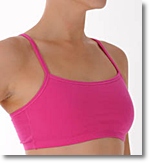 Fruit of The Loom Spaghetti Strap Bra - similar to a bra camisole this lightweight cotton and lycra bra offers non-adjustable stretch bra straps with light compression support.
A good choice for petite women and preteens looking for a training bra who do not require a lot of support while exercising. Available in sizes 32 through 38.

---
                                        What is Compression?
A bra style without structured bra cups that is designed to press or "compress" the breasts closer to the chest. It is designed for women with a smaller bustline.

SHOP NOW
Bra Shopping Online
---
Shopping for bra sports, and many types of bras and intimate apparel is incredibly easy on ebay clothing. All of the sports bras listed here are available right now - so if you see something you like, hurry and place your bid.
When you click on a link a new window will open and you'll be taken directly to that listing and all of it's details.
Need help with bra sizes bra sizes ? Check out our easy 3 step bra size calculator for sizing tips on finding the right bra size.