*FTC Disclosure - If you make a purchase through a link on this site, we receive a small commission at no extra cost to you.*
Secrets of Bra Pads
Breast enhancers or bra pads are one of those handy intimate apparel "must haves" that every woman should have tucked away in her lingerie drawer.
Ready at a moment's notice, these lingerie accessories are a secret weapon for every well dressed woman.
Designed to mimic the natural shape of the breasts, they provide lift when and where you need it for a smooth, sophisticated look.
Previously only used for basics, today's brassiere pads now come in a variety of shapes, colors, sizes and styles for dresses, swimsuits, workout wear, evening wear and bridal wear that complement virtually every style of clothing.
Bra Pads


Foam or Gel Pads?
Whenever bra pads are mentioned, most automatically think of the traditional thick, foam pads, falsies or cutlets of yesteryear.
Made of industrial grade foam that often smelled awful, they were nonetheless very popular for many years.
The sophisticated styles of today offer greater variety in different thickness, sizes and colors that can be divided into two categories – traditional foam and modern gel.
While many women still opt for foam pads, a greater number prefer the newer silicone gel pads simply because they are more flexible and offer a more natural look and feel.
The great benefit is they can be paired with almost any bra style, and depending on the size and thickness, can increase your bra cup by an astonishing 3 sizes!

Up, Down, Side To Side
The greatest advantage to bra pads is they are fully adjustable.
Unlike regular padded bras and push up bras where the padded bra cups are set into one set position, brassiere pads can be adjusted up, down, or side to side based on the shape of your breasts and what you're wearing.
Being able to adjust them to your liking is a huge advantage. So, for your everyday clothing when you want a bit of a boost, you can adjust for minimal cleavage. And, for special and sexy occasions you can adjust the pads to max out your cleavage.

Being Creative
Pads have always meant one thing to every woman: bigger and better cleavage! But, over the years many have discovered several additional clever uses. Let's take a quick look...
Symmetry – contrary to what we're led to believe, no one is perfectly symmetrical. You've probably experienced this when shoe shopping. One shoe is always larger or smaller than the other and you usually end up buying shoes to fit your larger foot. Breasts are much the same way, and for many women the difference in breast size is quite noticeable. As a result, it can be a real struggle finding a bra that fits. One bra cup fits perfectly for the larger breast; however, the smaller bra cup ends up wrinkled and deflated. And, as a result clothes don't fit well. To solve this problem many women turn to bra pads strategically placed to "even out" the smaller bra cup. It's non-invasive, quick, painless and affordable. A clever solution to a very common problem!

New Mums
– most new mothers who decide to nurse their babies love their new-found cleavage. However, when they stop nursing it's a different story and the lush and wonderful cleavage often vanishes quickly, almost overnight.
Many new mums have discovered a clever solution to this problem through the use of brassiere pads. Comfortably positioned in the bra cups, these pads or "bra enhancers" enable them to regain what was lost after nursing their babies. A no fuss, no muss solution for busy new mums who want a little lift!

Shopping Online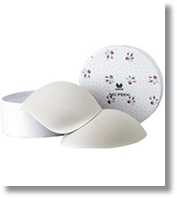 Shopping for bra enhancers and many types of bras and lingerie has never been easier on ebay clothing. Everything listed is available right now - so if you see something you like, hurry and place your bid. Need help with bra sizes ? Check out our easy 3 step bra size calculator for sizing tips and finding the right bra size. When you click on a link a new window will open and you'll see a sampling of what's currently available online.