*FTC Disclosure - If you make a purchase through a link on this site, we receive a small commission at no extra cost to you.*
38A Bras - The Best Places To Find Specialty Sizes

38A Bras - Among the seemingly endless array of beautiful bra styles and sizes on the market today, some bra sizes can be a little more difficult to find.
What are we talking about? Petite bras, more specifically 38a is perhaps one of the most overlooked and hard to find sizes.
Even in brick and mortar department stores and online lingerie boutiques, women who wear a 38a struggle to find a selection in this particular bra size.
Unfortunately, more often than not, they're restricted to one or two more basic types of bras.
38A Bras

It's a problem that women who wear bra sizes outside the normal range of 34b to 36d experience; but it's not often addressed.
So, if you have this problem, how do you go about finding these needle in a haystack bra sizes? They're definitely out there, but where should you look?

The good news is that it's never been easier than it is today to track down hard-to-find bra styles and sizes.
Why? With the popularity of beautiful lingerie and intimate apparel on the rise there are more and more specialty lingerie boutiques at malls everywhere.
And, online shopping has become a virtual global lingerie store with many vendors specializing in different lingerie niches.

SHOP NOW
Where Can I Buy These Bra Sizes?

The easiest place to begin is through the process of elimination, and work from there. No worries - it's easier and quicker than you think.

Though you wouldn't expect it many major lingerie manufacturers do not include A cup bras in their lingerie lines. Popular brands such as:
Bali bras
Lunaire bras
Olga bras
Vanity Fair bras
... do not offer brassieres in an A cup, so these manufacturers can be eliminated from your search.
This leads to the obvious question, "Which bra manufacturers DO offer 38a bras"?
Though the list that follows does not include every manufacturer it is fairly comprehensive, and is a good starting point.
A cup brassiere manufacturers include:
Calida bras
Timpa bras
Hanro bras
Chantelle bras
Maidenform bras
Playtex bras
Moving Comfort bras
Leading Lady bras
Le Mystere bras
Teri Bras
Pure Lime bras
Lula Lu Petite bras
Carnival bras
Valmont bras
Anita bras
The Little Bra Company
Amoena bras
Grenier bras
Marie Jo bras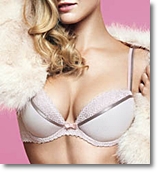 Bra Shopping

Once you decide on the types of bras you want (eg. underwire bras, wirefree bras or soft cup bras), bra shopping is easier than before.
If, you prefer shopping in person, department stores such as Macys, Sears, JC Penney, Lord and Taylor, Saks Fifth Avenue, Bloomingdales and Nordstrom, and specialty lingerie boutiques may carry 38a bras; though the selection can be quite minimal and vary from store to store.
The best place to find hard-to-find bra sizes and styles is, you guessed it, in cyberspace.
Online lingerie shopping offers the best selection, and dependable lingerie sellers like Herroom offer an extensive variety of the best bras for women of all shapes and sizes.
Another smart choice is eBay.com. Shopping online for 38a bras,
petite bras and intimate apparel is easy on ebay clothing.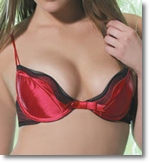 All of the bras that you see listed below are available right now - so if you see something you like, click on the item and place your bid.
If, you need help with bra measurements, just click on our bra size calculator for brassiere sizing tips and for help on finding the right bra size. When you click on a link a new window will open. If, you'd like to continue lingerie shopping, just follow the view all items link at the end of the listings...
SHOP NOW