*FTC Disclosure - If you make a purchase through a link on this site, we may receive a small commission on the transaction. There is no extra cost to you, and this does not influence our content.*
Terry Cloth Bath Robes
Myths That Will Surprise You

Terry Cloth Bath Robes - cozy and comfortable terry cloth robes are a soft, easy favorite that go beyond the basics of practical sleepwear. 
Usually made from lightweight cotton, with a dash of polyester for durability, a terry robe is super absorbent, making it a great after shower or bath choice.
Follow along as we take a closer look at the common myths and truths behind this popular sleepwear basic.  From glamor and price to styles and silhouettes, the truths about womens terry robes may very well surprise you.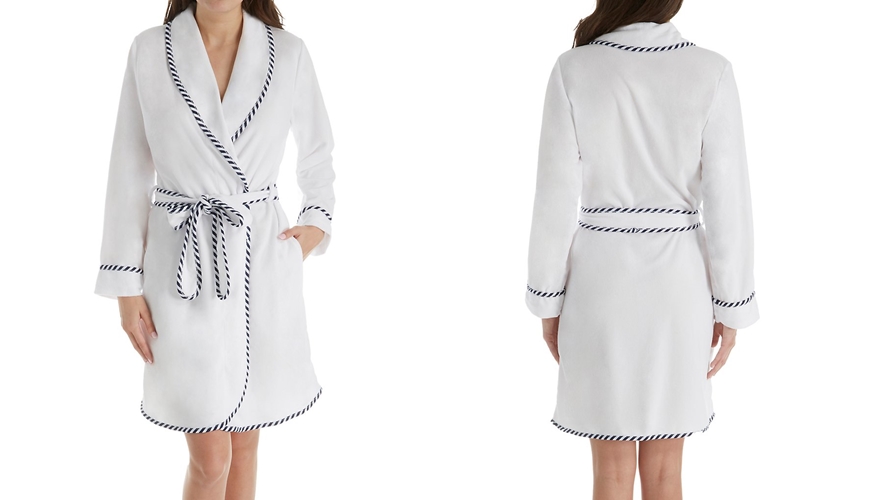 Terry Cloth Bath Robes - Behind The Scenes Secrets

Myth - These Womens Robes Are Bland And Basic

Truth -  Terry cloth robes can be super luxurious and soft.
They aren't usually seen as being particularly glamorous or fancy.  If anything, they have a reputation for being a no-frills basic sleepwear style, but this doesn't need to be the case. 

Look for a thick pile terry fabric that feels ultra plush
Try out satin piping, silk lapels, or add an embroidered monogram to the chest pocket for a high end experience that makes even the simples terry cloth robe a luxurious treat to wear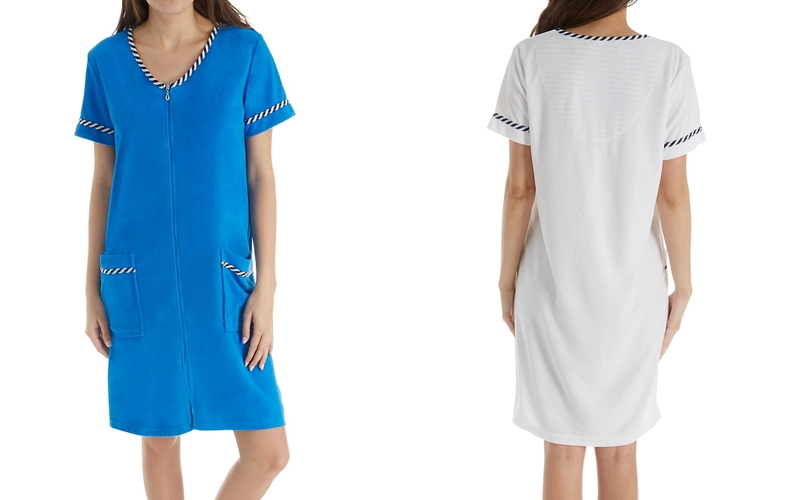 Myth - Terry Robes Are Not Glamorous
Truth - You can dress these robes up or down.
Terry cloth robes aren't just a practical piece of sleepwear that you wear solely for coverage and function.
In fact, they're a great multi-tasking sleepwear style that can work with simple looks or even your sexiest styles.
Try a terry robe over basic pajamas for a cozy and comfortable look
Or, mix it up by layering it over a silk chemise or lace bra and panties
If you're dressing to impress, your sweetie will be surprised at what lies beneath your simple terry cloth bath robe - the contrast between beautiful lingerie and your robe will create a look that's sensational.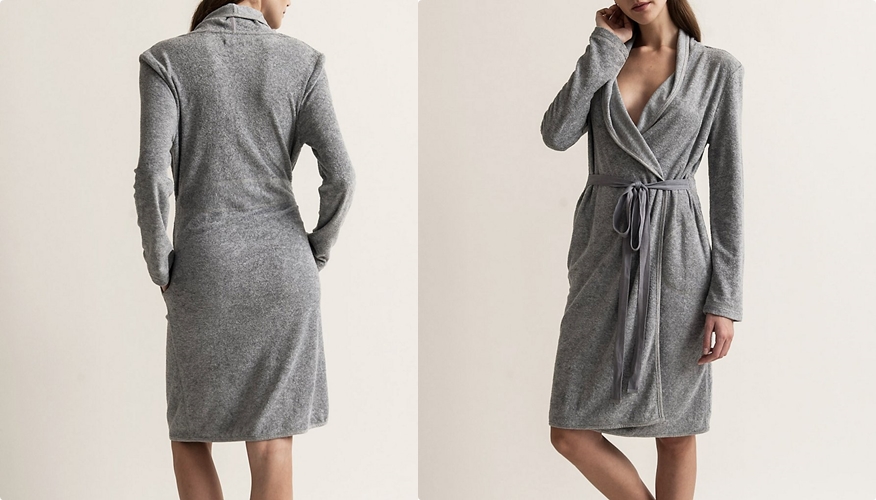 Did You Know?
Terry robes are most commonly worn after a shower or bath or even to lounge in; they are also a fantastic cover-up after swimming because of their absorptive properties.
These Bathrobes Are Not Flattering

Truth -  Terry cloth bath robes look great on any body type.
One of the reasons women shy away from bath robes in heavier fabrics is that they assume they don't look good on their body type.
No matter if you're plus size or petite, short or tall; terry cloth robes look great on everyone.
The secret to figure flattery is in the belt – cinching it adds definition to the waist and reduces the bulky look of a thicker fabric, making any woman look great.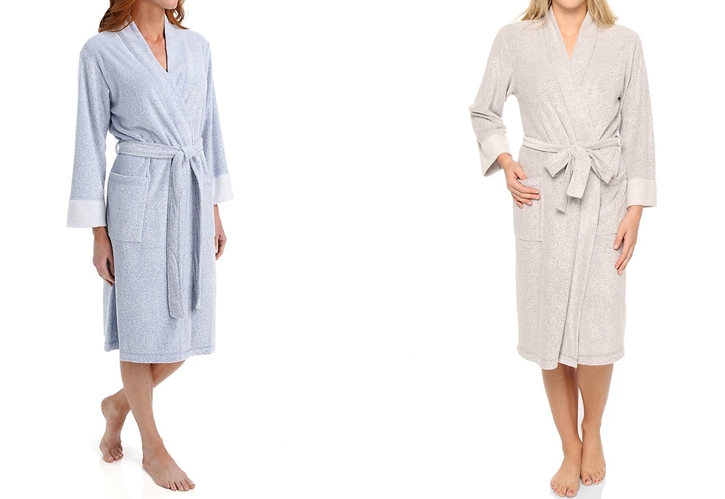 Terry cloth sleepwear holds up remarkably well under frequent washing and machine drying; it is also quite resilient to spills and stains and can tolerate the use of stain removers and chemical detergents better than many other intimate apparel fabrics.

There Aren't A Lot Of Sleepwear Options

Truth - Terry Cloth Robes suit any woman's personal style.
There's more to this popular bathrobe than the classic white terry robe that we all know and love. While it's a great style that's versatile enough to pair with any other sleepwear and lingerie, it's not the only option available.
If you're a girlie girl try a candy colored robe with lace appliques or embroidery
If you favor a sexier sleepwear look, try smoldering in a black or deep red piece
If you love classic looks then opt for a chic neutral like taupe, navy or grey
And for those with a more playful and funky style, choose a printed terry piece that makes a whimsical and fun statement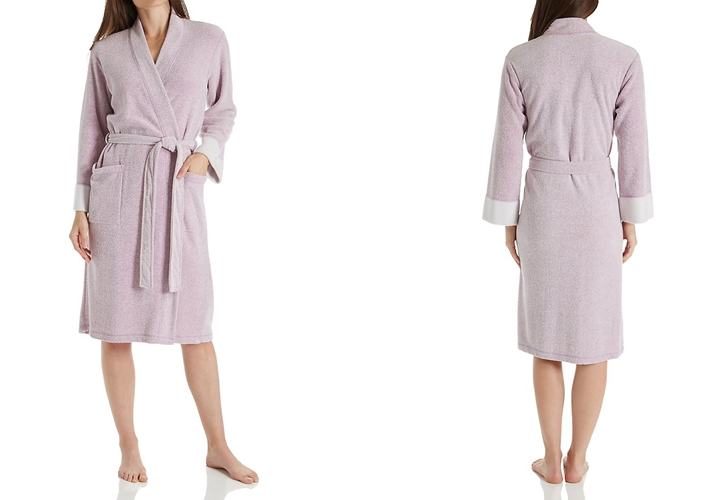 Terry Robes Are Expensive

Truth - You can score terry cloth bath robes at a great price.
Robes are often more of an investment piece than nighties or other pajamas, but this doesn't mean they need to cost a fortune.
Keep an eye out for plush pieces at great prices and you won't have to sacrifice quality or your budget
Wait for retailer's semi-annual sales, sign up for email lists, and try chain retailers instead of high end boutiques
A little legwork makes it possible for any woman to own a luxe terry cloth robe at a killer price.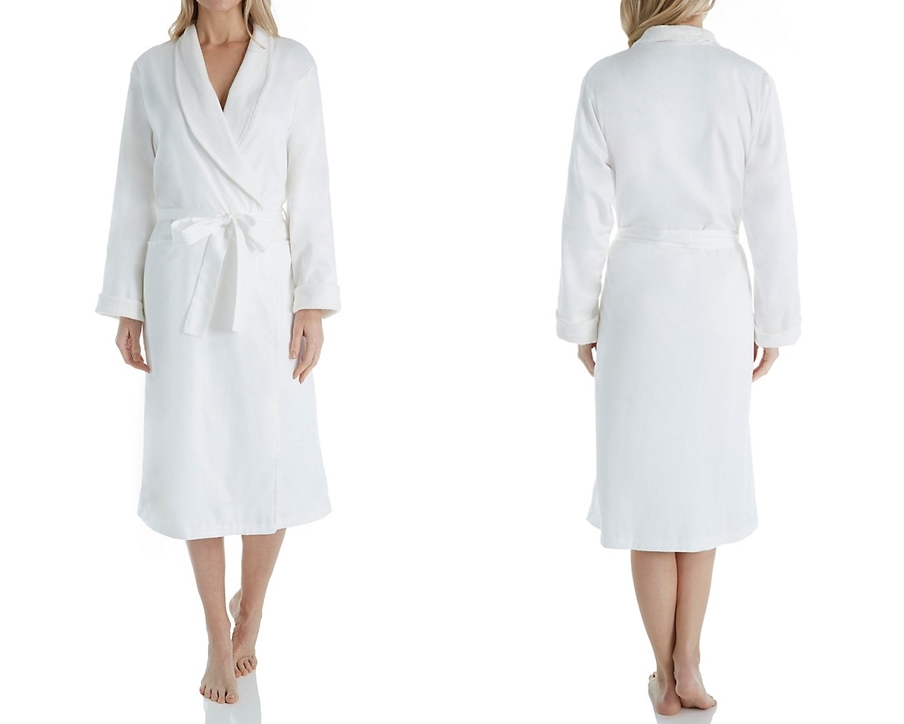 While terry cloth fabric does not naturally attract moths, it's always wise to place a few lavender sachets or cedar chips in your lingerie undergarment drawer as a simple preventative.
A few extra moments can make a huge difference and help your robe smell fantastic each time you put it on!