Lingerie Guide To
The Plus Size Corset

FTC Disclosure - If you make a purchase by clicking a link on this page, we receive a small commission. There is no cost to you, and this does not influence our content. 

---
Plus Size Corset - For full-figured and curvy women who are tired of traditional, everyday shapewear, the corset is a wonderful alternative. Why, you may ask, are women still drawn to these old fashioned lingerie undergarments that were all the rage in the 1800's?
The answer may surprise you. This foundation wear has never really gone out of style.
Many women love the slimming effect a corset offers, and enjoy showing off an hour glass silhouette.
Others swear by the additional back support that corsets offer those with back problems.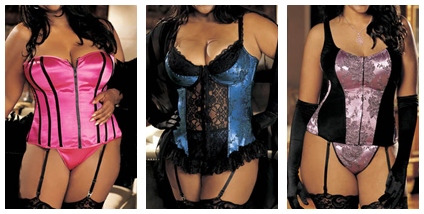 Plus Size Corset

And, lest we forget, corsets are not only feminine, they're sexy. Whether it's a sleek satin bridal corset or a glamorous silk and lace corset, men and women love the peekaboo look and feel.
Regardless of the reasons, buying a corset for yourself or for your honey is a wee bit more complicated than simply buying a pair of womens panties off the rack
There are some basic steps, and in this guide, I'll offer you some valuable tips on how to find a plus size corset that you'll enjoy.
Corset Styles
---
When shopping for a corset, you'll quickly see there are a multitude of different features and options that may seem complicated at first. Trust me, it's not.
One of the first things to decide is what kind of plus size corset do you want or need. Generally speaking, there are two main types of corsets.

These are referred to in lingerie language as "Overbust" and "Underbust".

If, you're wanting a curvy, hourglass waistline, and or want extra back support, both types will do just fine.
In all actuality, the main differences between these types are that the "Overbust" styles cover the breasts, and the "Underbust" styles do not.

If, you're interested in less restrictive lingerie that is more comfortable and gives you freedom of movement, you'll probably prefer the "Underbust" type.

If you are searching for formal lingerie, that's more rigid, you'll likely benefit from the "Overbust" plus size corset.
Length Options
Another important thing to know is there are different lengths available.
Unfortunately, most assume there is only one basic cookie-cutter length and style, and many women make the mistake of choosing a length based on height.
Instead of going this route, where chances are great the corset won't fit properly, opt for the length based on the size of your torso.
The main length that you should pay attention to when it comes to the size is referred to as the "Front Length".
Not sure what this means? While in the sitting position, measure your torso vertically.
This will allow you to determine the length that is best suited for your body type.
Getting The Best Fit
---
Before heading off on your shopping trip, make sure you have accurate bra measurements. This will help you find the best size and fit.
If, you're not familiar with bra measurements, here are a few quick steps.
Have a pen and paper ready. First, you should take a measurement of the fullest area of your bust.
Next, you'll want to measure all the way around your ribcage underneath your bust. Start in the front with the measuring tape, then go all the way around.
Once you have that, you can determine your cup size with our bra size calculator. Then, measure the narrowest region of your waist – which is located just below the ribcage.
Once you have this measurement, then measure all the way around the top of your hips.
Silk, Satin or Lace?
---
When it comes to fabrics, colors and corset styles the choices are endless. Glamorous satin and silk fabrics with lace trims are bold and sexy and always a favorite.
Satin tends to be a bit more durable and less expensive than silk since it's a man-made fabric.
Silk is of course the most luxurious and of course expensive, since it's a natural fiber and oh-so-delicate.
Silk does not hold the heat as much as satin does, so if you'll be wearing your plus size corset all day and are always warm, keep this in mind.
No matter which corset you opt for, here is the best tip of all - opt for a style, & color that suits your personality, your character, and most importantly, one that lets your joie de vivre shine through!