*FTC Disclosure - If you make a purchase through a link on this site, we may receive a small commission on the transaction - at no extra cost to you.*
5 Most Popular Styles of Panty Girdles

Traditional panty girdles can be a regular bore. Do you ever have that uncomfortable feeling of struggling to fit into a stubborn panty girdle that just won't cinch up around your waist? We've all been there at one time or another.
Panty Girdles

Worst of all, as soon as you think you have it pulled up all the way, it rolls right back down again. What a disaster!
Fortunately, girdles (nowadays they're called shapewear) have come a long way from the old fashioned girdles that grandma wore.
Today's shapewear is sleek, fitted, and best of all, stays put. Let's take a closer look at our 5 favorite styles…
Panty Girdles - Corset Bodysuit
The corset body suit, with its slimming fit, is perfect for the plus-sized women of today.
Shaped like a bathing suit, it stops short at the bra line, so it doesn't constrict your chest like many traditional girdle styles.
It also shapes and contours those unsightly love handles in the back as well.
The corset bodysuit gives you more breathing room for a more comfortable fit, and is a great option for that power lunch or job interview where you have to look and feel your best.
---
Control Undergarment
For those who only need a quick lift-and-tuck, the standard panty girdle will smooth and lift your buttocks and tummy, with a control top that blends seamlessly with the rest of your torso.
Control panties offer a great deal of support and can even be used by those recovering from abdominal surgery, such as liposuction, a lift and tuck, or even cancer surgery.
What a blessing it is for women who've had tummy surgery to use this simple, yet supportive lingerie undergarment.
~ Lingerie Tip ~
Girdles & shapewear styles come in different shapewear levels - lightweight, mid range, and super slimming. Choose your level based on which area you want to minimize.


---
Full Bodysuit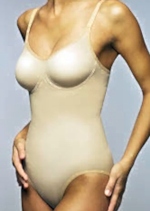 The full bodysuit is for those ladies who have stubborn rolls of fat that can't be tamed any other way.
Super-sleek and smooth, it covers from your hips to your chest, while covering your back and front. You don't even have to wear a bra, since it's a one piece.
The full body suit is idea for those special occasions, such as prom night, a black tie dinner, or anywhere more formal dress is required. Just slip a cocktail dress over your girdle, and you're good to go.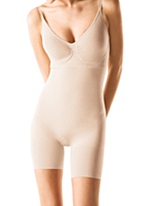 The boxer-style full body suit covers your thighs, as well. Now, you can fit into those tight jeans that you thought you'd never wear again!
It slims and hides cellulite and varicose veins that can show through sheer pants made of thin material. The ultimate in fit, and control, it is perfect for a night on the town with friends.
A bodysuit with leg coverage is also terrific for that special occasion if you're wearing a full dress, such as a gala dinner or a night for two.
---
Corsets & Bodystockings
There are also sleek and sexy shapwear options that make a woman feel feminine for those more intimate moments.
There are more traditional lace corsets, with lace in the front that you'll never have to mess with: just pull the corset on and slip some exotic creation over the top.
There are also sheer corsets and body stockings available in a wide variety of colors, such as white, cream, beige, red or black.
Sheer corsets allow you to peek through underneath, just a sneak peek, while concealing more intimate areas.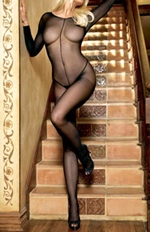 Made of 100% nylon with lots of stretch, and super light weight, the bodystocking is fun and goes wherever you go.
One of the great advantages to a body stocking - it packs away to almost nothing, so you can fit it in your briefcase if you're on the go, or into a tiny corner of your suitcase if you're traveling.
Whether you're at work, at a public speaking engagement or enjoying an intimate dinner, there's a panty girdle to suit every occasion and taste.
The girdles of today, made with sleek and slimming spandex, nylon or stretch polyester are stronger and easier to slip on than ever before.
They offer reinforcement, giving big beautiful women and petite ladies an unparalleled sense of confidence and freedom.
---
Girdles and shapewear smooth your shape, making it easy to wear clothes you thought you'd never be able to. They hide ugly bulges, smooth tummies, lift a sagging belly, and hide cellulite and imperfections for a smooth and trim fit.
While we may not wear shapewear all the time, for work or special occasions they fit the bill. Why not give shape wear a try today? You'll be pleasantly surprised at how it makes you feel, the newfound feeling of a slimmer and smoother silhouette that you get is priceless.
---
Online Shopping on eBay Clothing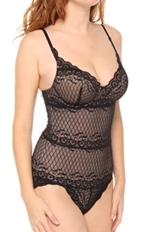 Know what kind of sleepwear you want? Love to shop on your schedule from the comfort of laptop, smartphone or tablet?
Online shopping for panty girdles, control underwear, Spanx shapewear and womens panties is a great way to view different styles from a variety of manufacturers on eBay.
The listings that follow are currently available. So, if something catches your interest, just click on the photo or link for more detailed information.
Happy Shopping!