Guide To Nautica Sleepwear
FTC Disclosure - If you make a purchase by clicking a link on this page, we receive a small commission. There is no cost to you, and this does not influence our content. 

---
Nautica sleepwear - an iconic American classic catering to both men and women is well known for its stylish yet comfortable sleepwear and clothing collections.
Beloved for many years for their simple yet stylish clothing and homeware lines, Nautica has managed to carve out a niche in sleepwear with a sporty and spirited bent.
Nautica's specialty is perhaps its ability to blend a sporty look with an emphasis on comfort.
Fussy details such as bows and frills that are known and celebrated in other nightwear lines such as Eileen West nightgowns and Disney sleepwear have never figured in the Nautica collections.
Nautica Sleepwear

Nautica nightgowns, pajamas, sleepshirts, and bathrobes are classic, simple styles in solid and cool patterns with an urban chic flare that appeals to a more contemporary demographic.
While Nautica is known mostly for their 100% cotton sleepwear, they do offer cotton blends designed for moisture wicking, moisture control and dryer-readiness, making their nightgowns and sleepwear ideal for all-year round.

Womens Sleepwear
---
Nautica comes in basic collections that are designed for functionality and style with a social conscience.
A great example of this is their current best seller, the Pink collection.
The Pink collection is intended to honor breast cancer awareness with a contribution to the Susan G Koman foundation for the cure, with each sleepwear purchase.
This popular ladies sleepwear comes in a range of styles that include womens pajamas, three quarter sleeve length crew neck sleep shirts, mix and match drawstring pajama bottoms and plush robes.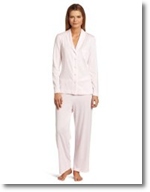 It's also worth noting that the barely there Pink ladies nightwear collection is made from soft cotton / modal (an all natural beech wood based material that is quite fine, incredibly soft and stretchy), and is machine washable.
Nautica sleepwear for women comes in a good range of sizes, including extra small, small, medium, large, extra large, small/medium and large/extra large.
So, if you find yourself in between sizes, there are good options to choose from so that no body type or shape is left out.

Mens Sleepwear
The Nautica mens sleepwear collection is even more varied than the women sleepwear line, featuring comfortable 100% flannel sleepwear, lightweight cotton sleepshirts, matching pajamas, pj pants, long sleeve camp shirts, tees, shorts, mens robes and even underwear!
Styles are sporty with clean simple lines.
Masculin colors range from solid navy and pale blue with a maritime theme and classic plaid to heather grey, anthracite, white and of course basic black.
Nautica sleepwear sizing for men is easy.
Besides the standard small, medium, large, extra large, and extra extra large, there are other size parameters that make picking the right one straightforward.
A small/medium and a large/extra large along with 30W all the way to 44W make sizing fool proof whether nightwear is bought at the store or online.
The sizes run true to size as all the material used in Nautica nightwear is made with preshrunk materials allaying any fears of dryer shrinkage.