*FTC Disclosure - If you make a purchase through a link on this site, we receive a small commission at no extra cost to you.*
The Best Lunaire Bras To Have In Your Collection
Lunaire Bras To Have - Buxom and zaftig women, rejoice! There are a full line of Lunaire bras that flatter and support your figure in comfort and style.
You no longer need to suffer with poorly-supported breasts, an unflattering silhouette, and shoulders rubbed raw by poorly-designed bra straps.
The design team at Lunaire lingerie have designed all of the Lunaire bras to be gorgeous to look at, too; there are nine different types of bras to choose from, each with a matching panty.
The Best Lunaire Bras To Have?

The best Lunaire bras to have? One of the biggest complaints buxom women have when bra shopping is the lack of flattering and beautiful large size bras.
Smaller, petite bras are frequently manufactured in diaphanous, thin fabrics; however, these fabrics do not provide adequate support for larger bustlines.
Lunaire has solved this problem by combining beautiful, sexy, sheer fabrics with a strong, firm, flesh-colored lining.
This lining provides a second layer of support for the breasts, and also ensures modesty by keeping the nipples securely covered at all times.
Additionally, the lining layer bears the majority of the stress placed on the cups by the weight of the breasts, helping prevent tears in the delicate lingerie fabric.
The modern zaftig woman can rely on Lunaire bras that look amazing and remain extremely comfortable during long hours of wear.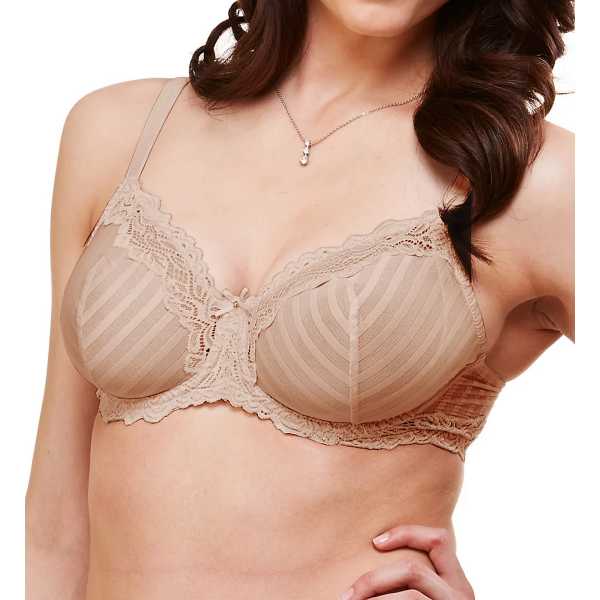 All Lunaire bras are constructed with heavy-duty underwire support under the cups.
The bras also have thick, padded shoulder straps that evenly distribute the weight of each breast along the length of the shoulder.
This keeps a woman comfortable, and prevents redness and irritation that are frequently caused by thinner shoulder straps.
Most Lunaire bras and lingerie styles feature standard two-strap construction combined with full-coverage bra cups.
However, there are two demi cup bras in their inventory, which leave the top portion of each breast uncovered to accommodate revealing necklines.
Lunaire lingerie also offer strapless bras which are double-cup, underwire front closure bras without shoulder straps.
These brassieres have an extra-wide back band that helps keep the breasts in place.
The soft fabric is neutral in color to blend with a majority of skin tones, and has a subtle, floral, feminine jacquard print.
Women who wear bra sizes C to DDD will doubtless come to rely upon Lunaire bras to keep them looking gorgeous throughout the year.
Women who want an extra dose of glamour and sensuality should investigate Lunaire's new "Whimsy" line of bras and panties.
This line, with styles named after exotic locations throughout the world, is designed to function equally well at work and at play.
These styles are comfortable enough to wear everyday, and their sensuous lines can definitely hold their on in a boudoir setting or on a romantic date.
Both lines are available at Lunaire lingerie boutiques throughout the United States, as well as at independent vendors throughout the United States and Canada.