Bridal Corset Secrets
An elegant bridal corset be worn underneath a wedding gown or as provocative honeymoon lingerie on the wedding night.
For today's bride-to-be, there are a multitude of bridal bras and fabrics to choose from. Women of all shapes and bra sizes can find something to suit them if they decide to pursue the wedding corset or bridal bustier option.
There are several factors that must be considered when considering the purchase of a bridal corset and bridal lingerie.
The first is whether or not the corset will be worn throughout the day beneath the wedding gown.
Bridal Corset Tips

Corsets are usually heavily boned, tightly laced and very restrictive.
Women who are used to wearing sexy corsets with vertical boning often may have no trouble wearing one on their wedding day, but most women who are unfamiliar with these specialty bridal undergarments may find them quite uncomfortable after several hours of wear.
The bride should also consider the construction of the wedding dress itself: a corset and its laces may create bumps and lumps under thin, diaphanous wedding dress fabric.
Brides with snug-fitting wedding gowns are usually better served with a specialty bridal bra or even a bridal bustier under their gown.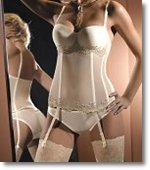 If they want, they can change into provocative lingerie after the reception ends.
A corset intended as erotic lingerie does not need to be as heavily boned and restrictive as one designed for wear underneath a formal gown.
Corsets, including sexy corsets and plus size corsets usually have vertical boning for the best support; however, the bride can choose a style with heavy or light boning as needed.
The best fit is of course with a custom corset that is made to the bride's exact measurements; but this tends to be a great deal more expensive than "off the rack" styles.
There are many styles of bride lingerie corsets to choose from; the most popular are overbust, underbust, and waist cincher.
An overbust corset covers the nipples by at least one inch; these corsets are often quite glamorous and worn as evening wear when paired with a ball skirt.
An underbust corset ends just beneath the breasts; it may be worn with panties and a bra, although many women leave the bra off for an extra-racy look.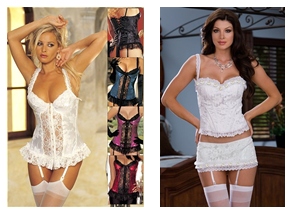 The waist cincher is basically a shorter underbust corset; it cinches the waist but does not completely cover the ribcage below the breasts.
The majority of wedding corsets are generally laced up from the back; many also have front busk hook-and-eye closures.
Some may also feature modesty inserts that cover the skin beneath the laces in the back.
A bridal corset can be very attractive with the addition of optional garters and stockings.
A garter belt is often removeable, so the corset can be neatly worn without stockings at any time.
All corsets and bridal bustiers should be dry-cleaned or spot-cleaned as per the lingerie manufacturer's directions, and should be stored in fabric bags out of direct sunlight to ensure that the fabric does not fade.