*FTC Disclosure - If you make a purchase through a link on this site, we receive a small commission at no extra cost to you.*
10 Bridal Corset Mistakes And How To Avoid Them
Bridal Corset - Brides love corsets and bustiers for the way they shape their waists and give them a gorgeous hourglass figure under their wedding gown, making it one of the top picks for bridal lingerie.
If this bridal lingerie is a must for your big day, make sure to brush up on these 10 top mistakes that brides make, and learn how to avoid them so you can show off your most beautiful silhouette.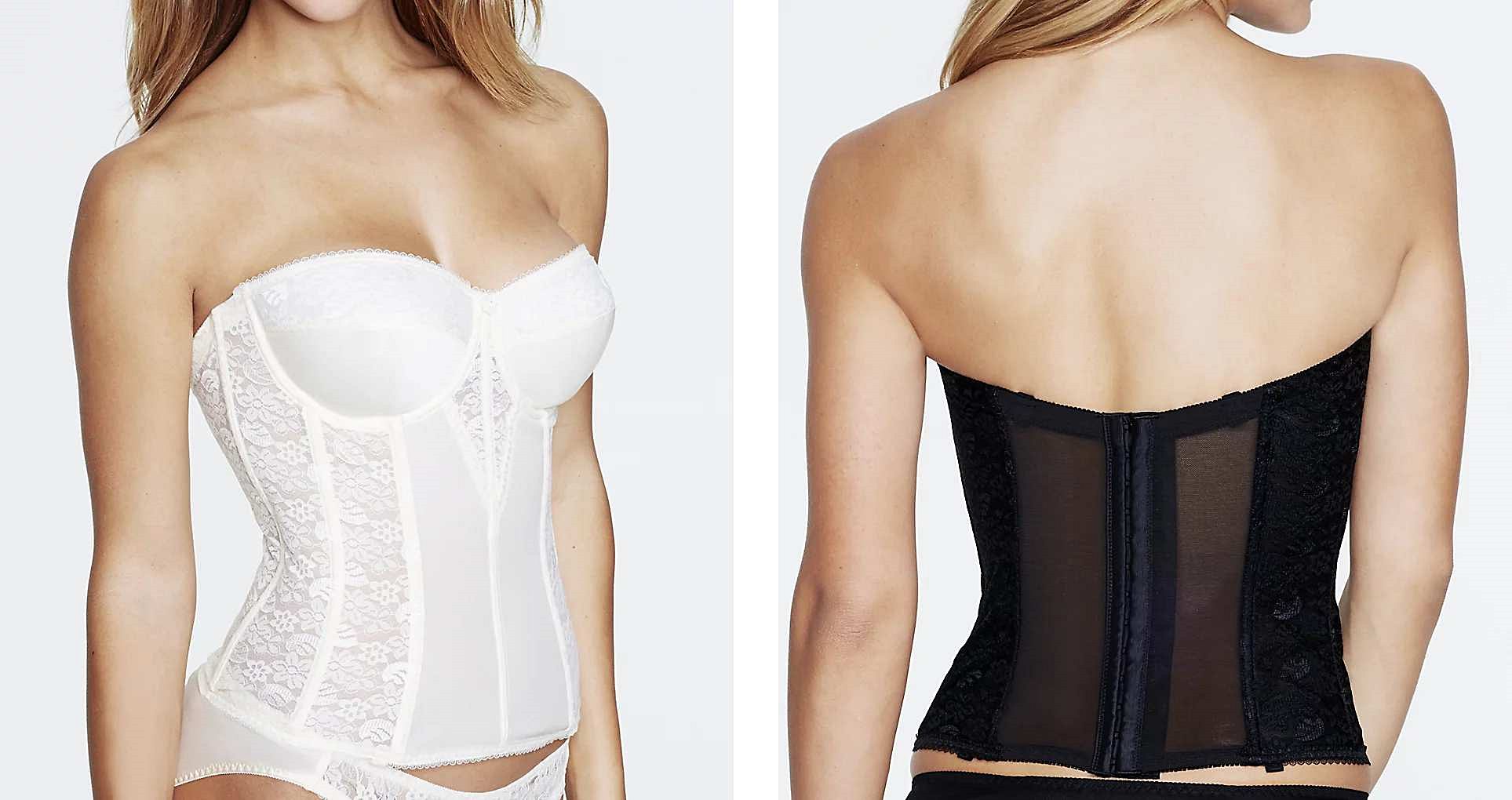 Bridal Corset Mistakes

1. Going Too Tight
Sure, you want that cinched in look that we love from wearing a corset, but don't make the mistake of squeezing yourself into any intimate apparel that's too tight or too small.
Not only will this cause unsightly underarm and back bulges, but you won't be able to breathe or move, turning your special day into one of your most uncomfortable ones.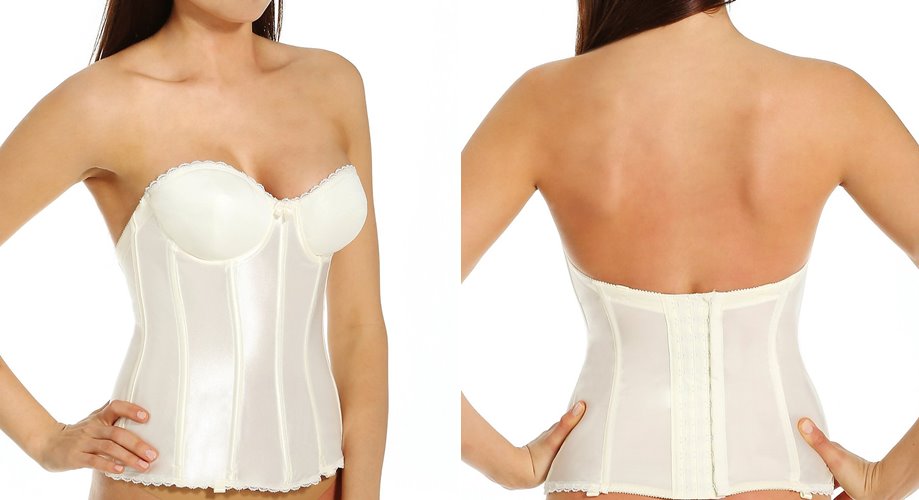 VA BIEN
2. Going Too Loose In Bridal Lingerie
Instead of squeezing into an overly snug size, many brides will try the opposite -  a bridal bra or corset that's too big for their silhouette.
This causes gaping at the top, causes it to shift around as you move, and won't give you the waist definition that you're after in the first place. Look for middle ground and try several options until you find a size that's just right.

3. Bridal Underwear That Ends At The Wrong Spot
Corsets come in many shapes and options, from styles that end right under the ribs to pieces that come down to cover the hips.
Take your cues from your dress. If it has a nipped in waist and a full ball skirt, you don't need coverage all the way down to your hips.
If your dress is a fitted mermaid style you may want to choose a longer corset that slims your figure well below the waist.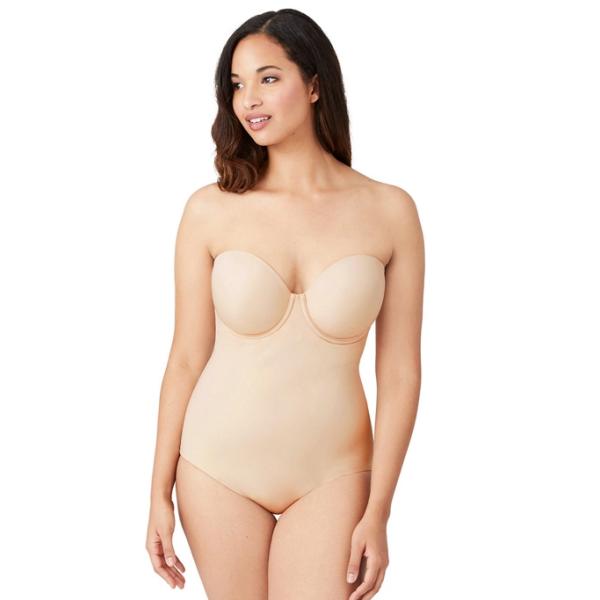 WACOAL
4. Choosing The Wrong Bridal Bra
Corsets are available in shorter or longer lengths, and with or without attached bra cups. Your dress will dictate the style that's best for you, along with your silhouette.
Fuller busts that need additional coverage in their dress neckline may want to opt for a style with an attached bra for structure and support.
Petites with lower cut necklines may choose to go braless, so a corset that ends below the bust is a better bet.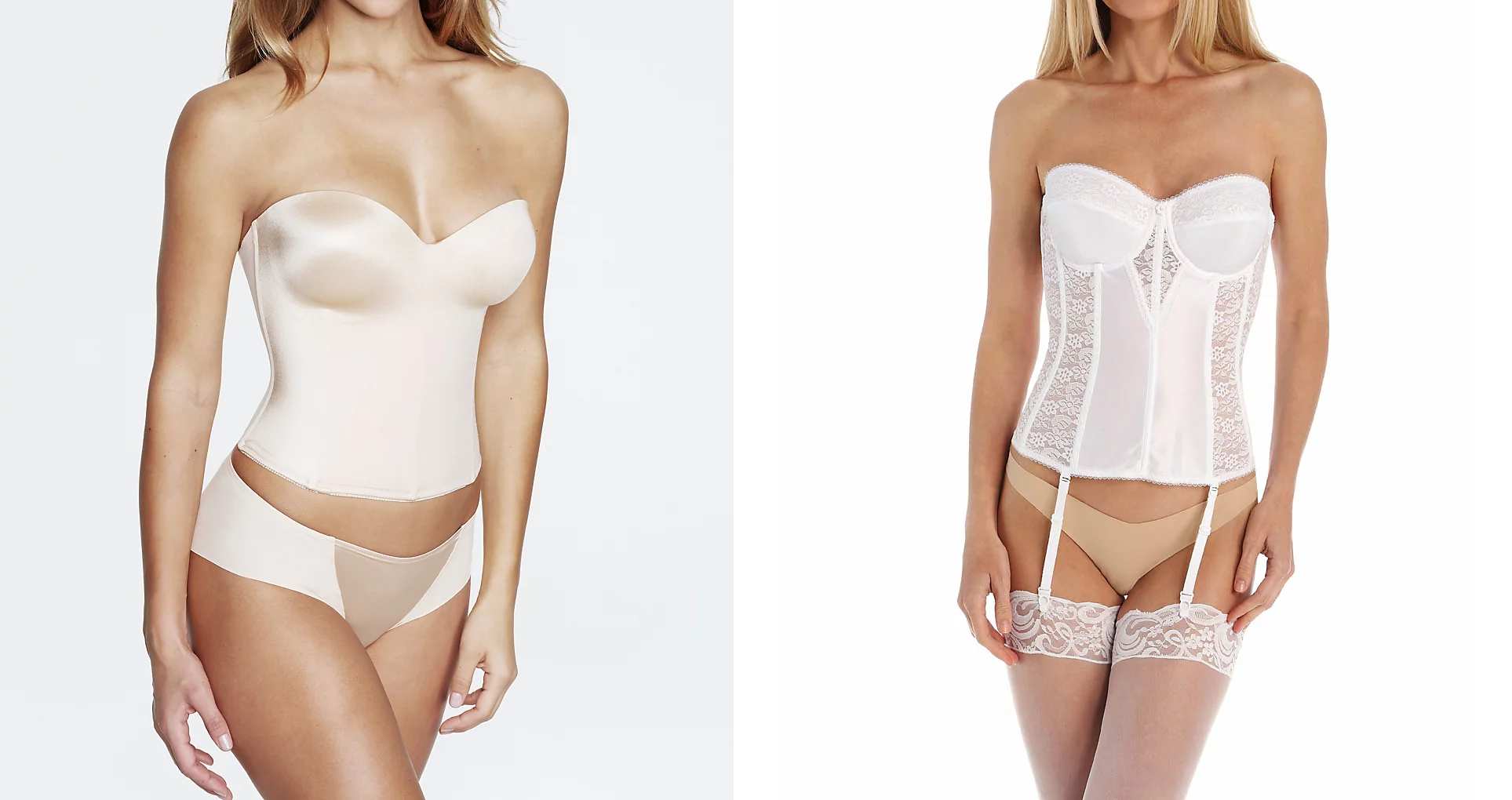 5. Choosing The Wrong Wedding Lingerie Texture
Great bridal lingerie should be invisible under a wedding dress.
Seamed and textured corsets in lace or quilted satin show through delicate fabrics such as bias cut silks or satin, and create a distracting effect that will put your lingerie on display.
Choose sleek silk or microfiber corsets for a flawless look under flimsy fabrics.
DOMINIQUE
6. Not Trying On Your Wedding Dress
No matter how lovely a bridal corset is looks in the photo or on the hanger, its main purpose is to work under your dress.
Take it to your fittings and make sure it's the right piece to wear with your gown, and do this well in advance of your wedding date in case you need to make any adjustments.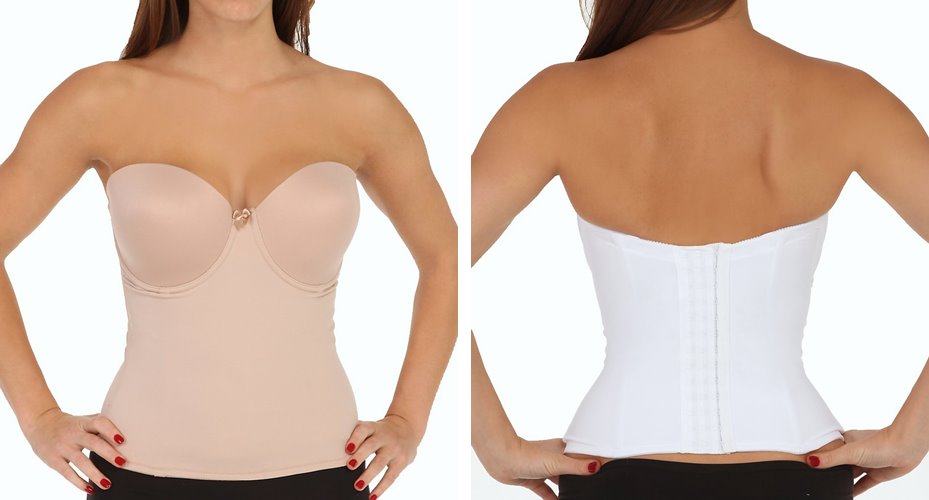 7. Making Lingerie Comfort A Low Priority
It's true - a corset isn't as comfy as your favorite flannel pjs, but this doesn't mean it needs to be torture either.
If should fit snugly but you should still be able to move easily.
Fabrics should be soft and silky instead of stiff or itchy.
Seek out a bridal corset that's as comfortable as possible so you can spend your wedding day focusing on other things besides your lingerie.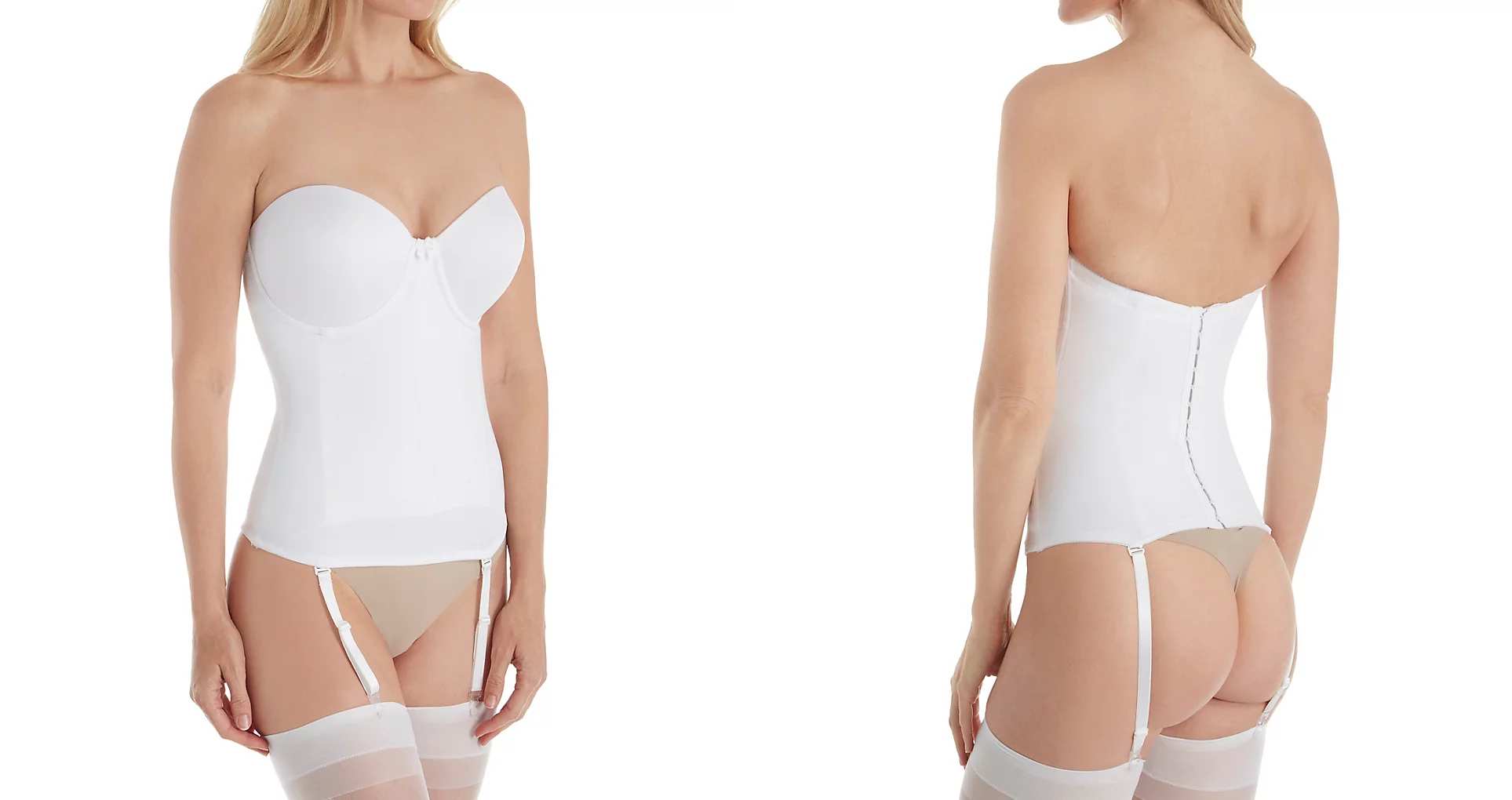 VA BIEN
8. Blowing Your Savings On Bride Lingerie
Beautiful lingerie is a special treat for any bride, but in reality you won't get much wear out of a bridal corset beyond your big day.
Spending a small fortune on a designer piece is a quick way to blow your wedding budget.
Take the time to shop sales or look at lower priced options, which can be just as pretty at a fraction of the cost. Pocket the extra money for spending on your honeymoon.
Beautiful Lingerie Tip

Corsets and bridal bustiers should be dry-cleaned or spot-cleaned as per the lingerie manufacturer's directions, and should be stored in fabric bags out of direct sunlight to ensure that the fabric does not fade.

9. Doubling Up In Beautiful Lingerie
Many styles of dresses have bodices that are already fitted with boning and corsetry.
If your dress has a built in corset there's no need to layer another one underneath.
You'll only feel like you're wearing a suit of armor and the double layer will guarantee that you'll feel uncomfortable all day.
One layer is plenty for whittling your waist and giving you the hourglass curves you crave.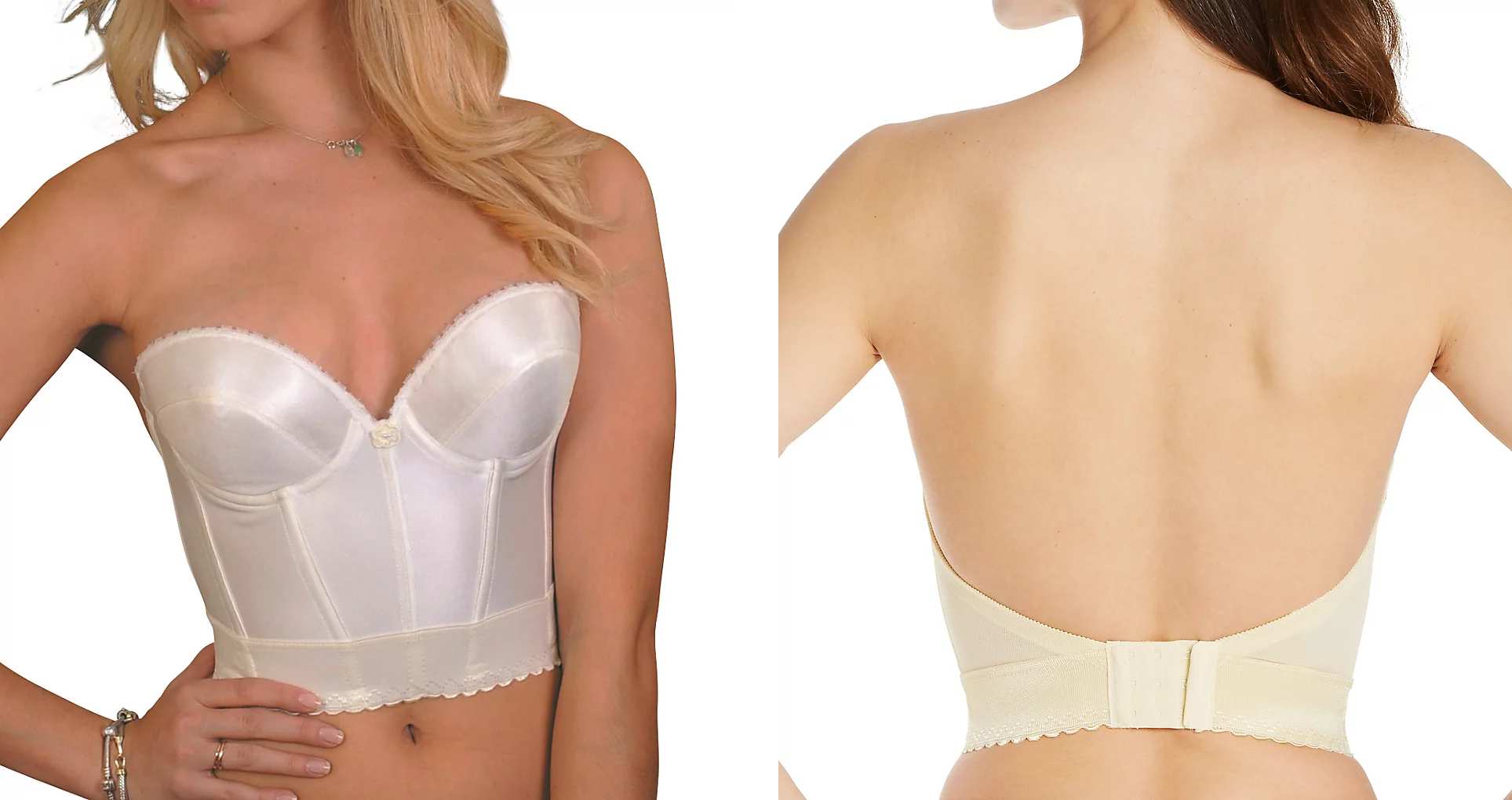 CARNIVAL
10. Not Multitasking With Other Shapewear
Wearing too many separate styles only means more to fuss with. The solution? Look for versatile bridal lingerie options that combine several pieces in one.

Choose a bridal corset that has an attached hip-slimming slip, back smoothing coverage, or cleavage boosting cups.
Opt for one or two multi tasking styles like convertible bras instead of loading on lingerie separates under your dress.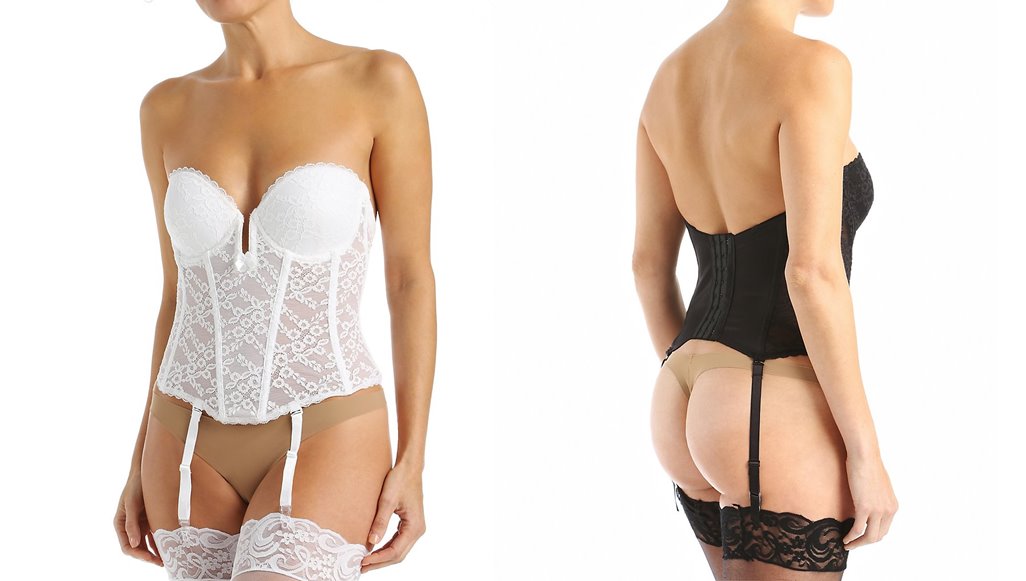 CORSETS