*FTC Disclosure - If you make a purchase through a link on this site, we receive a small commission at no extra cost to you.*
Cotton Robe Essentials You Need To Know

Cotton Robe - We love the beauty of cotton – simple but sensational long robes and short robes - fresh and fabulous styles for every occasion that are effortlessness and easy to wear.
Whether you prefer warm and cozy plush bath robes for cold winter nights or organic lightweight terry cloth robes for summer, cotton is a natural choice for virtually every season and lifestyle.
From simple style secrets to budget basics, follow along as we reveal the top 10 facts about what makes this classic sleepwear style such a popular pick.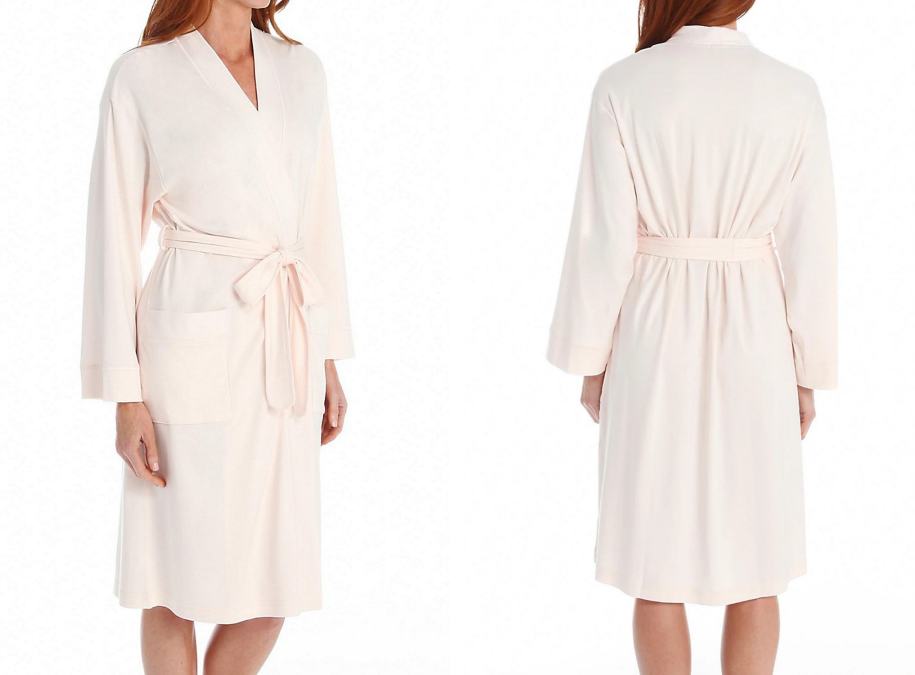 Cotton Robe Fundamentals

1. Cotton Sleepwear Works Year Round
Not too heavy, not too light, cotton robes are a must-have for year round wear. You'll be cozy in the winter and stay cool in the summer in natural cotton fibers that breathe and provide perfect comfort, no matter the season.
2.  Cotton Works For Any Style

Whether you're a girlie girl, a minimalist, all about practicality, or a lingerie goddess in the boudoir, there are womens robes that will suit any personal style.
From sweeping floor length long robes and classic wraps, to sassy and short robes – there's something for every woman's unique style and preference.
LA CERA
3. Cotton Fabrics Offer Lots Of Options

From densely woven to luxurious knits, cotton comes in a variety of weights and textures, making it an ultra versatile fabric with lots of choices.
Pick from cozy flannel, combed cotton, quilted cotton, cotton jersey, and more to find the robe of your dreams.
Sensational Spa Basics

The cotton spa robe is a favorite of many spas and luxury resorts. These popular bathrobes are soft, and very comfortable and designed to envelop you in a cloak of comfort.
4.  A Cotton Bath Robe Can Be Sexy

Ladies robes in cotton aren't just about function – they can be pretty and provocative too.
Look for ultra short robes that show off your legs, wear the sash a little undone to show off cleavage, or give a glimpse of your gams in a floor length style with a thigh high slit.
Opt for sensational hues like black, red, or leopard print to dial the sexiness up even more.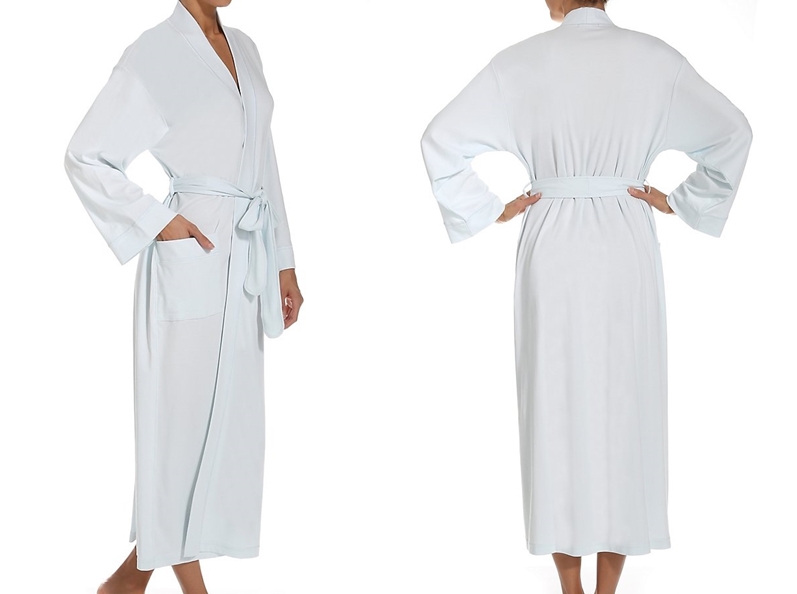 P-JAMAS
5. The Robe That Isn't Always Basic

Cotton isn't always basic. There are loads of luxury robes in cotton out there that are dripping in luxe details, from lace appliques, satin trim, ruffled hems, whimsical prints, or even beading.
Choose the extras that make you feel pampered and special in whatever style you pick.
6. Cotton Bath Robes Go With Everything

Cotton goes with everything. From gorgeous negligees to menswear style pajamas, a simple cotton wrap is the perfect accessory no matter what you've got on underneath.
It's range from practical to boudoir-worthy makes this sleepwear style a multi-tasking must-have for any lingerie wardrobe.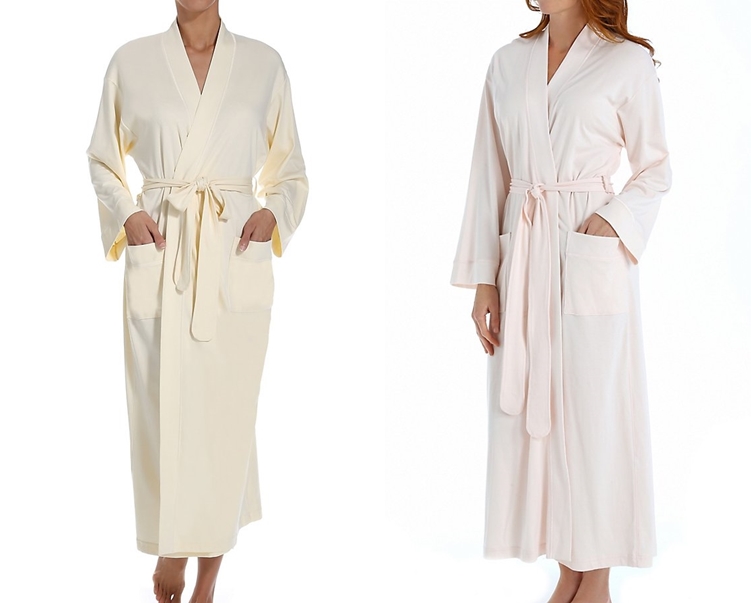 7. A Cotton Bath Robe Is Affordable
Cotton is affordable. High end favorites like silk, satin, or cashmere robes are divine, but aren't always the most wallet friendly option.
Classic cotton feels luxurious without the hefty price tags of posher fabrics, making a robe an easy addition to your collection.
Eco-Friendly Sleepwear

Organic cotton robes are now readily available to those who prefer the eco-friendly choice of organic cotton. A natural and breathable fabric that is highly absorbent, organic cotton offers the best of both worlds.
8. Cotton Is A Classic Ladies Sleepwear Favorites

Cotton is classic. A womens robe will never look dated or out of style because of it's timeless look and feel that you can wear for years to come. From decades past and into the future, a cotton robe is a classic choice that always looks chic and feels great.
9. These Women Robes Work For Every Silhouette
Cotton sleepwear works for virtually every shape. Clingy or bulky fabrics don't work on everyone, but crisp cotton lingerie, no matter which style, looks great on any figure, from petites to plus size and everything in between.
Giving just the right amount of coverage, a cotton robe flatters every shape and size, making it a lingerie drawer essential for the well-dressed woman.
Did You Know?
A hooded robe in cotton is great when you have wet hair.  As cotton is super absorbent, it helps keep the frizz to a minimum and your hair dries faster.
10. Cotton Fits Every Budget

Choose from the simplest, lightweight terry cloth robes all the way to the most luxurious Egyptian cotton materials and you'll see how this fabric can easily work with any budget, whether you're frugal or money is no object.
Cotton-synthetic blends are ultra affordable while organic cotton comes with a higher price tag, and there are options in between for everyone to find the piece that's just right.
P-JAMAS