Cotton Robe Shopping Tips
FTC Disclosure - If you make a purchase by clicking a link on this page, we receive a small commission. There is no cost to you, and this does not influence our content. 

---
The cotton robe is a comfortable and versatile womens robe basic that every woman should have in her lingerie wardrobe.
Great for keeping you cool in the summer and warm in the winter, a simple cotton wrap robe can be used all year round.
Like other popular womens sleepwear styles, cotton ladies robes come in a great variety of different styles and lengths to suit almost every occasion and taste. With this in mind, let's take a look at a few basics.

Cotton Robe: The Long And Short Of It

Short robes are sexier than traditional long robes and an easy ladies sleepwear cover up if you are putting on your make-up or you need to do a few things in the kitchen before heading off to bed.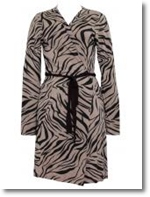 They're also a good choice for vacations since they take a minimal amount of precious room in your suitcase.
Long chenille robes, fleece robes or even velour robes are more conventional and a good choice for winter when its cold outside and you have to venture out early to get the news paper, or out late to check the mail.
Lightweight long robes like silk robes, satin robes and cotton robes are more comfortable for spring and summer wear, or if you live in a climate where it's warm all year round.


Which Style?
---
Lightweight cotton womens robes are the way to go if you like heavier fabric night gowns, you can still cover your night gown lightly and not be over heated.


The cotton spa robe is a favorite of many spas and luxury resorts for a reason. Cotton spa robes are usually long, soft, and very comfortable as they are designed to envelop you in a cloak of comfort.






Organic cotton robes are now readily available to those who prefer the eco-friendly choice of organic cotton. A natural and breathable fabric that is highly absorbent, organic cotton is the best of both worlds.




A short, lightweight cotton kimono robe is an exotic choice if you want to spice things up a bit and feel a little sexier.




A hooded robe is great to use when you have wet hair. It helps keep the frizz to a minimum and your hair dries faster, since cotton is absorbent. Some people even use these robes after showering instead of towels to dry off.

Hand woven luxury robes in Egyptian or Turkish cotton are the ultimate in luxury for yourself or as a gift for your sweetheart.




Seersucker or terry cloth robes are popular for lounging around the house, or after a shower or bath, with a waffle or nubby textured look and feel that absorbs water easily.




A chenille robe is a thick, luxuriously soft and warm womens robe that is kitten soft and looks great in any colour and any length.

High end or affordable, long or short, thick or thin, cotton robes are perfect for relaxing at home and on vacation.

They are also very practical they are as a great quick cover-up for any kind of nightgowns, womens pajamas or women sleepwear styles.

Check out the fabulous world of cotton sleepwear and lingerie and you'll feel relaxed in no time.