Chantelle Bras Come In Popular Styles
*FTC Disclosure - If you make a purchase through a link on this site, we may receive a small commission on the transaction - at no extra cost to you.*
Chantelle Bras Come In 7 Of The Most Popular Styles
Chantelle Bras come in a variety of tempting styles that are figure-flattering and have won the hearts of millions of women all over the world.
Like most women, you'll probably find that your lingerie undergarment needs will vary from day-to-day, as they depend on your lifestyle, the fit and feel of your clothing, and of course the occasion.
Before heading off for a spot of bra shopping, ask yourself - is your day filled with lots of physical activity? Or do you sit at an office all day? Do you wear loose or tight-fit clothing?
Chantelle bras come in a wide selection of many types of bras that cater to different clothing needs. Here are 7 tried and true lingerie drawer favorites.


Chantelle Bras Come In Different Styles - The T Shirt Bra

For your clingy knits and t-shirts, Chantelle bras offers the Chantelle Essensia T-Shirt Bra.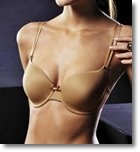 This brassiere ensures a virtual invisibile bra fit, even under the thinnest fabrics.
Designed with thin yet firm foam padding, and smooth, soft microfibre that feels great against your skin, it molds seamlessly for an invisible look under tight tees, tank tops, and tighter clothing.
These Chantelle bras come in basic black and a neutral shade of toffee, in bra sizes 32A to 40D.


The Push Up Bra
For days when you want that extra lift, the Chantelle Sublime Push Up Bra will perk you up! This push up bra increases cleavage by using cleverly designed graduated bra pads or inserts.
The smooth and seamless cups provide maximum support that is almost invisble under your clothing. The bonus is the low plunge front that accommodates tops, blouses and sweaters with low necklines.
These Chantelle Bras come in barely there nude and black, and are available in a full range of bra sizes, from a petite 32A to a fuller 38E.


The Racerback Bra
Featuring a front-close, the Chantelle Rive Gauche Racerback Bra is designed with a low plunge center to accommodate low necklines.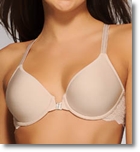 This makes it a great option for a no-show fit under tank tops and comfortable clothing.
The molded bra cups provide lightweight contouring that is breathable and cool, and the lace back is lined with mesh for extra comfort.
These front closure bras are available in sizes 32A to 38E and come in black and cappuccino.


The Strapless Bra
Need something to wear underneath that bustier or sleeveless top?
The Chantelle Sublime Plunge Strapless Bra is a lightweight brassiere that features removable straps.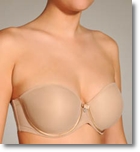 Its molded, underwire cups provide very good support for those who need it.
The top of the cups and under the arms are elastic for a stretch fit that molds to your body's curves.
These strapless bras are available in sizes 32A to 38F, and come in basic white, nude and black.


The Lace Bra
Sexy and sophisticated, the Chantelle Icone Demi Bra is a wonderful option for romantic moments and for lingerie divas who love to celebrate their femininity.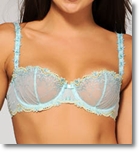 This underwire demi cup bra offers a cleavage enhancing sexy shape with molded semi-lined sheer, embroidered bra cups with vertical seams to maximize lift.
Exquisite floral edge detailing along the top of the cups and bra straps make this one of Chantelle lingerie's most sexy exotic bras.
Thesebeautiful bras come in a amazing range of sizes, from 32B to 38F, in four delicious flavors: temptation red, electric violet, blue aqua and black.


The Wireless Bra
Wireless bras offer all-day comfort without sacrificing the support that women need. The Chantelle Cachemire Soft Cup Bra offers you the support system without a traditional underwire.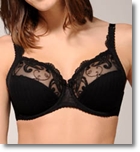 This soft cup bra has a cleverly designed 3-part cup that centers the breasts for a structured yet comfortable soft bra fit.
Sheer detailing along the stretch bra cups adds a hint of elegance to this classic French brassiere.
These brassieres come in a great range of bra sizes from petite bras in 32B to full bras in 44C, in milk pearl, mocha and black.


The Everyday Bra
Want it all in just one great easy bra fitting masterpiece? The Chantelle C-Chic T-Shirt Bra is a brassiere for all seasons.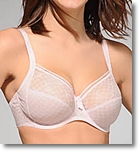 This underwire brassiere features three part cups with flat seams for a fitted look that make it ideal for women who need additional support but want a seamless look.
Tulle along the top half of the bra cups with keyhole edging make it a great choice for an everyday brassiere with style.
These fashionable Chantelle bras come in a great ranges of bra sizes from 32B to 44H and have five stylish colors to choose from: black, fig (brown), navy, nude, and soft pink.

As you can see from just a few of the brassieres we've looked at here, Chantelle Bras come in a great variety of styles, fabrics, and an impressive range of bra sizes to fit virtually every woman from petite to plus size.
So, take your time and discover this line of French lingerie, and why so many women all over the world love beautiful Chantelle bras and lingerie.