Zip Front Robe And Sleepwear Guide
FTC Disclosure - If you make a purchase by clicking a link on this page, we receive a small commission. There is no cost to you, and this does not influence our content. 

---
A zip front robe provides comfort and warmth combined with the ease of a zipper closure.
While everyone can enjoy these fabulous luxury robes, they are particularly wonderful for children, the elderly, and anyone else who may have difficulty tying up the belt on a traditional bathrobe.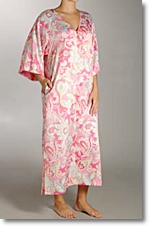 They are also a great choice for young children who are just learning how to operate a zipper and need extra practice.
These womens robes typically zip all the way from the bottom hem up to the neck, forming a better fit against drafts.
This is particularly noticeable when sitting or lying down; traditional belted bathrobes and ladies sleepwear often expose the knees and lower legs in these positions, but a zip front robe will keep the entire body toasty warm!
Zip Front Robe Basics
Ladies robes with a zip front may be made from any number of different fabrics. Flannel sleepwear and fleece robes are probably the most popular warm fabrics, since they are affordable, easy to clean, and cosy warm.
Cotton terry cloth robes are also immensely popular. Many of these zip front spa robes are lined with a second layer of material such as satin, which feels wonderful against the skin.
Long Robes
The satin layer also helps the robe move freely over bare skin or ladies pajamas. Another advantage of such a spa robe is the reduced thickness. There is no belt to cinch around the waist, so the silhouette is considerably smoother.
A womens robe with a zip front can easily double as a housedress, making it easy to complete household chores without staining one's everyday clothes.
There are many long robes that are more fashionable than the garish "grandma's housedress" robes of yesteryear.
Look for robes and women sleepwear with trendy pinstriping and tasteful color combinations; many styles also feature feminine pintucks for shaping.
If you like the vintage Victorian look, purchase a zip front robe with delicate, feminine lace trim along the cuffs, neck, and bottom hem.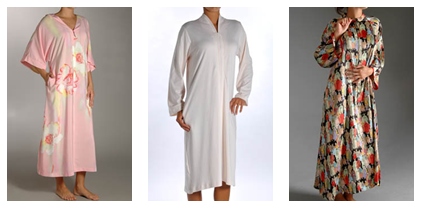 These robes are often available in gorgeous gingham or toile prints, and come with matching night gowns as well.
Always follow the care instructions found on the label of your zip front robe.
Almost all of these garments can be machine washed; use the gentle cycle to avoid damaging or ripping the zipper. lingerie undergarment pieces.
Many robes for women recommend turning them inside out before starting the wash.
A zip robe can be stored by either hanging it in a closet or folding it up in a drawer or shelf.
If the intimate apparel fabric has any percentage of wool content such as a cashmere robe place a lavender or cedar sachet in the closet to prevent moths from eating holes in the fabric.
Such a sachet may be hung from the robe's hangar, or placed in a pocket.
A sachet of whole cloves is equally effective and will make the fabric smell incredible.
If storing your robe in a drawer, the sachets can simply be scattered among the garments; a scented drawer liner is another effective option.