*FTC Disclosure - If you make a purchase through a link on this site, we receive a small commission at no extra cost to you.*
Wedding Underwear - How To Save Money

Wedding Underwear - Whatever wedding dress intentions you have - a beautiful princess ball gown, a glamorous curve-hugging mermaid dress, an elegant column sheath, a traditional fitted bodice A-line - great bridal underwear is a must-have.
The style of your dress will determine the undergarments that you'll need.
Like an invisible best friend who is always supportive and helps you look your best, the right wedding underwear smooths away problems - lumps, bulges and lines – and enhances the flawless appearance of your wedding dress.
Shapewear and seamless undies do the job nicely.
Popular styles like high-waisted thongs, thigh slimmers, waist-cinchers, control briefs and a multitude of options can offer great support and tame stubborn tummies, thighs and hips into a smooth silhouette. 
Below, we share tips on how to save without sacrificing style - from where and when to shop and more.
Wedding Underwear Shopping Tips
---
Shop Outside The Bridal Section

As soon as the word "wedding" or "bridal" is attached to anything, the prices skyrocket as companies do their best to tap into this hot market.
Avoid panties marketed specifically as underwear for brides and instead just shop in the regular lingerie section of your favorite stores.
If you're craving the traditional white look of wedding underwear there are loads of pretty choices outside of the specialty bridal selections.
---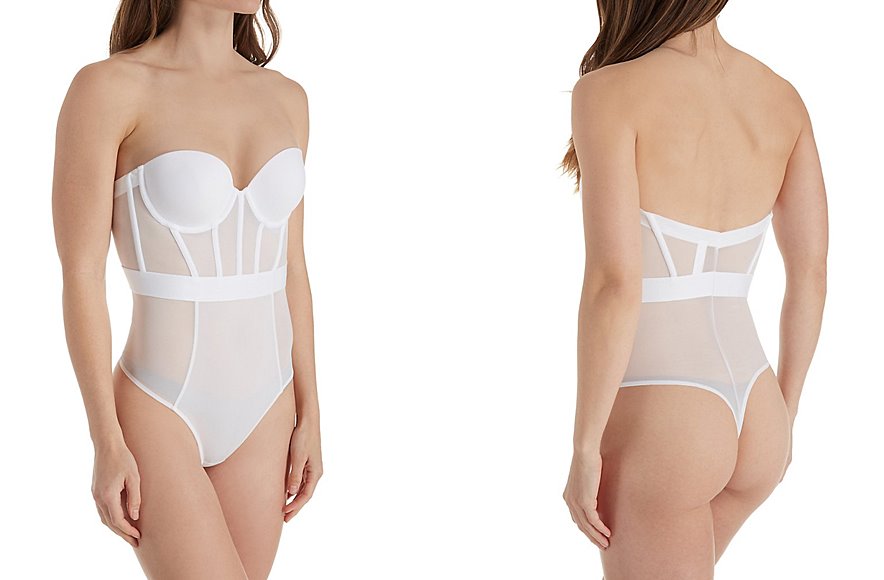 DKNY
Search Online For Beautiful Lingerie
Hit the Internet for your favorite brands and take advantage of retailers around the world, and whatever sales they may be having.
If you know the brands you're after you may be able to find great deals on wedding panties at an online shop located across the country, instead of just relying on shopping the local stores in your area.
The Color 411

Stick with light colors, such as white, cream, and pastel shades for bridal lingerie.
While black underwear is sexy, it is impractical under a white dress as it shows through. Better to save sexier colors for the wedding night and honeymoon lingerie instead.
MAIDENFORM
Sign Up To Save On Intimate Apparel
Get on the lists for lingerie stores newsletters, emails, and loyalty clubs.
You'll be the first to know about any special offers, sales, or events and can take advantage of the best selection of wedding underwear at the hottest deals.
You'll never miss out on a sale when you're part of the insider network at your favorite lingerie boutiques.

Lights, Camera, Action!

It's important to try potential bridal bras and bridal panties on while wearing your wedding dress; this is the only way to find which undergarments will work best under your gown.
A great idea is to have a friend take flash pictures of you in each pair of underwear - the best bridal underwear should not be visible beneath your dress, even when a bright flash is used.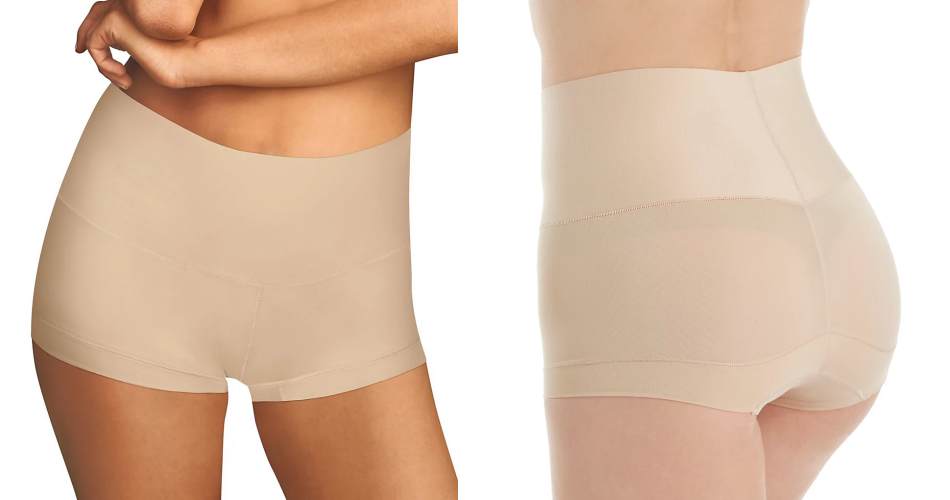 Look At Different Brands

If you love luxury lingerie, but the prices make your eyes water, we've got a great workaround that can help you save. It takes a bit of time, but is definitely worth it.

High-end lingerie manufacturers often sell several brands under their intimate apparel umbrella. And, some of those can include more affordably priced pieces that are very similar to their higher priced brands.
For example, the French lingerie brand, Chantelle, also sells Chantal Thomass, Passionata and Femilet.
How can this help you in your search for lingerie and wedding underwear? If you've found a beautiful style that you absolutely love, but it's out of your price range, take a deeper dive and look at their other lines.
You may be pleasantly surprised and find something just as nice, if not nicer, at a price that won't break the bank.
Wedding Underwear Tip
Do your research and score wedding underwear from your favorite brands, from one of their lower prices collections.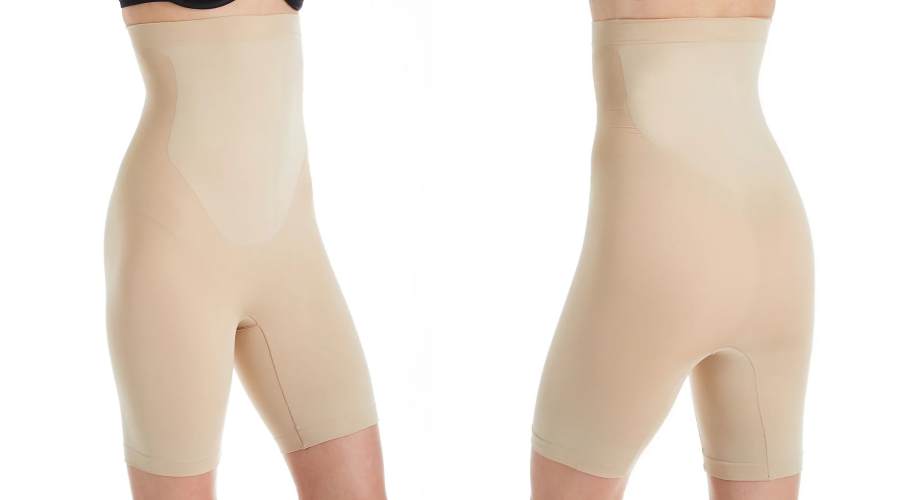 BALI
Buy Bras And Panties That You Can Wear More Than Once

Even pricy panties are affordable when you consider cost per wear. If you wear a pair of panties only once instead of multiple times, they end up being more expensive in the long run.
Choose a pair of wedding underwear that's pretty enough for your big day, yet practical enough that you'll wear again and again.
A stretch lace thong is a great example of a style that you can wear often. If nothing else, choose a pair that you'll wear on your honeymoon and get at least one extra wear out of.
Bridal Lingerie Tip
It's a good idea to have a backup pair of panties with you on the day of the wedding, just in case you need them.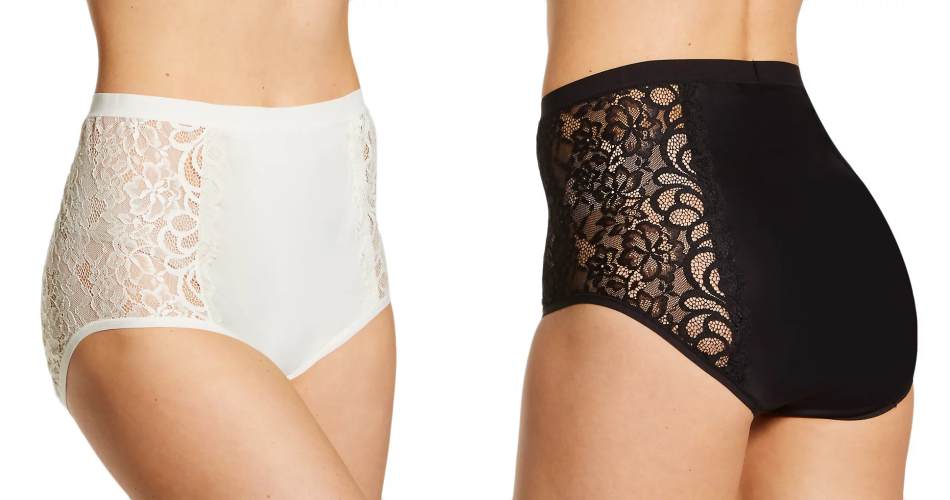 Start Shopping Early For Bride Lingerie
Most retailers have semi annual sales that let you scoop up beautiful lingerie at killer prices.
If you start your search for wedding underwear early enough you can watch and wait for the best sales of the year and buy your bridal panties then.
Buying at the last minute means you're at the mercy of with whatever the prices are at the time, and it could end up costing you.
Shopping early gives you the upper hand when it comes to scoring for the best deals for your budget.
VA BIEN