Vanity Fair Panties Insiders Guide
FTC Disclosure - If you make a purchase by clicking a link on this page, we receive a small commission. There is no cost to you, and this does not influence our content. 

---
Vanity Fair Panties... Whether you are wearing a business suit to the office or an evening gown for an evening at the opera, you can find a style of Vanity Fair panties that are right for you.
Vanity Fair's motto, "We Fit for Life," is obvious in their lingerie styles, whether it's Vanity Fair bras, panties, daywear or womens sleepwear, the attention to detail, provides classic styling and fit.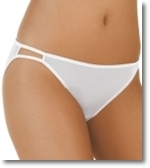 Brand loyalty to this well-known company that has been in the intimate apparel business for over 40 years continues with many women from one generation to the next.
From modestly cut g string panties to high cut panties, Vanity Fair lingerie offers ladies underwear in an extensive variety of sizes and styles that are designed for a smooth and comfortable fit.
Vanity Fair Panties - Shopping Tips
---
Here are a few things you should consider when shopping for womens panties :
Determine your correct hip measurements; Panties should have a snug, but comfortable fit over the hips. Avoid panties that ride up or down, or worse yet, cut into your legs or waist.

---

Opt for a panty color that is closest to your skin tone when wearing lighter colors and sheer fabrics. Also, white, nude, and black are basic everyday panty colors that are a good foundation to include in your lingerie drawer.

---

Consider your clothing style and the coverage needed – are full briefs, high cut panties or sheer bikini panties best for you? Is a smooth seamless panty better for everyday wear, or do you prefer lacy low rise panties ?

Where To Buy Vanity Fair Lingerie

---

Do you like to shop in person and wonder where can you buy Vanity Fair bras and panties and intimate apparel?

If you live in the Eastern United States, you'll find Vanity Fair lingerie at Macys, JC Penney, the Bon-Ton, Kohl's, Peebles and Sears department stores.

In the West and mid-West states, Vanity Fair panties, brassieres and lingerie are available at J C Penney, Kohls, Macys, and Sears.

And finally, in Hawaii, Macys and Sears are the go-to stores for Vanity Fair lingerie. Keep in mind though that not all styles may be available at every store.

Online shopping for ladies underwear offers more selection and sizing options than department stores that can only offer a limited selection.

Plus, if you are pressed for time like so many of us are these days, shopping online is a great time saver, especially if you know which pretty panties you want.

Wherever you decide to shop, remember to check the site's return policy and sizing guidelines to ensure a good shopping experience.

Also, really important are the product reviews. Consumers who have purchased and worn a style of ladies underwear that you're considering may offer opinions, tips, and their own experience on the style.

This is a great way to get an idea if it's the right panty for you, because after all, fit and feel are everything when it comes to being comfortable in lingerie and intimate apparel!

Spending a little extra time browsing the options available and determining how to get the proper panty fit is the best investment for looking good and feeling great.

When you find comfortable fitting, Vanity Fair panties, at an affordable price you'll have more time to enjoy doing what you value most in life, and the "aaah" you'll feel is just a little added benefit.



Leave Vanity Fair panties and return to Vanity Fair lingerie

Return to beautiful lingerie