Training Bra Sizes Guide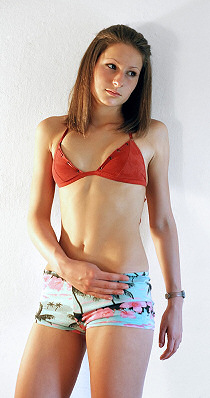 Understanding training bra sizes and first bra (also known as preteen bra or teenage bra) styles is a great starting point for any young girl.
It's one of those useful "things to know" that will serve her well from the first lingerie shopping trip for a training bra to a bridal bustier for her wedding day and beyond.
Training bras are a great way for a young girl to get used to the feeling of wearing a brassiere and lingerie before graduating into teen bras and lingerie with more traditional support.
There are many different training bra styles, fabrics and bra sizes available on the market today.
Lingerie shopping for girls and preteens should be a fun and relaxing experience that they'll hold great memories of for many years.
Every woman remembers being training bra embarrassed at least once; it's all part of growing up.
Training Bra Sizes

Understanding Bra Sizes
---
If you are a young girl and this is your first time, take a deep breath.
Bra shopping for first bras can be great fun (and easy!) once you know how brassiere sizing works.
You've probably already noticed that your mom's or sister's bras come in different sizes like 32A, 36B, 40D, etc.

Bra sizes are made up of two measurements.
The first is the band size that is the measurement around ribcage just under the breasts (plus 4 or 5 inches).
The second measurement is the bra cup size, taken around the fullest part of your breasts.

Then, the bra band size is subtracted from the cup size to come up with the right cup size.
Some training bras and bralettes aren't available in the "standard" brassiere sizes like 34B, 36C, etc.
These training bra styles are made of stretchy and soft fabrics like cotton and spandex, or nylon and come in sizes xsmall, small, medium, large and xlarge. These first bras are a great choice if your breasts are just starting to develop or if you don't feel comfy wearing a traditional bra.

Beautiful Lingerie
  >  The First Bra Guide