*FTC Disclosure - If you make a purchase through a link on this site, we receive a small commission at no extra cost to you.*
Preteen Bra FAQs - The Need To Know Fundamentals
Preteen Bra – whether they're dubbed preteen, teen or tween bras, to say it's confusing is an understatement! The questions can be mind-bending. What's the difference between regular and tween styles? Which ones are age-appropriate? And, the BIG question of course is whether they'll actually want to wear them.
Here, we share your questions - from the best bras for beginners to how sizing works and more - and our answers.

The Preteen Bra - Most Frequently Asked Questions

Q. What is the Difference Between a Preteen Bra and a Regular Bra?

Developed for beginners, preteen bras, also known as training, starter or tween bras, are for girls on the verge of adolescence whose breasts are just starting to mature.
Unlike regular womens bras that are quite structured and supportive for larger breasts, training bras do not have underwires, moulded or multi-part cups, adjustable straps or hook and eye closures, and are mostly offered in camisole or crop top styles.
Made of lightweight fabrics like cotton blended with spandex or microfiber, they're designed to be comfortably soft and flexible – an easy-to-get-used-to-and-wear gateway style for girls who have never worn a bra before.
Q. What are the Best Bras for Beginners?

Preteens on the verge of adolescence are often apprehensive about wearing a bra for the first time. Everything is new and strange and it can be overwhelming.
The key to getting it right often means baby steps - and patience in choosing styles they'll actually want to wear.
Pullover bralettes, cropped camis, wireless sports bras and lightweight soft cup bras are all great options. Remember to keep it simple with easy fitting styles that are cute and comfortable.
Not sure whether the preteen bra you're debating is the best one? Take a moment and consider the three Cs –
Contemporary – is it attractive and modern? Fashion conscious tweens and teens alike tend to like fun colors, prints and patterns
Comfortable – is it easy to wear? Easy to put on and take off? Training bras in soft and stretchy fabrics with elasticity are the most popular picks with particular preteens
Coverage – does it offer enough coverage? Smooth, no-show opaque bras offer an easy no muss no fuss look under clothes that's effortless
Q. How do Bra Sizes Work?
In general, preteen bras are lightweight with an easy stretch fit and do not provide the extensive support and structure of regular bras, and because of this their sizing is not as difficult to understand.
In keeping with the "KISS" principle - keeping it simple and straightforward - basic bralettes, cropped camis and pullover styles that do not have traditional bra cups are limited to x-small, small, medium, large and x-large sizes.
Determining bra size for beginners is relatively easy and can be done in a matter of minutes. All that's needed is a soft measuring tape, a pen and paper, a person to take the measurements and a bit of patience.
When ready, take the tape measure and run it under the breasts all the way around
Keep the tape straight, parallel to the floor, and flexed but not too tight
Once you have this measurement, write it down, then add five inches. The new number will give you the band size
With the following chart you'll be able to determine the size needed
| Size | Bust |
| --- | --- |
| X-Small | 28-30 |
| Small | 30-32 |
| Medium | 32-34 |
| Large | 34-36 |
| X-Large | 36-38 |
Sizing can vary, so if a bra feels too tight (or too loose) do not hesitate to try the next size up (or down). The key to comfy preteen bras is patience, perseverance, and being open to making adjustments.
Q. What's the Best Time to Start Wearing a Bra?

The short answer is - there is no right or wrong time to start wearing a bra. Young girls mature at different times and at different rates.
While some girls may start to develop as early as seven years of age, others may not until they are well into their teens. The best time is when they're ready and it should never be forced.
Indeed, most preteens are very perceptive and will notice cues like:
their friends are wearing a bra
there is a discussion about puberty in health class
their breasts start to develop and they feel like they need extra support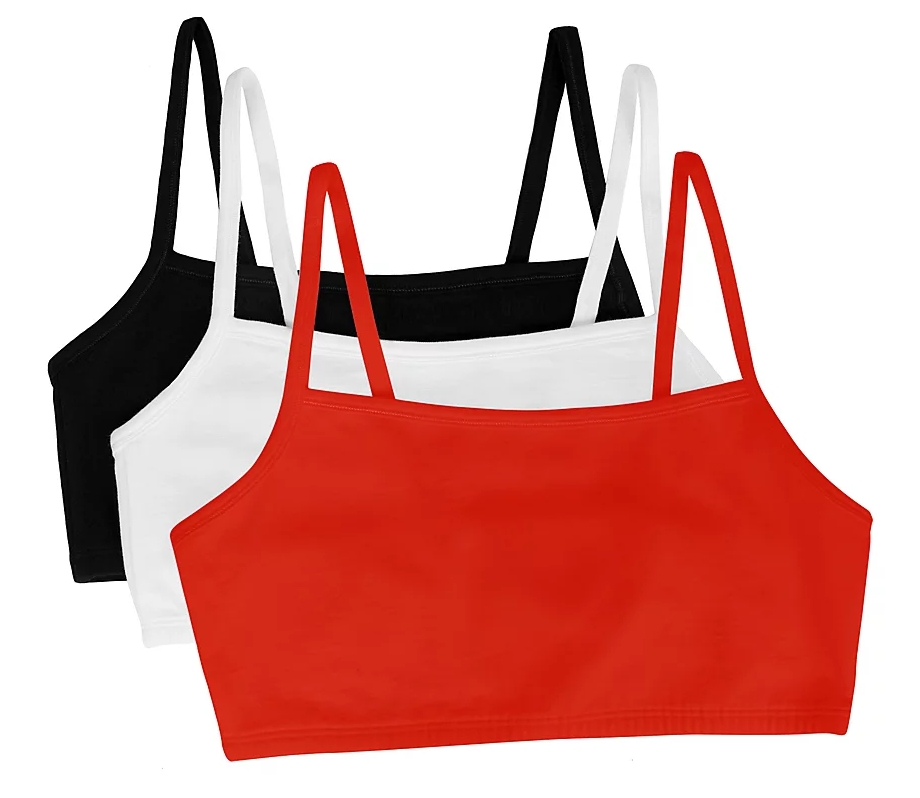 If you have a lingerie question, or would like to offer an answer, or tell a story about bra shopping for lingerie for teenagers, we'd love to hear from you! Simply fill in the form below - thanks!