Petite Sleepwear
FTC Disclosure - If you make a purchase by clicking a link on this page, we receive a small commission. There is no cost to you, and this does not influence our content. 

---
Petite Sleepwear - Many of today's lingerie articles deal with the most flattering nightgowns and womens sleepwear for plus-sized women.
However, petite woman often go unnoticed, which is unfortunate because very short and/or very thin women must also deal with special considerations when purchasing clothing of any kind.
Finding ladies sleepwear to flatter a petite figure doesn't have to be hard, and if you have Internet access it's often downright easy.
Read on for some helpful tips!
Petite Sleepwear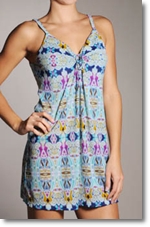 First things first. The term "petite" can be used to describe a variety of body sizes and types.
While the word always implies a lack of height, it does not necessarily also imply a thin frame, although it may.
Petite customers may wear a size 2 or a 22, and each has different needs when purchasing petite lingerie and ladies nightwear. The first step is to assess your body type: are you short and thin, short and curvy, short and athletic, or short but Rubenesque?
Remember that an accurate assessment of your body type is vital to purchasing the most flattering styles of women sleepwear for your particular silhouette. It can be helpful to ask a trusted friend for input if you are unsure.
Women who are short and thin, athletic, or average in body type have many options when it comes to a variety of petite bras, panties, petite nightgowns, chemises and even womens pajamas.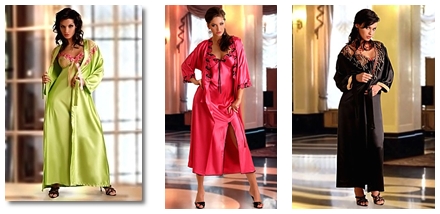 The most important thing to remember is that floor-length gowns and petite lingerie in general may make you appear shorter than you actually are.
If you want to project the appearance of more height, but love long nightgowns, consider one that adds visual length by incorporating a single, long slit up one leg, or up the side.
Some night gowns are designed to have trains that drag on the floor; if you want this style, consider one with an uneven hem that hits the calves in the front, and drapes to the floor in back.
Under no circumstances should the front hem of your nightgowns or sleepwear fall below the tops of your feet; this will make you appear shorter than you are, and may also present a dangerous tripping hazard.
If you have a small bust, consider night gowns that have molded cups that incorporate some padding. These will support and elevate your breasts, and offer attractive cleavage.
Spaghetti straps are an excellent choice if you have slim arms, but if your arms carry some extra weight, you might prefer vintage-style Victorian nightgowns that have cap or romantic flutter sleeves.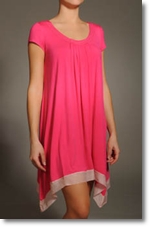 If your legs are firm, feel free to experiment with flirty, shorter night gowns and matching short robes that showcase these assets. Not every woman is proud of her legs; but, if you are, show them off!
If you would like to appear slimmer consider a diaphanous, floaty chemise sleepwear style that skims over your tummy, hips, derriere, and thighs.
Chiffon is a fantastic material for this, as it is thin and will not add bulk. Satin or silk nightgown options are also excellent petite sleepwear choices, although the latter can become rather expensive (particularly if it is hand-painted or contains elaborate embroidery).
Another way to reduce the appearance of excess weight is to choose a style that has vertical stripes; remember to keep the stripes thin. Pinstripes are excellent, and so are dark colors.
If you are unsure about which kinds of petite sleepwear to purchase, spend some time in shops trying on different styles.
This is another occasion where a supportive friend can be quite helpful, as a second (or third) pair of eyes is always a good thing.