Long Cotton Nightgowns
FTC Disclosure - If you make a purchase by clicking a link on this page, we receive a small commission. There is no cost to you, and this does not influence our content. 

---
Womens Sleepwear
---
Long cotton nightgowns are a favorite sleepwear and loungewear style for a reason. People love them because they are so comfortable to lounge and sleep in, no matter what time of the year it is.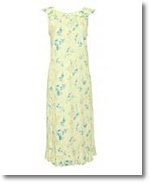 Lightweight cotton nightgowns are a great choice for the hot summer months. These are a comfortable option and a great way to stay cool when the temperature rises, even if you have air conditioning.
Why? Because cotton is a natural fiber that breathes and absorbs moisture, while drawing it away from the skin.
And, it goes without saying that the opposite is true. Thicker long nightgowns such as cotton flannel nightgowns and flannel sleepwear are heavy enough to keep you warm during the cold winter months too.
The nice thing about wearing a cotton nightgown is if it's super cold in your home, you can always add a pair of pajama bottoms underneath your night gown to help keep you toasty warm.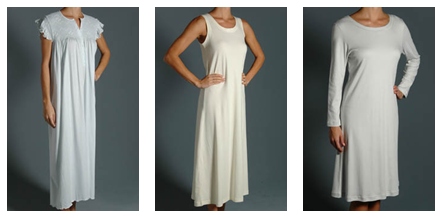 Cotton Sleepwear
Long Cotton Nightgowns
A definite advantage to long cotton nightgowns is the variety in sleeve lengths available.
They run the full gamut from sleeveless to long sleeve and virtually every sleeve length in between.
Sleeveless and cap sleeve long nightgowns are a good choice for warmer climates.
They're also very comfortable for women who experience hot flashes or who may be menopausal.
And, on the opposite side of the coin, long sleeve night gowns are a nice option for colder, winter climates, and for those of us who are more sensitive to cold and need an extra layer to keep warm.
Many seniors prefer longer sleeves as they tend to have circulation problems and are constantly cold.
Night Gowns
Lingerie Shopping Online For Womens Sleepwear
If, you're familiar with long cotton nightgowns and know exactly which style or brand you want, the best options and best selection are online.
It's also important to keep in mind that like most things, there are advantages and disadvantages to shopping online for night gowns and ladies sleepwear. Let's take a look at a few of the advantages and disadvantages here...
Advantages:
Convenience - shopping at your convenience from your home or office computer 24 hours a day, seven days a week.


Variety - shopping online gives you a multitude of nightgown and ladies sleepwear options that dwarfs the local mall and department store selections.


Reviews - shopper reviews allow you to read the opinions of buyers and get a sense of the pros and cons of certain long cotton nightgowns you are interested before you buy.


Prices - from the finest Egyptian cotton night gowns to affordably priced cotton and nylon nightgowns, there is a greater range of online options to fit virtually every budget.


Sizes - a much greater size range is available online. So, if you wear petite sleepwear or plus size sleepwear, you'll stand a much better chance of finding exactly what you want online.


Promotions - an easy way to save money is through promotional codes that many lingerie websites and retailers offer.
Disadvantages:
Shipping - when shopping online there is almost always a shipping or delivery fee that depends on where you live. International shipping costs tend to be higher than domestic rates. Some online retailers will offer free shipping as a promotion or if you spend a certain amount.


Delays - waiting for your nightgown to arrive can be frustrating. And, depending on which shipping option you choose and where you live, delivery can take anywhere from a few days to a month.


Fit and Feel - unlike shopping in person, online shopping does not allow you to try on a nightgown to get a better sense of its fit and feel. This can be a dealbreaker for people who prefer to touch and try on an item before purchasing it.
---
Finally, whether you decide to shop online or at the local department store there are a few things to keep in mind.
Size - Comfort is the most important consideration when it comes to any kind of women sleepwear or intimate apparel.
So, always opt for a size that allows you move around and sleep comfortably. Long cotton nightgowns should be loose fitting and allow for a range of movement.
Also, remember that some cottons that are 100% cotton tend to shrink when laundered, so you may want to make allowances for this by either opting for a slightly larger cotton nightgown or a cotton blend that will minimize shrinkage.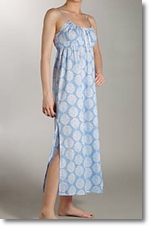 Price - Probably one of the most important things to consider is the price of the nightgown.
You do not need to pay a fortune for a brand name of intimate apparel, when, in most instances you can get basically the same thing for less money.
The nice thing about long cotton nightgowns is because they are so popular and there is such a great selection readily available, there is a price range to suit every taste and budget.
So, whether you're a novice or a seasoned pro, take good look at long cotton nightgowns and you'll quickly understand and appreciate why so many women love this classic women sleepwear style.