*FTC Disclosure - If you make a purchase through a link on this site, we receive a small commission at no extra cost to you.*
Flannel Nightgown - The Inside Secrets You Need To Know

Flannel Nightgown - As summer draws to a close and the nights become chilly, intimate apparel aficionados and newbies alike agree that nothing compares to the soft coziness of flannel sleepwear.
From cushy long nightgowns and sleep shirts to snuggly pajamas and plush robes, flannel is one of the best sleepwear options for keeping you warm when the temperature drops. Here, a behind the scenes look at the need-to-know tips and tricks of this cozy favorite.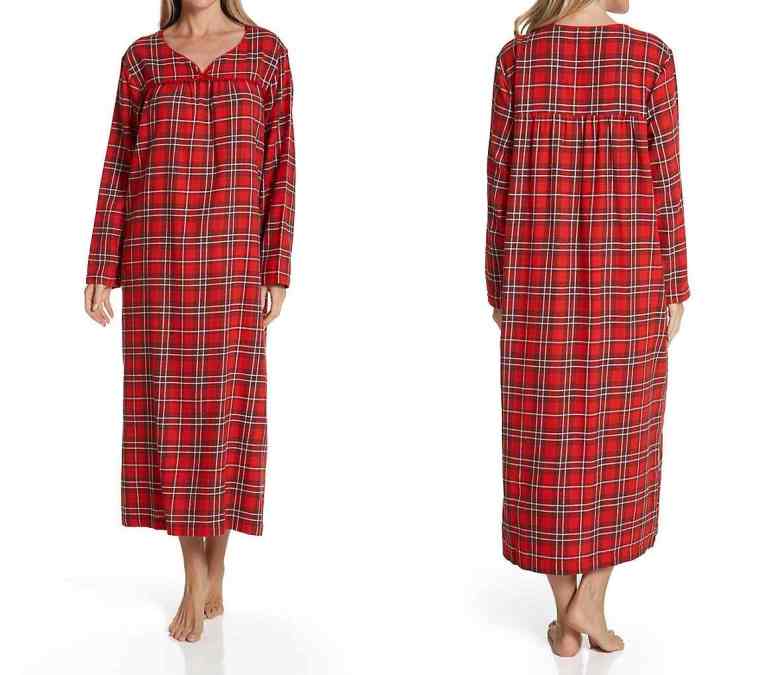 ---
Flannel Nightgown - The Inside Secrets

You don't need to spend a fortune – Despite what you may have heard or read in magazines, flannel sleepwear is affordable and attainable for everyone.
As is the case with lingerie or sleepwear shopping, finding the right flannel nightgown is all about researching and uncovering the shops with the best selection for your budget.
If you're on a modest budget, look to department stores or chain retailers that have great sales throughout the year and have a wide selection of clearance items, especially at the end of the season
Not only do larger shops and department stores tend to have a wider selection of sleepwear styles, they also offer great savings throughout the year with heavily discounted out-of-season styles, coupons, flash sales, etc.

If you want to spend a little more on a luxurious flannel nightgown, try smaller lingerie boutiques and online sleepwear retailers that offer specialty brands like Lanz of Salzburg, Thea, P J Salvage, and Eileen West.
---
KAYANNA

There's a nightwear style to suit your silhouette – one of the best things about flannel nightgowns – no matter what your shape, size, or the occasion, there's a flannel nightgown style that's perfect for every silhouette.
There's a popular misconception that these nightgowns only look good on tall, thin model shapes, but this simply isn't the case. Flannel sleepwear looks great on everyone.
The trick?  Knowing your shape and dressing for styles that suit your figure, such as:
nighties with details on the neckline and chest to balance a pear shape

nightgowns that are not too large, or too small, and definitely not too detailed for plus sizes
With a wide variety of styles, colors, sizes, and options available, it's easier than ever to find the perfect cozy warm that you can enjoy for years to come.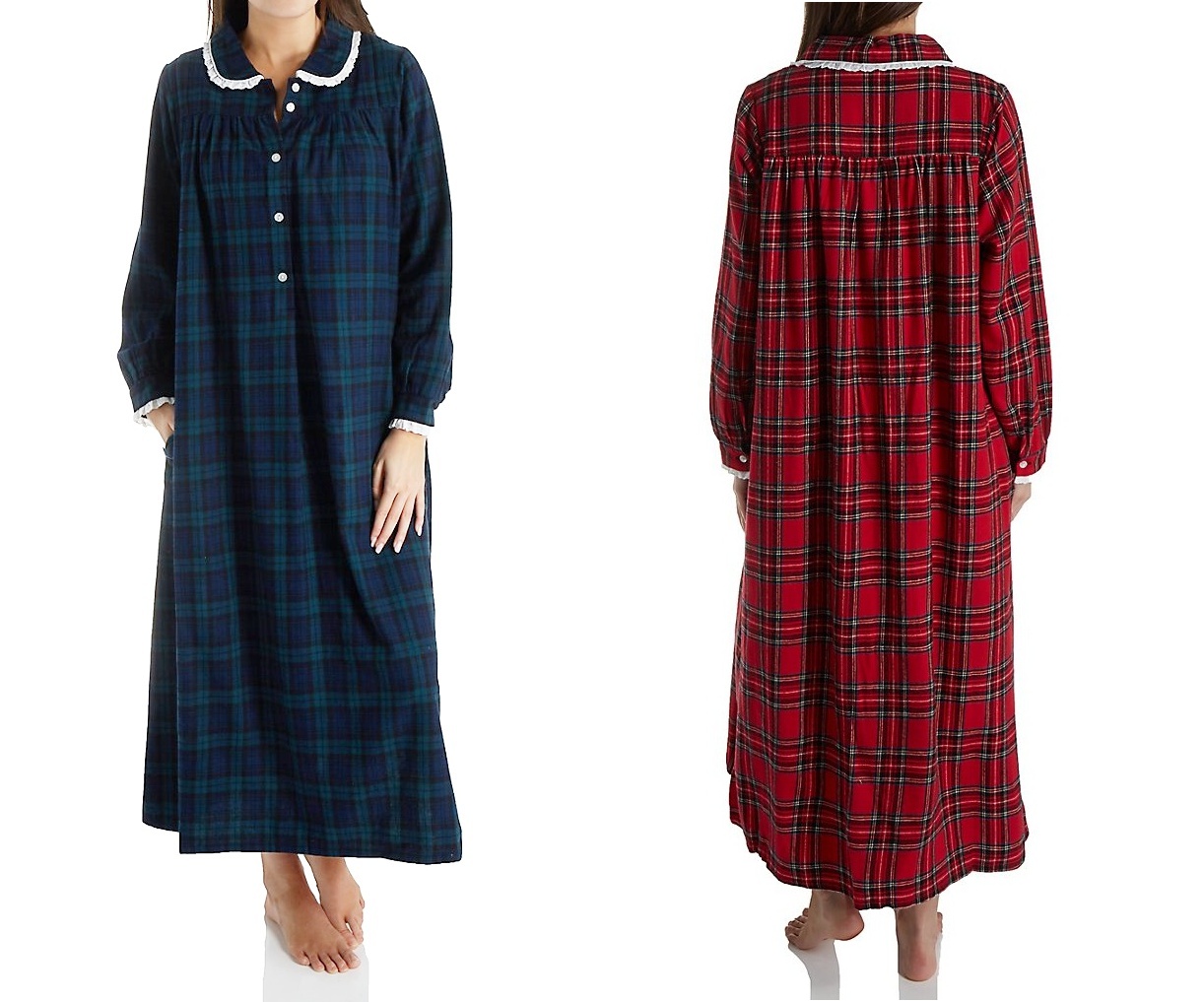 Sleepwear Tip
If you live in a region where the winters are bitterly cold, consider pairing your flannel nightgown with a matching wrap robe and a cuddly pair of slippers or sleep socks for extra warmth.

---
Flannel Sleepwear is not just for winter months – Without a doubt, a long sleeved, full length flannel nightgown is toasty warm for the long cold winter months, but did you know that flannel can easily translate to warmer nights as well.
It can, and the trick is choosing the right flannel sleepwear fabric that lends itself to all seasons.  How?
Look for 100% cotton flannel in a lighter weight – this will offer breathability and a crisp finish that feels just right when the temperature rises
Also, be sure to avoid flannel fabrics that are blended with non-breathable fabrics like rayon or polyester as these are often heavier and tend to trap the heat
And, seek out shorter, sleeveless or tank styles that keep you covered in all the right places without adding any extra fabric that will make you too hot
---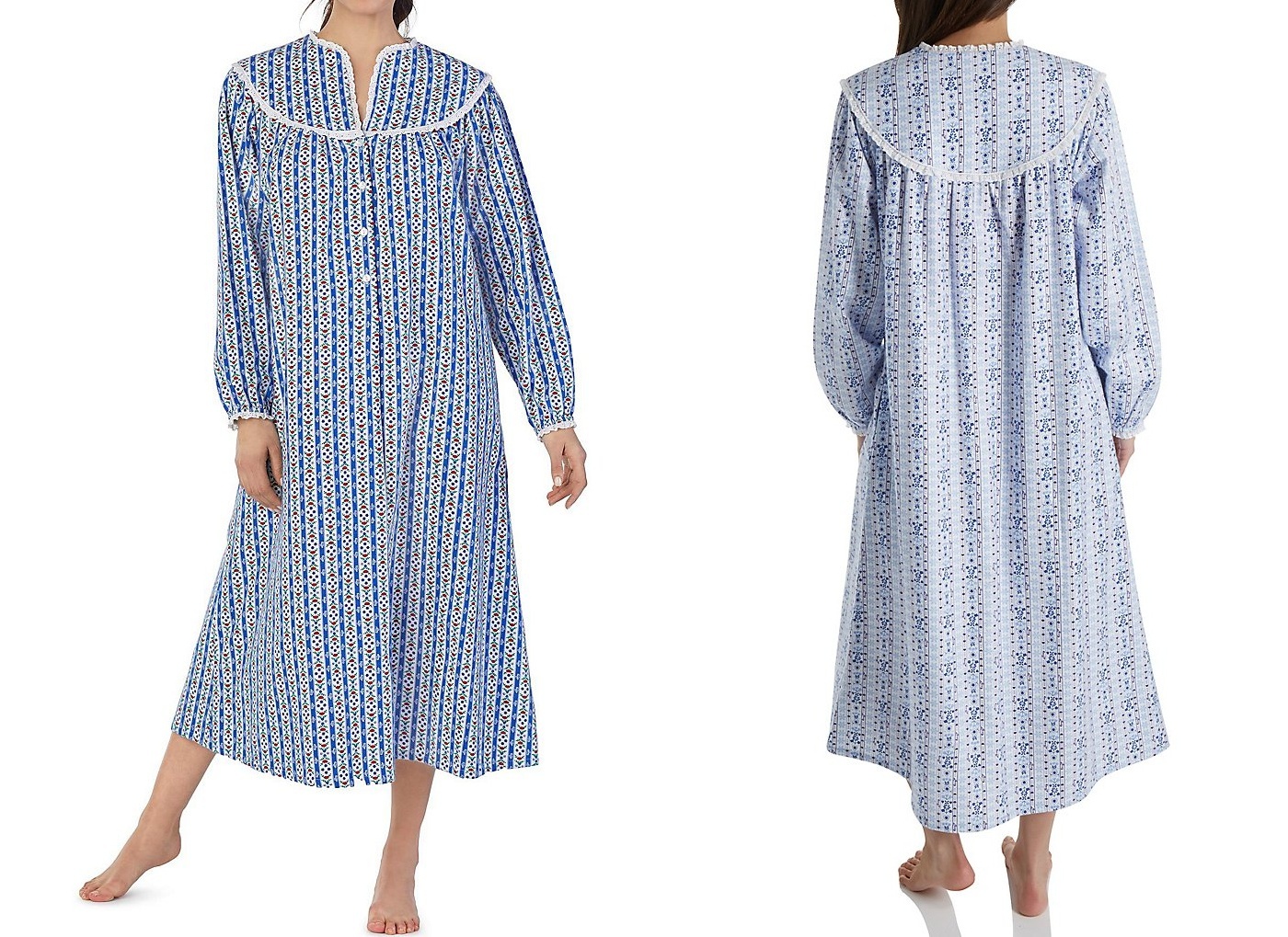 LANZ OF SALZBURG
There's a great variety of nightgowns for every preference – There are options a-plenty when it comes to flannel nightgowns and the best part is finding a style and color that suits your personality.
If you love feminine and romantic looks, try a floor-sweeping Victorian style flannel nightgown
If you're a minimalist you'll love slipping into a sleek nightshirt with clean, straight lines
If you favor a sexy lingerie look, opt for shorter hemlines and low necklines to show a little skin that will make your night gown really stand out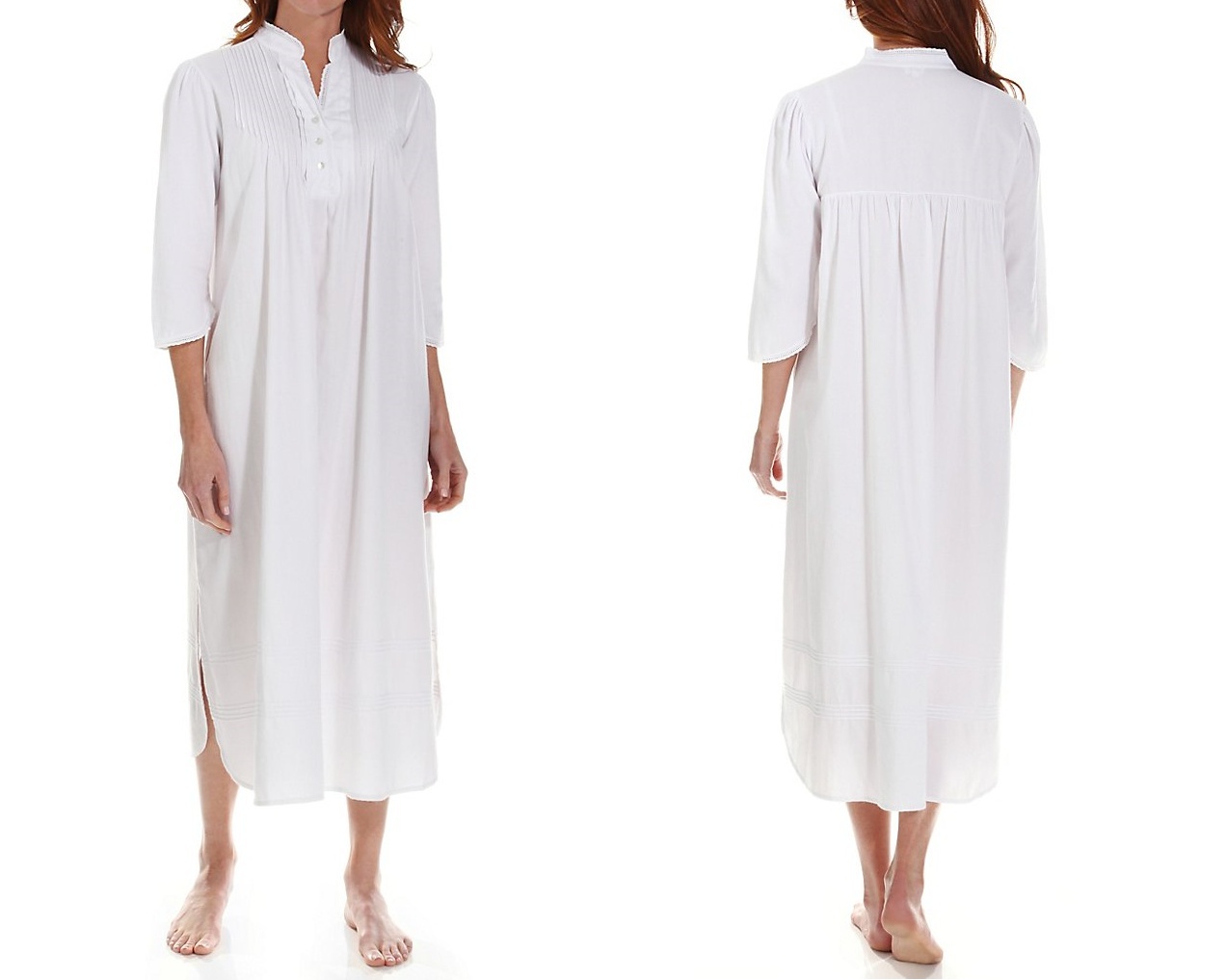 THEA