Flannel Nightgown Insiders Guide
FTC Disclosure - If you make a purchase by clicking a link on this page, we receive a small commission. There is no cost to you, and this does not influence our content. 

---
A flannel nightgown is a fantastic nightgown for wear during the fall and winter months.
These imminently versatile night gowns are terrific for keeping cold temperatures at bay while lounging or sleeping, plus the variety of fun and funky prints available means that there are flannel sleepwear options for the entire family!

Flannel Nightgown Tips

The most important thing to remember when dealing with flannel womens sleepwear or any lingerie undergarment made out of a synthetic fabric (and particularly those made for children and/or sleeping) is to opt for lingerie and intimate apparel that is constructed from a material that has been treated with a recognized fire retardant.
All synthetic fabrics (and blends made from a mixture of natural and synthetic fabrics) may melt to the skin when exposed to flame.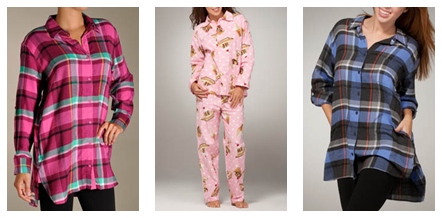 HerRoom Lingerie We Buy For Ourselves
For this reason it is absolutely essential to ensure that any ladies sleepwear in flannel has been treated with a flame retardant substance.
You'll be able to find night gowns at any number of retail locations or online boutiques.
The sky's the limit; flannel robes, womens pajamas and long nightgowns are affordable and plentiful, and come in all manner of fabulous prints to suite virtually every taste.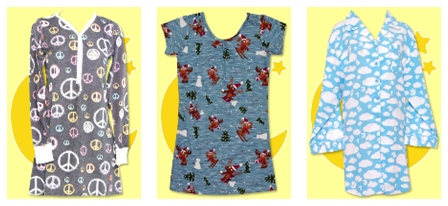 Make Your Own
---
If you're able to sew, you might prefer to make a flannel nightshirt. Local fabric and craft stores almost always stock a huge array of fun flannel fabrics.
To get the maximum value for your dollar, search the Internet for coupons to use on your fabric purchase.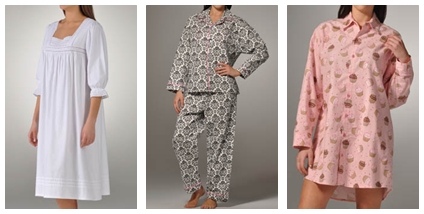 Most major fabric and craft stores send emails to their subscriber lists that include valuable coupons; others print these coupons out with purchase receipts and give them directly to the customer.
You can often save forty to fifty percent simply by using these coupons! Be aware, of course, that most such coupons are good for one item only, and exclude sale merchandise.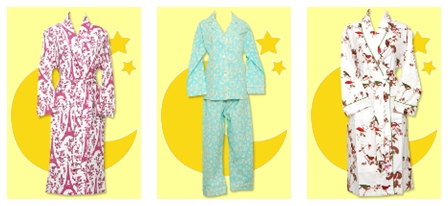 Where To Shop
---
If you'd rather purchase ready-made flannel nightgowns and sleepwear, fear not. Department and big-box stores are usually well stocked with them as soon as Labor Day hits.
You'll be able to choose from a nice variety of long nightgowns, nightshirts, and matching pajamas before the weather is even cold enough to truly warrant it.
If you live in a region where the winters get bitterly cold, consider pairing your flannel nightgown with a matching wrap robe and a cuddly pair of slippers or sleep socks.
Some sleep socks are even infused with skin-softening shea butter or jojoba oil for an ultimate skin-softening treat!
When you wake up in the morning, your skin will be incredibly soft and conditioned and you'll feel fabulous!